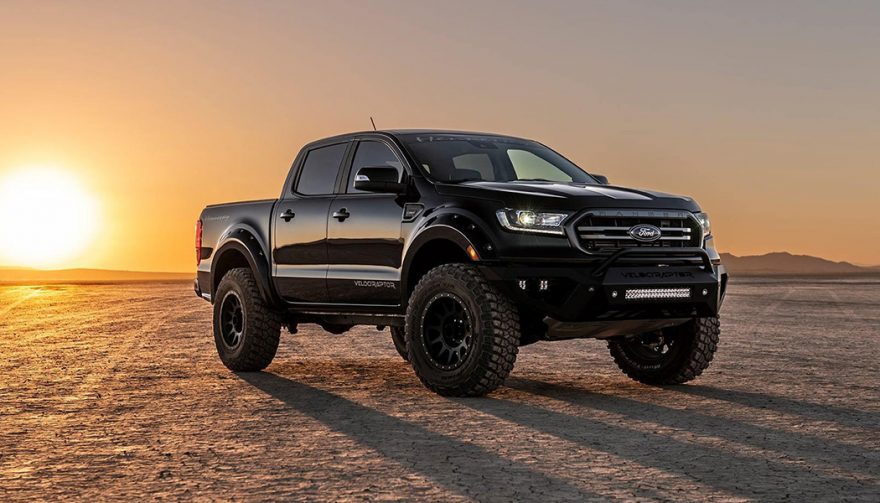 Texas tuner Hennessey Performance Engineering releases a 360 hp mini-Raptor Velociraptor Ranger on the compact truck world
Hennessey Releases VelociRaptor Ranger on the Desert
There's a new challenger in the battle for the baddest off-road truck. Hennessey Performance Engineering has set its sights on Ford's latest pickup, the compact-ish Ranger, and has given it a serious power boost. Transforming it into the VelociRaptor Ranger. It's all ready to take on its big brother, Ford's F-150 Raptor.
Texas-based Hennessey Performance has been making big power figures from vehicles ever since John Hennessey got his start making Vipers go even quicker than stock. Now the company works on trucks, SUVs, and has even built its own models.
The VelociRaptor Ranger was expected to get 350 hp. Which is hugely impressive when you consider that the stock Ranger gets a 2.3L turbocharged four-cylinder that's already boosted to the moon to make 270 hp and 310 lb-ft of torque.
This is not your dad's Ranger
Well, Hennessey managed to exceed its initial estimates. The VelociRaptor Ranger makes 360 hp and a whopping 440 lb-ft of torque. How did the company manage that? They started with a new exhaust system. A stainless steel piece from the cat back. And thanks to revised engine management software.
You May Also Enjoy:
Ford Ranger Wades into Sizzling Small Truck Segment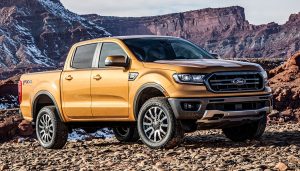 So how much power is that exactly? Enough to trim 2.5 seconds from the truck's 0-60 mph run. Down to 4.9 seconds. And it can run 15.2 seconds in the quarter mile, making this a quick truck. It's even enough to make the VelociRaptor Ranger quicker than the stock F-150 Raptor and that truck's 450 hp 3.5L twin-turbo V6. All the extra power is sent through the Ranger's 10-speed automatic gearbox.
The VelociRaptor Ranger gets more upgrades than just underhood, too. Because this isn't a race truck, this is pitched as a smaller replacement to the desert-running, berm-jumping Ford Ranger. The upgrades start with a new suspension. The HPE Stage 1 off-road suspension starts off by lifting the compact pickup by a whopping four inches. That should deliver plenty of clearance for surmounting obstacles and slamming through the terrain.
Taking care of gripping that terrain are massive 285-wide BF Goodrich KM2 off-road tires. Combine that tall rubber and the 18-inch Hennessey alloy wheels along with the suspension lift and the whole thing ends up six-inches taller than standard.
Encompassing those massive tires are fender flares that are painted to match the truck. HPE has also given the VelociRaptor Ranger new bumpers front and rear, with the front piece sporting a massive array of LED lights. There's also space for an optional upgrade adding a winch.
Inside, upgrades include specially embroidered headrests. The VelociRaptor Ranger is limited to just 500 examples for the 2019 model year. Each one gets a serial numbered plaque letting you know where your truck stands in the series. One in the engine bay and a second inside the cab.