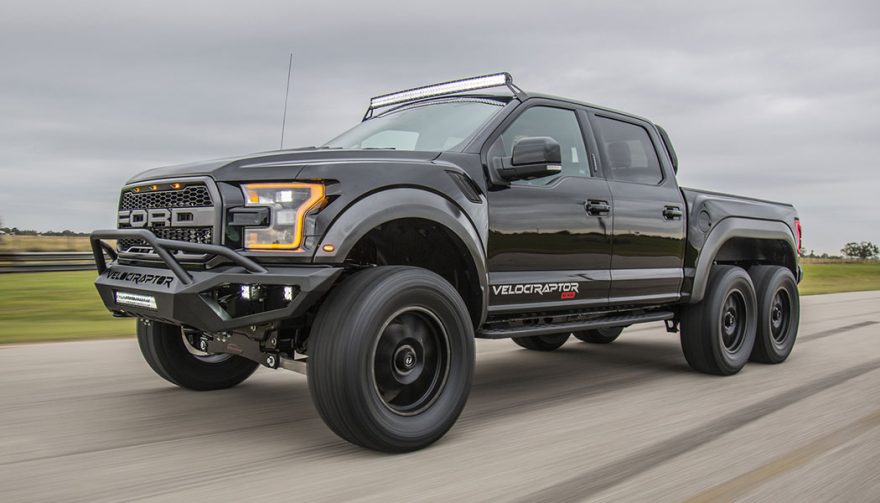 Hennessey used a 2018 Ford F150 Raptor as the base of the Velociraptor 6x6
Hennessey Velociraptor 6×6 Is Here for Any End-of-World Scenario
Sometimes, a Ford F150 Raptor just isn't enough. That's hard to fully understand, considering the go-anywhere nature of the truck. After all, it's so large, the thing won't even fit on some jeep trails.
Hennessey understands your dilemma, and has released the Velociraptor. The vehicle has been making more affluent customers with extreme needs happy. But what if that still isn't enough? Enter the Hennessey Velociraptor 6×6.
Dramatic Entrance
To get a lot of attention, Hennessey revealed this beast at SEMA. What place is more appropriate to unveil a truck of excess than Las Vegas? The show's all about extremes, and this pickup fits right in. SEMA is supposed to be the place to show off such a build, not a Kia Optima with a matte gray wrap.
At the core of the Velociraptor 6×6 is a 2018 Ford Raptor… with a few light modifications, to say the least.
What It Means
If you spend an inordinate amount of time worrying about a zombie apocalypse or any other sort of end-of-the-world scenario, this truck will bring some peace of mind. At least it looks like it would, because with six wheels it certainly appears to be something that will pull you through any situation.
I've been around enough off-roaders to know looks aren't everything. After all, a Suzuki XL7 can do some amazing things on trails, despite looking like a total grocery getter. Hennessey certainly goes out of its way to make the Velociraptor 6×6 look tough.
You May Also Enjoy:
The Ford F-150 Finally Goes Diesel, But How Does It Stack Up?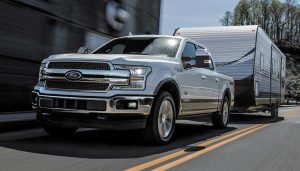 Beyond the six wheels, you also get a steel bumper that tapers off on the ends, accommodating the oversized tires. That bumper includes a grille guard, if any obstacles can reach that far. It also has an integrated light bar, plus two sets of fog lights. A roof-mounted light bar means you have a setup that will light up the neighborhood baseball field, if ever necessary.
For good measure, Hennessey adds a chase rack in the back. You'll probably never use it that way, but it could give machine gun-toting mercenaries you're hauling around a way to steady themselves as they mow down hordes of the undead. You know, just in case.
The rear bumper is also made of steel, and has a shape you don't see very often. It almost appears to be a weapon of sorts, but those sharp angles actually provide some nice, wide, flat step points.
Of course, you get a big cab, complete with four doors, so everyone can jump out at once and start bashing zombies' heads in.
What It Can Do
If you're looking to survive a post-apocalypse landscape, having a vehicle that can get you through all kinds of tough areas is essential. It sounds like the Velociraptor 6×6 is just such the truck.
At the heart is a modified twin-turbo Raptor EcoBoost engine. The turbo system is custom, as is the larger intercooler, ECU tuning and high-flow exhaust. The setup produces a monstrous 600-plus horsepower and 622 lb-ft of torque. As a refresher, the regular Raptor puts out 450 horsepower and 510 lb-ft of torque
Six-wheel drive sends that to all the wheels. All six axles are fully lockable, so you shouldn't be getting stuck anywhere.
The truck rolls on 20-inch wheels, with Toyo off-road tires wrapped around them. That combination means you can power through all kinds of muck. An upgraded Fox Racing suspension gives you some lift, improving ground clearance, and can handle rough blows when off-roading.
All the lighting is LED-based. That means it draws less off the battery, which can be a huge help when you're running accessories off the truck in the middle of nowhere.
For those who are still not all the way impressed, Hennessey can throw in a Brembo brake system. It includes upgrades to all six calipers and rotors, so this monster comes to a standstill faster. That comes at a steep price of $22,000. But if you can afford this truck, that's mere pocket change.
This setup is good enough to take on other 6×6 vehicles. Among the top competitors are the Mercedes-AMG G63 6×6 and Kahn Design Flying Huntsman 110 WB 6×6. Maybe the Blue Oval badge isn't as prestigious, but the huge bed and fierce nature of the truck have their own appeal.
What It'll Cost
Are you salivating for the Velociraptor 6×6 now? Willing to do whatever it takes to get one? You'll need a big pocketbook, because Hennessey says the truck will sell for $349,000. Unlike some of the tuner's packages, this one includes the actual truck, not just the mods.
If you want one, you need to act quickly. Only 50 will roll out of Hennessey's shop, and that's it. Getting the truck, you'll be one of the lucky, wealthy few. Some Ford dealers can order it.
Better yet, go directly to Hennessey Performance and order it that way, before they're all gone.