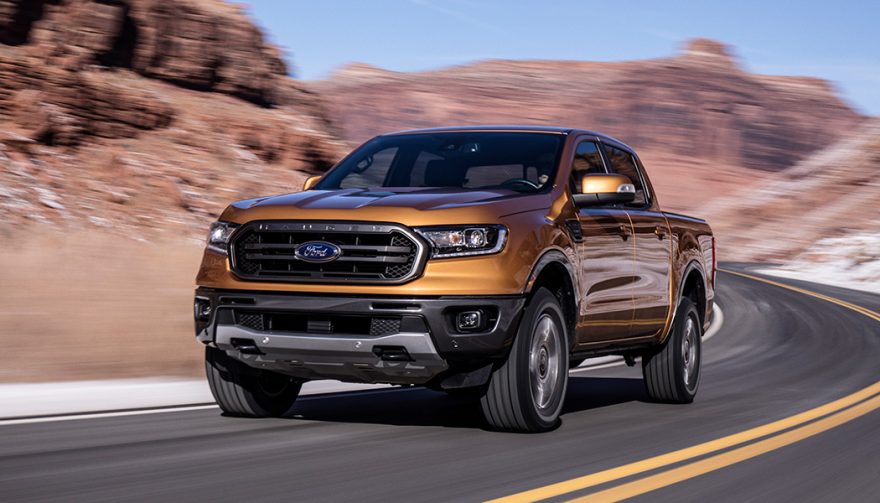 With the 2019 Ford Ranger, the automaker has opened up a new choice for buyers wanting a blue oval without the size of the F-150
Test Drive: 2019 Ford Ranger FX4
With the re-launch of the 2019 Ford Ranger nameplate, Ford's once again given shoppers a pickup choice that's smaller, easier on fuel, and more maneuverable than its big brother, the F-150. The two machines share plenty—including EcoBoost technology under the hood, a 10-speed automatic transmission, and a torture-testing regime, which sees both models tested, by the engineers, alongside one another.
If F-150 is too big, thirsty, or pricey for you, you no longer need to leave the Ford showroom in pursuit of a smaller truck elsewhere. Downsizing is in, after all—meaning the 2019 Ford Ranger will likely prove a popular choice for many.
Consider the new Ford Ranger alongside models like the Frontier, Colorado, Canyon, Tacoma, and Ridgeline. Each of these machines has a unique set of pros and cons that will determine how well it will work for your specific lifestyle and needs.
Ranger might be the perfect choice for you, if
those needs include good ride quality, an excellent powertrain, and just about all
of the high-tech goodies you'd care for in a pickup.
Under the Hood
The 2.3 litre four-cylinder turbocharged EcoBoost engine is one of Ranger's most valuable assets. With 270 horsepower and a mighty 310 pounds of torque on offer from low revs, this is the smallest pickup engine where displacement is concerned—though it's the torque output leader in its segment. That's a good thing, given that torque is the figure of prime importance when you're moving something heavy, like a truck and trailer.
In operation, drivers can expect plenty of
pull with minimal throttle. There's barely a need to get the engine revving
much past idle in normal driving, and compared to all of the other (non-turbocharged)
engines in the segment, Ranger's four-banger feels more effortless (and runs
more quietly), more of the time. More power, less noise, more often.
The 10-speed automatic transmission gives all of this a nice polish. Compared to 6 or 8-speed units, Ford's 10-cog box turns in improved acceleration, lower cruising revs, and smoother shifts, as the step between each gear is reduced. All said, if you're coming to Ford Ranger from any other recent pickup in this segment, you'll likely find it to be the punchiest, quietest, and most refined driveline in the game currently.
Passing and merging power is excellent. This truck really scoots when you ask it to, even if the engine is nothing much to listen to.
So, by this writer's estimation, the powertrain is probably the best thing about the latest Ranger.
On the Inside
The worst? The cabin.
Specifically, that's because much of the switchgear, controls, interfaces, buttons and consoles are lifted from older Ford models. Those coming to a Ranger from, say, a 2015 Ford Focus, will find plenty that looks familiar. On one hand, that makes for easier learning. On the other, it means that some shoppers will find the cabin of this new-for-2019 pickup truck already looks dated.
There are some other niggles, too.
Rear seats, for instance, fold up or down
entirely. With no split-folding function, you have all the rear seats, or, none
of them. This reduces versatility.
Up front, the lower centre stack controls are
difficult to read and tricky to see at a glance, since they're down low, dark
in colour, and identified by small text or symbols.
Further up the stack is the central command touch-screen, which may provide redemption.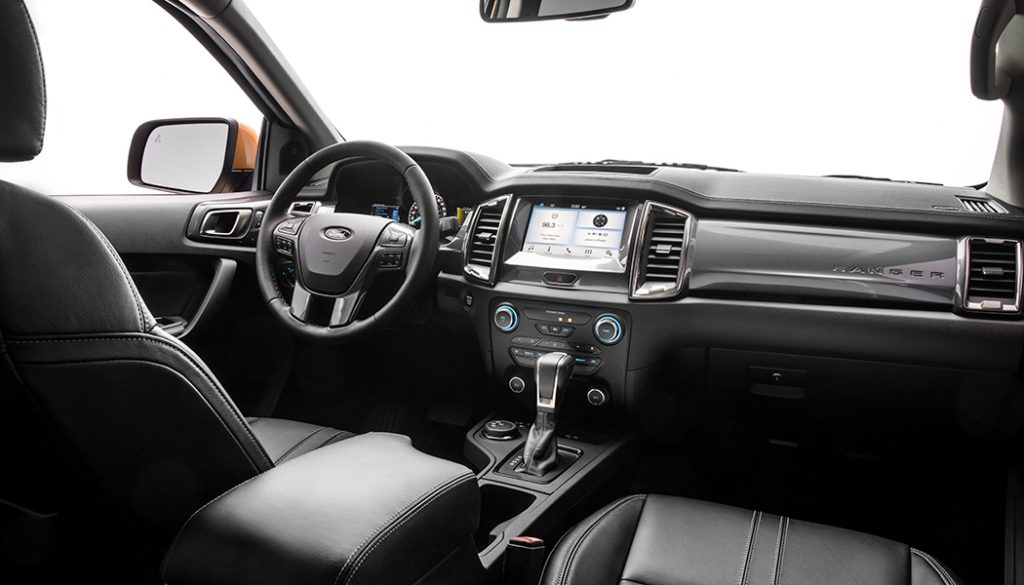 New Tech, Old Design
The most modern part of the 2019 Ford Ranger's cabin, this interface is logical, responsive, and easy to sort out in minutes. Even for the least tech-savvy among us. The system looks modern and complex, but it's very user-friendly.
Elsewhere, you get blind spot mirrors, radar cruise, automatic climate control, partial power seats, automatic lights, and more. It's mostly modern on the feature content front. Even if this is the first vehicle I've ever driven with radar cruise and a mechanical ignition.
That's right. Ranger can adjust its speed to the flow of traffic, no input required, though the ignition is twist-to-start. Like 1997. Of course, many pickup truck shoppers will appreciate this as one less gadget to worry about down the line.
Average-sized drivers will find entry and exit
to require a little hop, and the on-board space will prove sufficiently large
for four adults, though far from spacious. The cabin is roomy enough in all
directions for four of average adult size, though you won't be stretching out
like you could in, say, an F-150.
At hand storage and charging provisions are
generous, and there' s deep bin here within reach of front-seat occupants that
comes complete with charging ports. Additional storage can be found nearby in
the doors, on the dash, and more. All
but the most extreme motoring pack-rats will find little issue tracking down a
spot to keep their items handy and organized on thew move.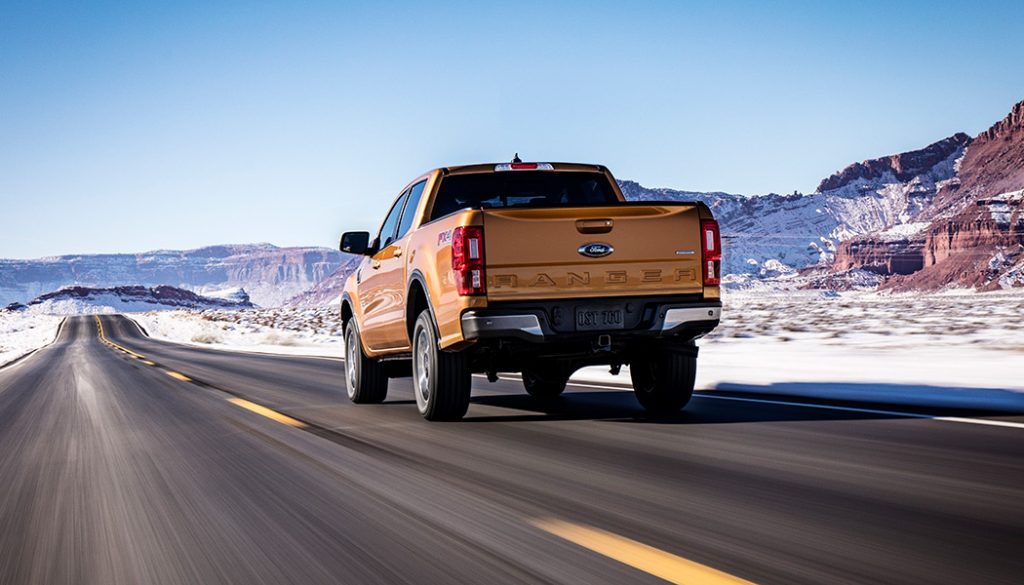 Off Road
My tester was the FX4, which targets a shopper more likely to use the 2019 Ford Ranger regularly in an off-road setting, or on very rough roads. Upgraded tires, skid plates, off-road tuned shocks, and a Dana rear axle with push-button diff-lock were included.
The 4×4 system is shift-on-the-fly, complete
with a 4×4 selector dial. Drivers can pick 2 wheel drive, and 4-Hi or 4-LO.
There's no 4×4 'AUTO' mode available.
Included were terrain management electronics, which instantly optimize various vehicle systems for use in specific terrain, like grass, mud, or sand. Trail Control, further, is like cruise-control for the bush. Set it to, say, 3 mph, and the 2019 Ford Ranger handles throttle and braking to maintain that speed no matter the traction and incline. Translation? Lock in the speed you like, and just focus on steering.
Highway Ride
The ride, on road or off, is well done. Even with the up-rated FX4 suspension, the 2019 Ford Ranger keeps ride quality well under control. Only on rougher, harsher roads does the rigid pickup truck jiggle become strongly apparent. On smoother surfaces, you mostly feel like you're driving a big tall heavy car. All said, it rides nicely on most pavement, takes potholes without any drama, and feels tough and truck-like on rough surfaces, usually without undue harshness.
On the highway, noise levels are kept nicely down by truck standards, and the steering feel thickens up enough to lock the truck into its lane, but without feeling too labor intensive. Brakes are about average for the segment in terms of pedal feel and stopping power.
In summation: here's a smaller pickup with good manners, a great powertrain, plenty of encouraging hardware and software for the off-roader, and very pleasing performance. The dated cabin lets it down somewhat, but shoppers unbothered by that will likely find it stacks up as one of the most compelling machines in the segment today.