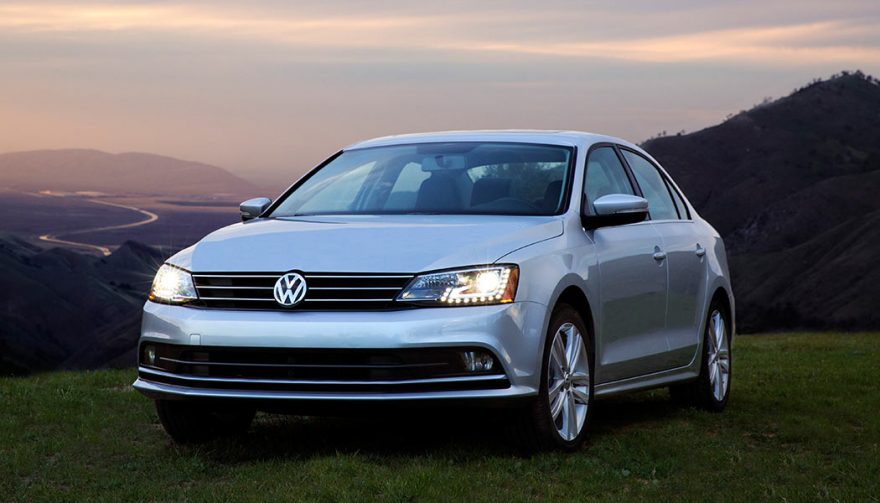 Once a darling in the U.S. market, Volkswagen Jetta sales have continued to slump over 30-plus years.
Volkswagen Jetta: From Brilliant to Meh in 36 Years
The Volkswagen Jetta first reached our shores from Germany in 1980. This was back when all VWs for sale in the USA came from the Fatherland. The Jetta turned out to be one of the company's best thought-out solutions for the American market.
VW At The Crossroads
Volkswagen was at a pivotal point as a company during this time. Its first water-cooled, front wheel drive car, the midsize VW Dasher/Passat (based on Audi's Fox/80) was introduced to the US in 1974. This was followed in 1975 by the compact Rabbit/Golf.
The Golf was VW's response to the swarms of invading Japanese econoboxes that were both underselling (on price) and outselling Volkswagen's legacy air-cooled Beetles. The Rabbit sold at comparable prices to the Japanese competition and gained a foothold in the American market. Volkswagen's fortunes were improving. As for the Beetle, it would be gone before the end of the decade. This was due to its inability to meet ever-tightening safety and emissions standards, with its air-cooled engine and a structure that dated back to the early days of the Third Reich!
Hatchback Rabbits were fine for entry-level buyers and college students. But Volkswagen knew that Americans liked their cars to have plentiful and secure storage space. They preferred sedans with trunks over the Rabbit's layout.
Volkswagen Jetta – A Car Americans Could Love
Volkswagen's solution? Graft a trunk onto the rear of the Rabbit/Golf hatch. This transformed it into the Jetta, a compact sedan that Americans could love. The Volkswagen Jetta was a success and grew to become Volkswagen of America's best selling model in the US. It was also the best-selling European car in all of North America. With its sharp Giugiaro styling and trendy rectangular quad headlights, it looked different enough from the Rabbit to be perceived as a completely separate model.
It Had Everything
The original Volkswagen Jetta was a brilliant package, unlike anything previously available in the US. To Americans suffering through the second year of a fuel crisis that sent pump prices through the roof, the Jetta offered all this:
Excellent fuel economy
A fuel-injected engine that performed better than its carbureted competitors
Plenty of power to support both automatic transmission and air conditioning
Great handling under all conditions
Front wheel drive
A huge trunk that was all usable space
German design and build quality
Europe was VW's other major market at the time. There, hatchbacks have always been the preferred body style. Small overall size and maximum fuel economy trumps storage space for Europeans. As a result, the Volkswagen Jetta has always sold in small numbers in the old country.
Somewhat Basic, But A Great Drive
For Americans used to large, floaty, rear-drive domestic vehicles, the 1980 Jetta was a revelation to drive. Available in one trim level that was a slight step up from the Rabbit, the Jetta offered velour upholstery and matching wall-to-wall carpeting. But wind-up windows and manual steering were also standard equipment – there were no upgrades for those. The only options besides paint color were automatic transmission and air conditioning. Two-door and four-door body styles were offered.
The Jetta made a major contribution toward rehabilitating Volkswagen's image. It was previously known as a purveyor of antiquated Beetle variants. The Jetta helped to transform VW into a modern, full-line manufacturer of cars much more suited to the needs and wants of consumers. This was subject, of course, to what zee Chermans decided we deserved to get, but that's another issue for another day…
The Land Of The Rising Sun Arrives
Something else was happening at the same time on the other side of the world. The Japanese manufacturers were also learning about our market, much more quickly than Volkswagen was. By the 1980's, the Japanese had cracked the code of the American mass market. They sprinted into the sales lead and Volkswagen started falling behind. Even the domestic carmakers developed strong entries.
Fast forward: in today's compact sedan sales race, the Jetta has been surpassed by its six main rivals. These are the Honda Civic, Toyota Corolla, Nissan Sentra, Hyundai Elantra, Chevy Cruze, and Ford Focus. The Jetta trails them all. So how does today's Jetta stack up against the competition?
You May Also Enjoy:
2019 Volkswagen Jetta Review: A Great Option For The Price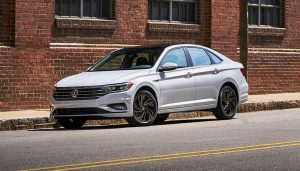 2016 Jetta – Ready For Its Closeup?
The current Jetta, first introduced in 2011, is the sixth generation. It reflects VW's determination to compete on equal footing with its above mentioned rivals. VW has abandoned its previous market position as a premium compact car and entered the mass market fray. The current Jetta is no longer a sibling of the Golf. It shares no body panels and is larger, on a longer wheelbase, and considerably cheaper to produce.
There were several areas of focus for the cost-cutting effort. These included lower-quality interior materials, vinyl replacing leather as a seating material upgrade, and the loss of the multi-link rear suspension offered by the previous model.
The 2016 Volkswagen Jetta is offered in a bewildering array of nine different models. These range from the base model stripper S at $17,680 to the special order-only GLI SEL performance model at $29,280. A six-speed manual transmission is offered on many, but not all, models, and will be further limited in 2017. Front wheel drive is the standard and only method of forward propulsion – there is no all wheel drive option. Four-cylinder turbocharged engines of 1.4, 1.8 or 2.0-liter displacements provide motive power of 150, 170 or 210 hp.
And lest we forget, the previously very popular TDi diesel version is no longer available, and likely never will be again. RIP Clean Diesel!
Shopper Alert: the VW website does not make it easy to compare different models, allowing you to compare only two versions at a time. It is a very cumbersome experience. This is one situation where a printed brochure might actually work better!
Improvements Have Improved It
Driving the Jetta still brings back some of that old European driving feel that the original was known for, but in a larger, more spacious, middle American-sized package. The current engines are a definite improvement over those offered in the recent past. But what about that special feeling in the earlier models, that you were driving a bargain-priced version of a BMW 3-series? That is gone, with the possible exception of the high-zoot 210 hp GLI top of the line model. The pricey GLI rolls out the door at $28,000-$30,000. At that point, you are not far from a real BMW!
A new touchscreen system is also a leap forward. We can also finally report that USB ports have replaced VW's proprietary connector in all models. No more adapters needed!
So What's The Problem?
OK, so the Volkswagen Jetta has reached parity in size and pricing with its Asian and American rivals. Why isn't it doing better on the sales charts?
There is one area where the Jetta cannot approach its competitors, and that is reliability. VW has simply not been able to replicate the levels of quality that Honda and Toyota are known and loved for. Why would that be?
A Major Economic Disadvantage
Consider that VW uses twice as many workers to assemble the same number of cars Toyota does. That immediately doubles your labor cost, even before you count in those premium German wages. That is not likely to change, due to the fact that the German Auto Workers Union owns 20% of the company. The only place VW can cut its costs, then, is on the parts that make up the car. The use of cheaper and cheaper materials, with suppliers constantly squeezed for lower prices, all leads literally to problems down the road for the unlucky owners of VW vehicles. It is not a pretty picture and the word is out – this has been going on for decades, with no end in sight.
Dieselgate is only the latest manifestation of the problems at Volkswagen. Can't solve the problem? Cheat or cut corners!
Deal Me Out
Another issue that prospective Jetta buyers must face is the Volkswagen service experience. Even the best quality dealers (and not all are that good) can become overwhelmed by a steady stream of vehicle defects. These start soon after purchase, clogging up dealers' service departments. Add a less than customer-friendly attitude on the part of the manufacturer, and you have a prescription for a very unpleasant ownership experience.
Is it any wonder that Honda and Toyota have nothing to fear from VW?
Risk Takers Welcome
Looking at compact sedans? As proponents of personal vehicle freedom of choice, we say go ahead and drive the Volkswagen Jetta. But be sure to look beyond the vehicle, with eyes wide open, at the organization standing behind it. If you have the constitution to own and drive a Volkswagen in this age of trouble-free Japanese cars and Hyundais with 10-year/100,000 mile warranties, then vaya con dios.