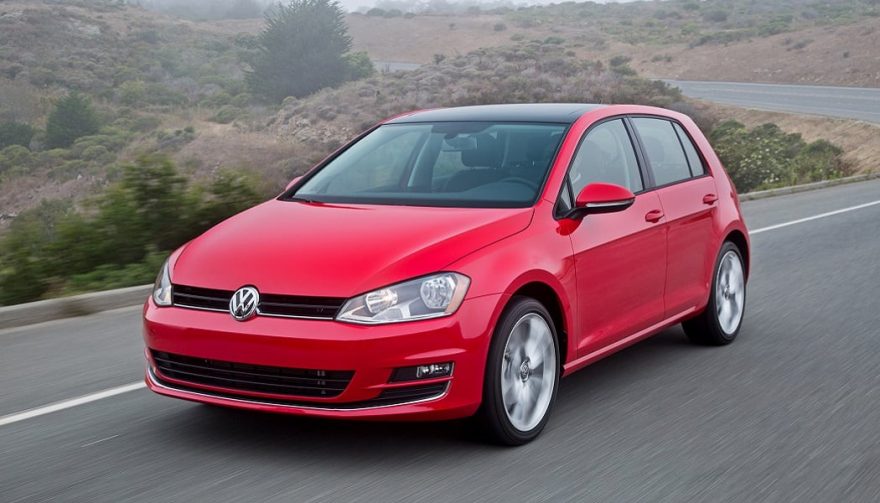 The Volkswagen Golf has plenty of room in the boot.
Volkswagen Golf Review: Always a Reliable Hot Hatch
When I think of the Volkswagen Golf, the first thing to leap into my mind is "hot hatch." The car has a reputation to uphold, which can be a lot of pressure. Is the Volkswagen Golf worthy of it?
It certainly has good looks. The dimensions are tapered, the body lines precise. Relatively small wheel gaps combined with a front fascia that doesn't look angry, yet is still aggressive enough.
There's nothing else on the market right now that's the Golf's clone. VW has definitely kept a unique flavor for this car, and that's a good thing.
Few Choices
Blame it on Dieselgate, but Volkswagen isn't offering much in the way of variety for the Golf these days. There are only two trims: S and Wolfsburg.
Obviously, the TDI is dead, plus the two-door version is no more. VW obviously doesn't feel like adding more variety.
Sure, there are the Golf Alltrack, GTI and R versions of the car. But we're just focusing on the regular, plain old Golf here. And there's plenty of plain.
Both trims use the same 1.8-liter turbocharged four-cylinder engine. It puts out 170 hp and 184 lb.-ft. of torque. That doesn't sound too impressive, considering plenty of modern turbo four-bangers are posting huge figures.
On the Inside
Thankfully, when you get into the Golf, it feels like a European vehicle. I was afraid VW had downgraded the materials to a Corolla level.
The controls and gauges are simplistic, something that can be hard to find these days. All the seats are relatively supportive and comfortable. I wouldn't say the backseat is super spacious, but it's not completely cramped, either.
You May Also Enjoy:
Volkswagen e-Golf: Too Little Too Late to Revive VW Brand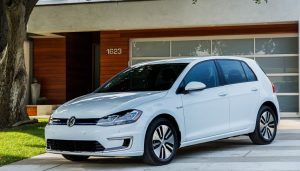 Related Search Topics (Ads)
Then there's the cavernous rear cargo area. You get more space than in other crossovers, making the Golf exceptionally utilitarian. Unfortunately, the rear seats lay down, but they don't go flat. It's an annoying detail if you're loading longer items, but it's not a deal breaker.
Going for the Wolfsburg means getting some nice amenities not available for the S. Among them are front seat heaters, keyless entry and a sunroof. You also sit on V-Tex leatherette upholstery, which isn't quite like real leather, and I'm still not sure exactly how I feel about that.
Driving Notes
Now that we've established the run-of-the-mill Golf, not the GTI or R, isn't a performance vehicle, know that it handles incredibly well. Yeah, it's not going to out-maneuver a WRX STI or anything like that. It does handle better than a Mazda3, and that's impressive.
You can cut through traffic well enough to turn boring drives into something a little more eventful. This is even a car you could autocross and not completely murder a bunch of cones, unless you suck at autocross.
The suspension is well-balanced, so you don't feel like one end of the car is pulling the other along through turns. Instead, the whole thing whips through together, which feels great.
Thanks to excellent tuning, the suspension won't send shockwaves through your spine each time the car hits a bump or pothole. This balance between comfort and performance is one few vehicles strike. All commuter cars should be like the Golf, if you ask me.
Acceleration is strong enough to get going in a relative hurry. Turbo lag is minimal and the throttle response is quick, which is something to appreciate.
Still, this is no land rocket. Pushing the powertrain when getting on the highway, you'll find the top end gets a little wheezy in each gear. So if you're using the manual transmission, shifting before you get up there is a good idea.
For once, I don't feel like the automatic transmission is a bad choice. I usually prefer manuals, but know not everyone shares my opinion. Most automatics are sluggish, clumsy and anything but engaging. On the Golf, the 6-speed automatic shifts so quickly, you'd swear it's one of VW's dual-clutch DSGs (that transmission is used on the Alltrack and SportWagen models).
Still, the five-speed manual is super simple to shift. It snaps into gears with extreme precision, so you're not manhandling the thing. If you care about driving, this is the way get the Golf, but I'd take a manual version of the car for a spin before just taking my word for it.
I noticed the interior is quiet, once you shut off the sound system. Road and wind noise are minimal. No rivals I've tried out are quite as well-insulated. Even the engine doesn't make all kinds of crazy noises. So, you could really think while cruising along in this car.
Watch the Options
Sure, the Volkswagen Golf is a fun car to drive, when compared to other options in its class. You can really whip it through turns.
It stays composed in all kinds of situations, filling you with confidence. Acceleration is decent enough to make freeway merges non-stressful. This is a car I could drive to an office job every day.
Everything about the Golf feels refined. Considering the car's been around for seven generations, it should. This alone gives the Volkswagen a big advantage over competitors.
Like most German cars, you can get in trouble with options, so beware. Just playing around on the VW site, I optioned up a Wolfsburg to over $28,000 no problem. If you can be disciplined, the Golf is an economic car. If not, it's anything but budget friendly.
Related Video: