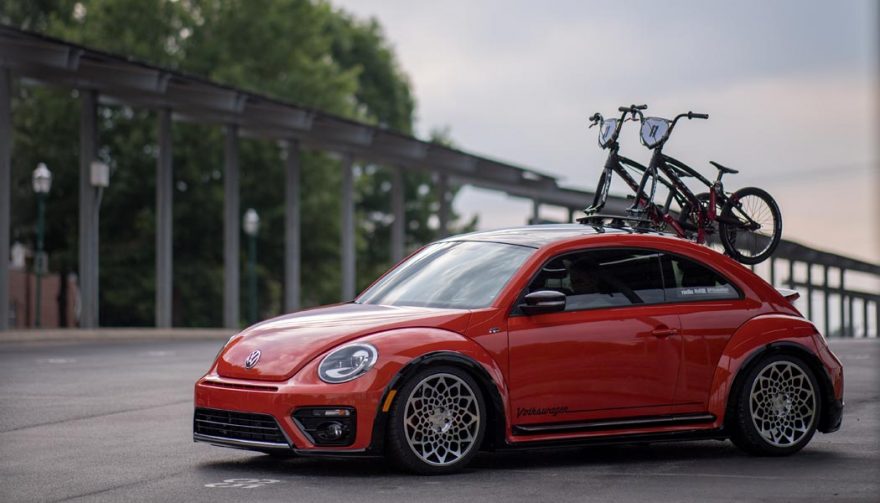 This VW concept car highlights the top Beetle R-Line trim
These VW Concept Cars Are an Enthusiast's Dream
Volkswagen is unveiling its new fleet of VW concept cars at SOWO: The European Experience.
Featuring five models from the brand lineup, these specially prepared show cars are the result of the diverse interests of Volkswagen enthusiasts. Let's have a look at these VW concept cars.
Beetle Post Concept
This VW concept car showcases the top Beetle R-Line trim, as well as championship-winning BMX rider, Alise Post. Post has outfitted the car with two custom GW bikes for Beetle Post Concept project.
The car rides on 19-inch Mr. Drama Queen wheels from an up-and-coming company, Radi8, and uses an H&R Springs Street Performance Coil Over system that lowers the stance and highlights the performance potential of the Beetle.
Jetta GLI Nardo Concept
The GLI is something of a stealth performance car, and the Nardo Concept builds on this reputation. A few simple touches really make the car pop. The GLI has been a staple VW brand since the Mark 2 generation of the Jetta.
Nardo Grey covers the car. It's a popular color at sister brand Audi, and it brings out the lines without looking flashy. The Nardo has an H&R Springs Street Performance Coil Over system and BFGoodrich G-Force Comp-2 A/S tires for a more road-hugging appearance.
View on One Page
You May Also Enjoy:
Volkswagen e-Golf: Too Little Too Late to Revive VW Brand