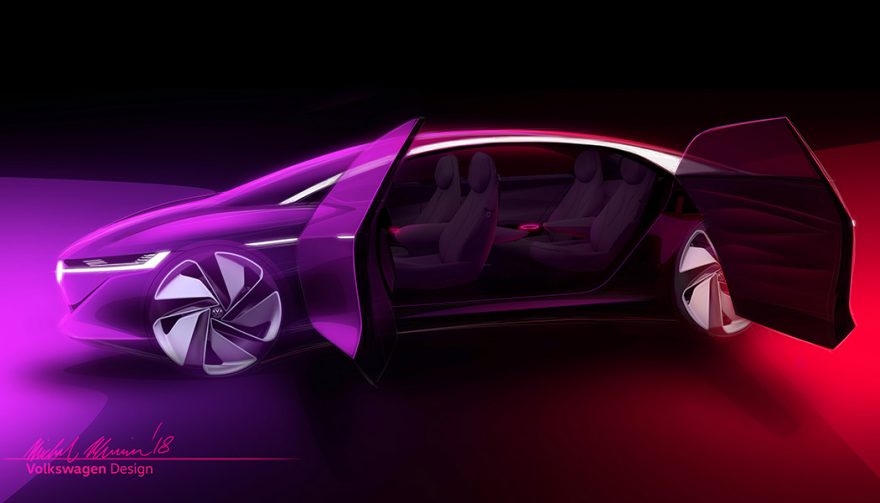 VW's all-new I.D. VIZZION won't come equipped with a steering wheel
VW's New Self Driving Car Doesn't Have a Steering Wheel
An all-new VW self driving car is in the works. The concept car, as well as more details, will debut at the forthcoming Geneva International Motor Show next month. But VW has teased renderings of the upcoming vehicle.
As far as technology goes, the VW self driving car has a lot. But what it doesn't have is a steering wheel or any other sort of visible controls.
The VW self driving car, styled as the "I.D. VIZZION," will be the newest addition to Volkswagen's lineup of all-electric I.D. concept cars. The sedan will join a Golf-like compact car, the I.D. Crozz crossover and the I.D. Buzz, an all-electric microbus.
All of the other I.D. vehicles enjoy some level of autonomy, but not to the extent that VW claims the Vizzion can perform.
Just like the I.D. Crozz, VW says two electric motors will power all four wheels. Combined they make approximately 302 horsepower. VW estimates the Vizzion's 111 kWh lithium-ion batteries are capable of a 413-mile driving range, which would be competitive compared to other electric ranges.
"The I.D. Vizzion clearly demonstrates the great potential of the all-electric architecture from Volkswagen. It is the technological backbone of future Volkswagen electric vehicles, and it enables long driving ranges and maximum space utilization at optimal costs," VW said in a release.
Digital Chauffeur
According to VW, a "digital chauffeur," with multiple assistance systems, controls the Vizzion. Passengers can communicate with the virtual host by talking and with hand gestures.
Thanks to a digital ecosystem, the digital chauffeur will learn the personal preferences of the guests in the vehicle and adapt to each passenger individually.
"The concept car drives, steers and navigates autonomously in traffic, enabling passengers to freely structure their time during the drive," VW says in a release.
The car itself is large, 17-feet long with only four seats. To that end, VW is calling the cabin of the Vizzion a "saloon."
"With its innovative technology, fully automated operating concept and elegant form, the premium class saloon is showing the direction Volkswagen is taking in the technology and design of its future electric models," VW said in a release.
Coming to America?
VW hasn't said whether or not a production-version of Vizzion will come to North America. Volkswagen has confirmed the Crozz and Buzz will both be available in the U.S. The Crozz should be available in 2020 with the electric microbus following in 2022.
Volkswagen has said the company plans to introduce more than 20 electric vehicle models by 2025.