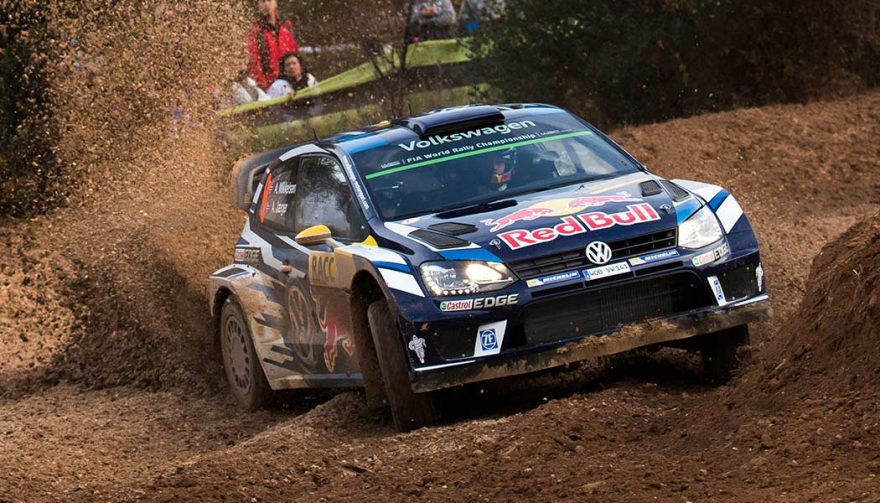 Volkswagen drivers Sébastien Ogier and Julien Ingrassia gave the manufacturer its fourth title in a row.
Volkswagen Wins Fourth World Rally Title in a Row
In its first WRC season in 2013, Volkswagen made history by becoming the first manufacturer to win the World Rally Title in both the drivers' and manufacturers' categories in its debut season. It overwhelmed the competition again in 2014, and triumphed once more in 2015.
And now 2016 makes it four World Rally Titles! Volkswagen drivers Sébastien Ogier and Julien Ingrassia were crowned World Rally Champions for the fourth time in a row after their victory at the Spanish Rally. This is the only rally on the WRC calendar to be held on both gravel and asphalt. It was their fifth win of the season and their ninth podium in eleven races in the Volkswagen Polo R WRC. They clinched the drivers' championship with two events still remaining on the calendar. The Manufacturers' Championship will be decided in one of these final two rallies, with Volkswagen leading Hyundai by 62 points.
In The Top Tier
This now makes Sébastien Ogier the third World Rally Champion to have won four years in a row, and only the fourth four-time World Champion in the history of the WRC. He is now tied with Finnish rally greats Juha Kankkunen and Tommi Mäkinen in World Rally Titles. Only nine-time world champion Sebastien Loeb has more World Rally Titles.
This was career victory number 37 of Ogier and Ingrassia's careers, and their 30th with Volkswagen. In Sébastien Ogier's words, "I feel fantastic! This is the fourth world championship title for Julien and me, but it never stops feeling special. It is an honor to be mentioned in the same breath as such big names as Kankkunen and Mäkinen."
Coming From Behind
The Spanish Rally in Catalonia turned into a thrilling battle for the lead between local heroes Dani Sordo/Marc Martí and eventual winners Ogier/Ingrassia. The weather was a challenge on the opening day, which was held predominantly on gravel. Ogier/Ingrassia lost 17.0 seconds to Sordo/Martí on roads that were muddy in places and drying in others. They bounced back on Saturday, the first of two days on asphalt, to convert their deficit into a 5.8-second lead, with wins on five of the eight special stages. Ogier extended his lead on Sunday and finished 15.6 seconds ahead of the rest of the field.
The Volkswagen Polo R WRC
The vehicle that carried Ogier and Ingrassia to the World Rally Title is the Volkswagen Polo R WRC. Here are its specs:
Engine: 1,600 cc, 318 hp straight-four direct-injected engine with turbocharger and intercooling
Gearbox: Sequential six-speed, hydraulically activated by paddles on the steering wheel
Drivetrain: Permanent four-wheel drive with equal torque split between the front and rear axles, with multi-plate limited-slip differentials
Steering: Servo-assisted rack and pinion
Brakes: Ventilated disc brakes, aluminium brake calipers (four calipers, front and rear)
Acceleration: 0–100 km/h (0-62 mph) in approx. 3.9 seconds
The Spanish Rally also represented a milestone for the Polo R WRC: it was the car's 50th start in the World Rally Championship, and it ended with win number 41. No other car in the history of the WRC has racked up as many victories in such a short time.
The Path To The World Rally Title
The World Rally Championship consists of 14 worldwide events. Ogier and Ingrassia's five victories were in the rallies held in Monte Carlo, Sweden, Germany, Corsica and Spain. The remaining two events on the calendar are the Welsh and Australian Rallies, so Ogier and Ingrassia could extend their winning streak.
What This Means To Us
This win is very good news for Volkswagen. At least in Europe, that is. If only they had a way to capitalize on this World Rally Title in the US market. Unfortunately, there is no American WRC event. The production model of the Polo that won the title is not sold here. VW has not seen fit to effectively market their World Rally expertise and success to us in any meaningful way, either. This will not raise Volkswagen's image here, and it will not help with Dieselgate. We can only hope that the costs of buying back all those bad TDIs will not cause cancellation of VW's WRC efforts, as it has already done to Audi's LeMans Prototype racing program after 2017. Sad days are likely ahead for VAG racing enthusiasts!