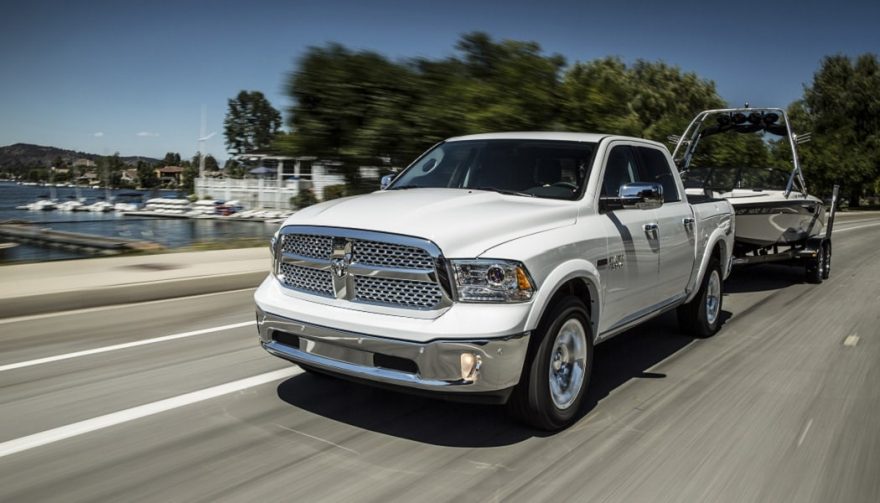 The 2017 Ram 1500 can tow up to 9,160 pounds
2017 Ram 1500 Review: A Truck Through and Through
The 2017 Ram 1500 has a look that screams muscle, and a reputation to go with it. But with the competition heating up in the full-size truck market, does the latest model keep up?
Good Looking
I must say, the Ram 1500 is a real looker. It looks how a truck should: muscular, beefy, not sleek. That look is consistent front and rear.
The side profile keeps with it, too. At the same time the truck looks modern. And you can identify it as a Ram from far off.
The interior is pretty much a no-nonsense layout. Of course, as you go with the nicer models, more luxuries are piled on. But you won't be mistaken for a moment thinking you're sitting in a Sequoia or Grand Caravan. It's a truck, through and through, and I like that.
The buttons and knobs are all big enough you can operate them while wearing work gloves. The seats are made to sit in for long periods of time while traveling to remote job sites, or heading out into the backcountry on trails.
The Numbers
You can get a few different engines for the Ram 1500. The base is the trusty 3.6-liter Pentastar V-6. It puts out 305 hp and 269 lb.-ft. of torque.
Making the Ram 1500 stand out is the optional 3.0-liter EcoDiesel V-6. The peak 240 hp is a little anemic, but you won't care because it throws down with 420 lb.-ft. of torque. That's amazing, and it comes with excellent efficiency with a projected 21 mpg city and 29 mpg highway.
You May Also Enjoy:
2017 Ram Power Wagon Coming This Fall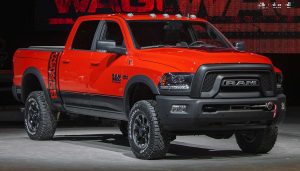 Related Search Topics (Ads)
If what you want is a beefy V-8, Ram has you covered with the 5.7-liter Hemi. This is an engine anyone who's used it loves, because what's not to love? It whips out 395 hp and 410 lb.-ft. of torque.
To manage power distribution from any of these three engines, Ram uses a TorqueFlite 8-speed automatic transmission. A thermal management system is supposed to boost efficiency and durability. Selecting gears means using the controversial Rotary E-shift dial.
Depending on engine choice and other factors, the Ram 1500 can tow up to 9,160 pounds. That's without a fifth wheel or gooseneck. It's a decent rating, and honestly, I expect most people who own the truck will never get even close to that figure.
As for the payload, you can throw up to 1,500 pounds of stuff in there. I don't recommend dropping landscaping pavers from five feet above to test out its toughness.
An optional air suspension will automatically level out the ride if you really load up the rear, which is a nice perk.
Driving Impressions
The Ram 1500 drives like a truck, but has some nice modern touches that I feel enhance the experience. It lumbers over obstacles and corners like a bus, so don't expect a car-like experience or any pretense of one.
With the 3.6-liter Pentastar, the truck is surprisingly responsive. You never feel like the engine is struggling to keep up, unless you're climbing a seriously steep hill with a big load in the bed. Overall, it's highly balanced and probably the best, most sensible choice.
If you're into irrational power, the Hemi is awesome. It hits hard and is a blast to drive, but you'll see the fuel needle dive as you push it. You also get that rumbling V-8 bravado, something I'm sure the right aftermarket exhaust would only enhance.
There's a lot of torque with the EcoDiesel. Driving around town, the engine makes for quick starts. When cruising, this engine is highly tamed. The fact it sips fuel is great.
The suspension is a little on the rough side. If you go with the air suspension, know that as it automatically lowers at freeway speeds, it becomes stiffer. It can be uncomfortable.
Interior comfort is at least good in the lower trims. Going with a more optioned-up version means you can enjoy some opulence. Marketers might tell you it's like a luxury car on the inside, and while it's not, the cab is still nice enough.