Driven: 2020 RAM 1500 Longhorn Laramie
In more ways than one, the 2020 Ram 1500 Longhorn Laramie is a pickup truck designed to do double-duty as a luxury sedan. On one hand, it's a full-function, high-capability pickup that's intended to be worked and get a little dirty. On the other hand, it's a rolling showcase of the most current technologies and luxury trimmings you'll see in modern vehicles today.
My tester was a Longhorn Laramie, a high-end trim complete with plenty of add-on options. With all the option boxes ticked, this one can easily approach the six-figure range.
All the Bells and Whistles
Many shoppers drop serious bucks on high-end offerings from their favourite pickup brands these days. For them, RAM's blending of high-tech flair and opulent luxury will feel like their money's worth. Simply put, your writer has yet to encounter a pickup truck interior that's this well done.
Everything that could be jazzed up in the 2020 Ram 1500 Laramie Longhorn is, detailed, stitched, ornamented or patterned, has been—right down to the otherwise boring edges of the interior trim which are embossed for added detail. Parts of the instrument set resemble a high-end watch. The dials are accented with unique graphics, and set against vivid digital displays that are clear and highly customizable.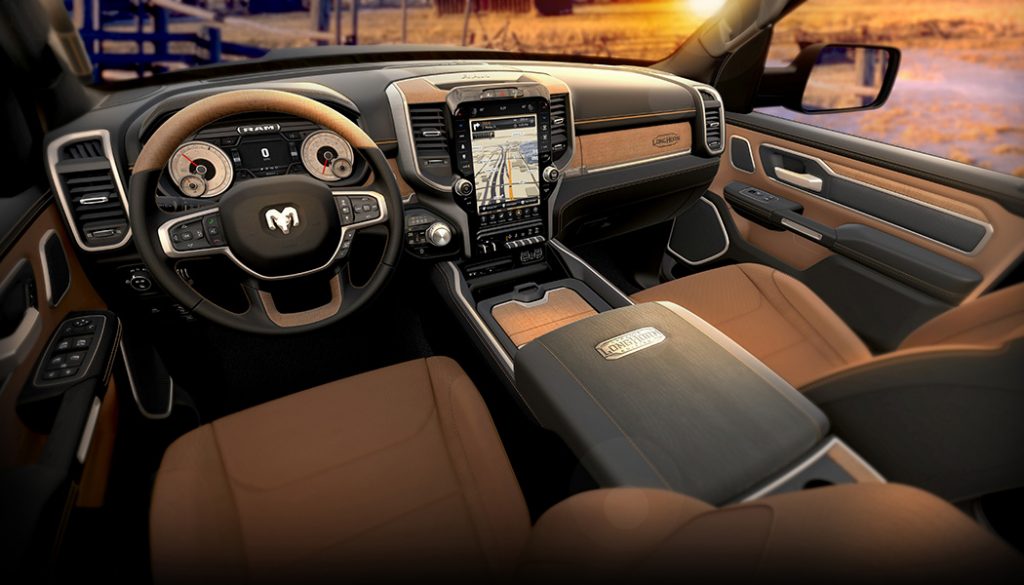 During my time in this 2020 Ram 1500, the instrument cluster displays became a favourite feature. The on-screen images look crisp and clean, and there's plenty of room for customization.
Natural wood trim, knurled metal, flawless stitching, and multiple types of leather stack atop one another. The Longhorn decal is even hand-burned into the wood on the dash, for heaven's sake.
This is the classiest pickup truck interior I've ever seen. Most will appreciate how all the richness supports the asking price, though some may find it resembles the décor in a luxury steakhouse.
Front and centre is the gargantuan portrait-oriented touch-screen with dual-tier controls. It's a tall, slim screen split into two—drivers can easily flit through the smooth and glossy surface with their fingertips, calling up functions and customizing the displayed controls with ease. For the less tech-savvy among us, fear not: it's very approachable and logical to learn. Nearby hard buttons provide additional means of controlling various common functions, too—making the touch-screen's use somewhat less mandatory.
You May Also Enjoy:
2017 Ram 1500 Review: A Truck Through and Through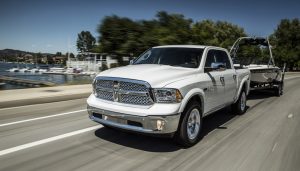 Related Search Topics (Ads)
Luxury Touches
Favorite touches on board the 2020 Ram 1500 Laramie Longhorn included the wireless charging pad for my Samsung, the motorized rear window, and the generous access to abundant nearby ports for charging and connecting.
The adjustable air suspension was another favorite toy. On command, it can lift or lower the truck for more clearance, easier passenger access, or anything else in between.
The air suspension system is an interesting intersection of technology and luxury: a high-tech feature that also helps enable a smooth and creamy highway ride. It's on the highway where I most enjoyed this truck: the ride, driving position and interior all work in sync to encourage you to relax and decompress. The Harman Kardon stereo is a wonderful long-haul travel companion as well, thanks to bright and vivid clarity and plenty of kick.
You've got better-riding options around town in some settings, however. Thanks in no small part to my tester's monstrous wheels, a measure more harshness than I like can find its way back into the vehicle on poorly-maintained roads. What shines through it all is a solid and durable feel: even with the suspension taking a beating, Ram feels solid and the cabin stays nicely hushed.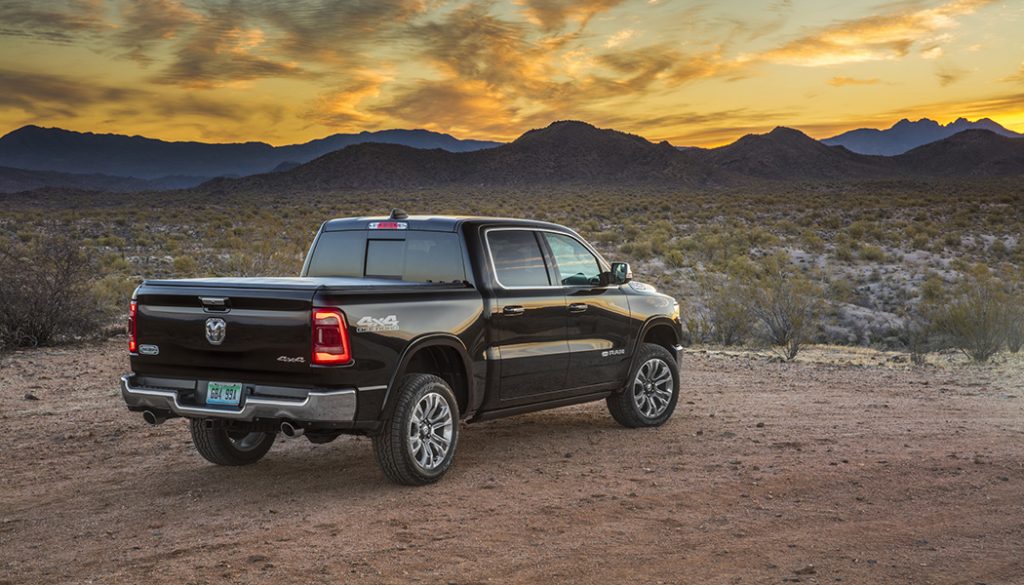 Hemi Power
Combining the proven HEMI V8 with a new power-boosting and fuel-saving E-Torque hybrid system, drivers can expect performance and refinement that wouldn't feel out of place in a luxury sports sedan.
Using self-generated electricity to boost the V8's low-end torque without combusting additional fuel, the engine responds all but invisibly and noiselessly to lighter throttle inputs—all with plenty of thrust on tap for shuffling around in traffic.
When opened up, the electric power sees the Ram leap ahead with on-demand throttle response, thanks again to a little electric boost that blends nicely with the HEMI V8's punchy power curve and tastefully-restrained V8 rumble.
My main gripe in the 2020 Ram 1500 was the throttle response. You've really got to stuff your boot to the carpet to get the big V8 spinning fast. Laid-back drivers will love it, sportier drivers may find the throttle pedal to feel sluggish. Ultimately, here's a quiet and usually-comfortable drive propelled by a smooth and quiet engine, all taken in as occupants are surrounded by the latest and greatest stuff that anyone's putting into a truck today.