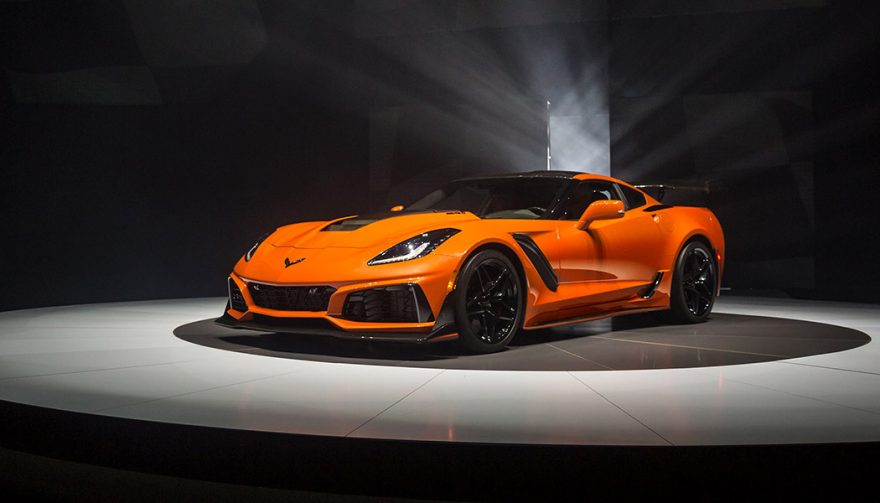 The 2019 Corvette ZR1's exclusive LT5 engine generates 755 horsepower and 715 lb-ft of torque
2019 Corvette ZR1: Fastest, Most Powerful Production Corvette Ever
Chevrolet has finally unveiled the all-new 2019 Corvette ZR1, and it doesn't disappoint. The supercar has the highest power, greatest track performance and most advanced technology in Corvette's production history, according to a release.
The 2019 Corvette ZR1 gets an exclusive LT5 6.2-liter supercharged V8 engine. It's rated at an SAE-certified 755 horsepower and 715 lb-ft of torque.
Most Powerful Corvette Ever
For a Chevrolet production vehicle, the LT5 delivers the highest output ever with the help of a new, more-efficient intercooled supercharger system. It boasts 52 percent more displacement than the Z06's LT4 supercharger, according to Chevrolet.
Also helping this record output is GM's first duel-fuel-injection system, which utilizes primary direct injection and supplemental port injection.
Another milestone for the ZR1 is the introduction of an automatic transmission. The LT5 comes mated to either a seven-speed manual or an eight-speed paddle-shift automatic transmission.
Fastest Corvette Ever
Make no mistake, the 2019 Corvette ZR1's aggressive appearance serves a purpose. The all-new front fascia channels air for propulsion-system and drivetrain cooling. A special carbon-fiber "halo" hood is open in the middle to clear the engine's supercharger and intercooler assembly.
You May Also Enjoy:
The 2020 Chevrolet Corvette Gets Mid-Engined, Goes Faster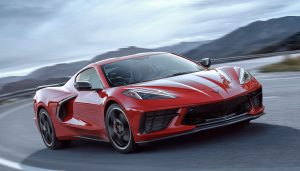 Other features, like aero packages with stanchion-mounted wings, provide better handling and faster lap times.
The top speed for the 2019 Corvette ZR1 is over 210 mph, according to Chevrolet.
Two aero packages will be available on the new ZR1. The standard rear Low Wing delivers the highest top speed with 70 percent more downforce than the Z06's base aero package. And then the available two-way-adjustable High Wing offers a maximum downforce on the track for quickest lap times.
"As the highest-performing Corvette ever, the ZR1's design supports its capability in every way," said exterior design manager Kirk Bennion.
"The new wings, for example, help generate more downforce without adding drag, enhancing road holding and top speed."
Well-Appointed Cabin
The 2019 Corvette ZR1 has a driver-focused cockpit. It includes standard leather-trimmed seats. Suede microfiber inserts are available, as are heated and vented Napa leather-trimmed seating, carbon fiber-rimmed steering wheel, competition sport seats, Performance Data Recorder, Bose premium audio system and more.
Along with the new supercar, Covette unveiled its Sebring Orange Design Package. Centered on the Sebring Orange Tintcoat exterior color, the package also gets orange brake calipers, orange rocker and splitter accent stripes, orange seat belts, orange interior stitching and a bronze aluminum interior trim.
The 2019 Corvette ZR1 goes on sale next spring.