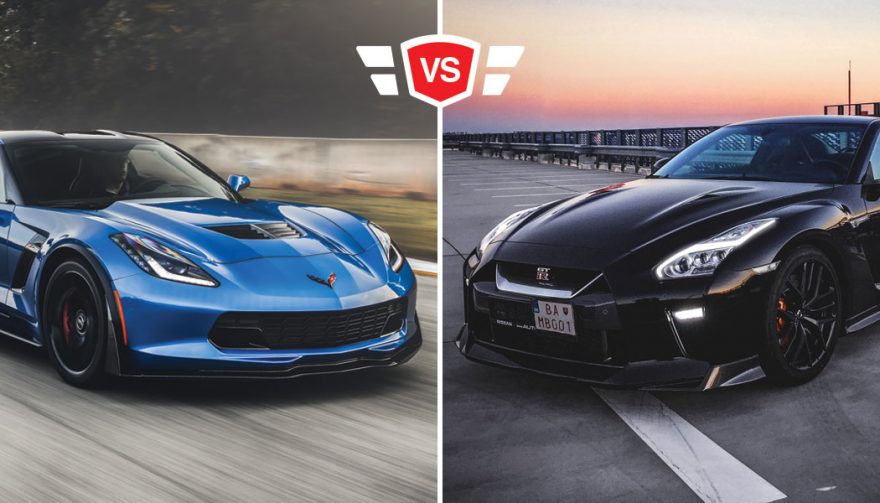 The Nissan GT-R and Chevy Corvette ZO6 are some budget-friendly options and provide a good bang for their buck.
Nissan GT-R v. Chevy Corvette ZO6
When you're in the market for a car that not only is fast, but offers all-around incredible performance. The Nissan GT-R and Chevy Corvette ZO6 are some budget-friendly options. Unlike some supercars, these two models provide a good bang for their buck.
Of course, the big question people have is which car is better? It's not really a straightforward answer, because there are a lot of factors involved in judging which car wins out in a comparison. After all, what's important for you to have in a supercar might not be as big of a deal for someone else. Instead of just declaring one or the other the winner of this faceoff, let's take a look at several areas and how the supercars stack up against each other.
Powertrain Performance
This is usually the first area that shoppers focus on, because it's what makes a car go. The ZO6 comes with a 6.2-liter V-8 engine, which whips out 650 horsepower and 650 lb.-ft. of torque, with a supercharger helping. That's impressive compared to the twin-turbo 3.8-liter V-6 in the GT-R, which still squeezes out a respectable 545 horsepower and 463 lb.-ft. of torque. So if you're looking for raw power, the Chevrolet is the obvious choice.
Are you a "save the manuals" kind of a person? If so, the ZO6 is the only choice, because it comes with a seven-speed manual transmission so you can row through the gears and even do some heel-toe shifting. If you're not a purist, know that the Nissan features a six-speed auto-shift manual. This could be a good option if driving a stick isn't a skill you've quite mastered, or if you just hate dealing with a clutch all the time.
Handling
It doesn't help to have a lot of power from a vehicle, if you can't reign it in. Both cars have rack and pinion steering, but the GT-R uses a hydraulic power-assist system, versus an electronic setup on the ZO6. Some might like the more traditional feeling of the Nissan, while others prefer the smooth dynamics of the Chevy, but you should test out both before making up your mind.
The two supercars take different approaches for the suspension. On the GT-R, there's a double wishbone up front and multi-link configuration in the rear. For the ZO6, a short and long arm configuration is used for the front and back. Neither one is superior, but you might find that you like one better than the other.
Of course, one huge difference is that the GT-R features all-wheel drive, while the Corvette ZO6 is a rear-wheel-drive vehicle. Some people love the control of having power go to all of the wheels, because it makes the Nissan seem less scary to handle. There's a trade-off, because you can do epic burnouts and possibly drift in the Chevy, even if you have to be careful when whipping through turns. If you plan on driving your supercar in snow, all-wheel drive makes the most sense. Otherwise, this is really a matter of personal preference.
Size
You'll need to park your supercar, and that's when the footprint or size makes a big difference. While the ZO6 is wider, the GT-R is longer and taller. Interestingly enough, the Chevy has a wider front track, while the Nisan wins out for rear track width.
The GT-R is a heavy car, beating out the ZO6 for curb weight by almost 400 pounds. That shouldn't be much of a shock, considering there's a backseat in the Nissan. Most people will use that area to throw bags or whatever else, but you could fit kids — or adults you don't like — back there. There's a mere 26.4 inches of legroom in the rear, so it's not exactly spacious. Corvettes, on the other hand, have been legendary for the huge rear cargo space. People take them on road trips all the time, because fitting enough stuff for two people is a breeze.
You May Also Enjoy:
2017 Nissan GT-R Owns the Spotlight at NY Auto Show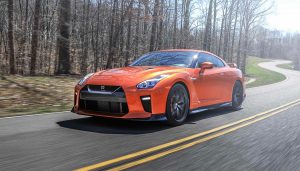 Exterior
When it comes to exterior equipment, it's pretty much a draw. You get LED headlights on the GT-R, which are better than the high intensity headlights on the ZO6. The Chevrolet has a manual sunroof, but you can't even get one on the Nissan.
You can probably see the that GT-R has a rear wing, which you might think is really cool or a little too much, depending on personal taste. Chevrolet went with a subtler lip spoiler on the ZO6, a feature some people could think is a little more sophisticated. Again, this is a matter of preference.
Interior
If you're planning on driving the car a lot, maybe even every day, you need to consider how comfortable and functional the interior is. Beyond just testing out the seats, which are a huge part of the comfort factor, you need to weigh other options.
A neat convenience in the GT-R is voice-activated air conditioning, but it's not an option in the ZO6. There's also an overhead console in the Nissan and none in the Chevy.
The Nissan also comes with cargo-area tie-downs, just in case you need to transport something heavy. A HomeLink universal garage door opener and auto-dimming rearview mirror are also included on the GT-R. None of these features can be had on the ZO6.
There are more factors, but just know that Nissan throws in more creature comforts for the GT-R.
Safety
It might seem out of place talking about safety in a supercar comparison, but it's something you need to at least consider. The Nissan GT-R offers some features not found on the Chevrolet, including tire pressure monitoring, side curtain airbags and brake assist.
The big technology on the ZO6 that everyone should already know about is OnStar. If you do wreck out big in the vehicle, the system can automatically call for help and provide the exact location where rescuers need to go. It also means that roadside assistance is just the touch of a button away. While the tech might sound ridiculous, you might one day find it's incredible useful.
Speaking of roadside assistance, Chevrolet offers longer coverage than Nissan.
Price
Pricing info changes from country to country. If you're in the United States, the Chevy Corvette ZO6 is by far the more affordable choice. It has an MSRP that sneaks in just under $80,000. The Nissan GT-R, on the other hand, starts off just over $100,000.