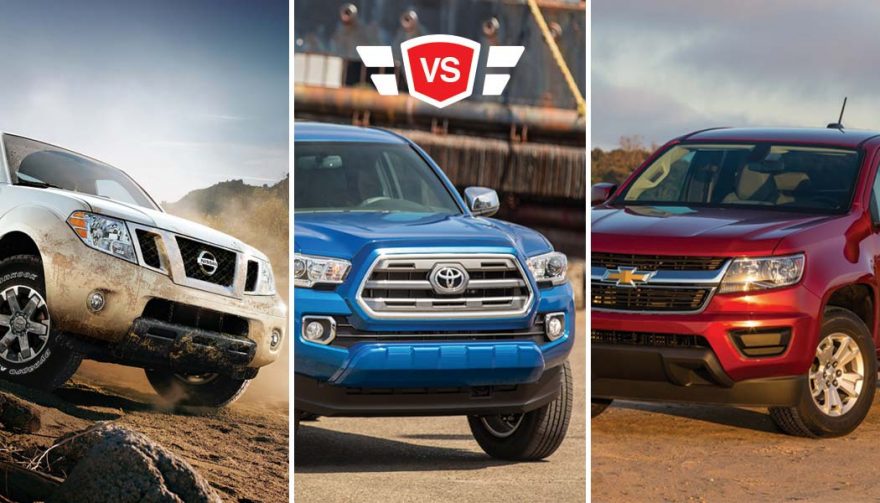 Here's how three of the bestselling pickup trucks stack up next to each other
Truck Throw Down: Colorado vs. Tacoma vs. Frontier
Let's have a look the Nissan Frontier vs Toyota Tacoma vs Chevrolet Colorado midsize truck battle. The segment has been heating up lately. After years of automakers ignoring the potential, they've realized people want a smaller, but still utilitarian pickups. These trucks are easier on the wallet than bigger options, plus they can fit in tighter spots.
The Chevy Colorado, Toyota Tacoma and Nissan Frontier are popular options. Each one has its pluses and minuses, but all three are some of the best selling trucks. Let's have a look at each one.
Chevy Colorado Highlights
As the relatively new midsize pickup, the Chevy Colorado has a fresh feel to it. Sure, the styling is straightforward Chevy, but when you get behind the wheel it drives surprisingly light. But don't be fooled, because this little tuck can be a real workhorse.
Instead of just four-cylinder and six-cylinder gasoline engine options, you can also get the Colorado with a Duramax engine. With that option, you have on tap a monstrous 369 lb.-ft. of torque, which is great for towing and off-roading. It's one of the most powerful diesel trucks.
Comfy Interior
Let's be honest: some trucks have really utilitarian cabins. Sure, they're modern, but you wouldn't want to be stuck in there for hours on a road trip. That's where the Colorado really shines. The seats strike a great balance between being comfortable and supportive. As the driver, you can find and reach the controls with ease, and you enjoy good visibility all around.
Chevy also serves up plenty of comfort with some slick onboard tech. One you can't get elsewhere is the optional 4G LTE WiFi, so everyone can be on their device at once, even in the middle of nowhere.
ZR2
For those of us who like to go off-roading, there's the Chevy Colorado ZR2. It's not just a trim with "tough" aesthetics. It comes with some real hardware like multimatic shocks, automatic front and rear locking differentials, a 3.42 axle ratio, hill descent control, and special suspension calibrations. An Off-Road Mode changes calibrations for the engine, tranny and traction control.
Toyota Tacoma Highlights
Pretty much everyone knows the Tacoma, and plenty like it well enough. When other automakers jumped out of the midsize truck segment, Toyota was one of the few to stick with it. As a result, this option feels pretty refined all around.
The top reason for getting any Toyota is longevity and reliability. Sure, roll your eyes, but there's a reason why even ISIS fighters prefer Toyotas for waging desert warfare. Getting stranded in the middle of nowhere is absolutely no fun.
You can get a 2.7-liter four-cylinder engine capable of 159 horsepower or upgrade to the 3.5-liter V6 which produces 278 horsepower and 265 lb-ft of torque.
This One's Comfortable, Too
Sweetening the deal as well is the fact the Tacoma's cabin is comfortable and loaded with features. That wasn't necessarily the case with the previous generation. The current one is surprisingly quiet and loaded with conveniences.
Despite all these comforts, there are some drawbacks to the cabin. I can say as a Toyota owner that the company needs to learn how to make more comfortable seats. Headroom is also a little tight, which let me tell you is great fun when you're rock crawling …
Rugged Capabilities
Conquering the trail is also possible with the Tacoma. Keep in mind Toyota has decades of experience building great off-road machines, and it shows with the TRD Off-Road and TRD Pro models. One of the most useful and unique features is the crawl control. It's like trail cruise control, maintaining a constant low speed by controlling the throttle and brakes. That frees you up to monitor the trail ahead and plot a safe course.
Another trail innovation is Multi-Terrain Select. It alters how traction control and the engine throttle work, minimizing wheel spin. You just choose the right setting, and the computer does the rest. There are many other trail-oriented features, like  an electronically locking rear differential, hill descent control, Fox internal bypass shocks, Rigid LED fog lights and a beefed-up aluminum front skit plate.
View on One Page