Test Drive: 2019 Kia Telluride
The 2019 Kia Telluride is now the heftiest machine Kia is offering to busy families, Telluride is a 3-row, 8-person hauler you might consider alongside the Ford Explorer, Mazda CX-9, Subaru Ascent, Dodge Durango, and others. The Telluride's biggest punch comes from its looks.
Some cues are unique, others borrowed, and the hood-wide TELLURIDE badge signals the machine's identity with little second-guessing. You won't have any trouble finding yours in the parking lot, and many of your fellow motorists will turn their heads for a closer look, too. The style isn't for everyone. It looks better in person than in photos, and prompts many conversations along the way.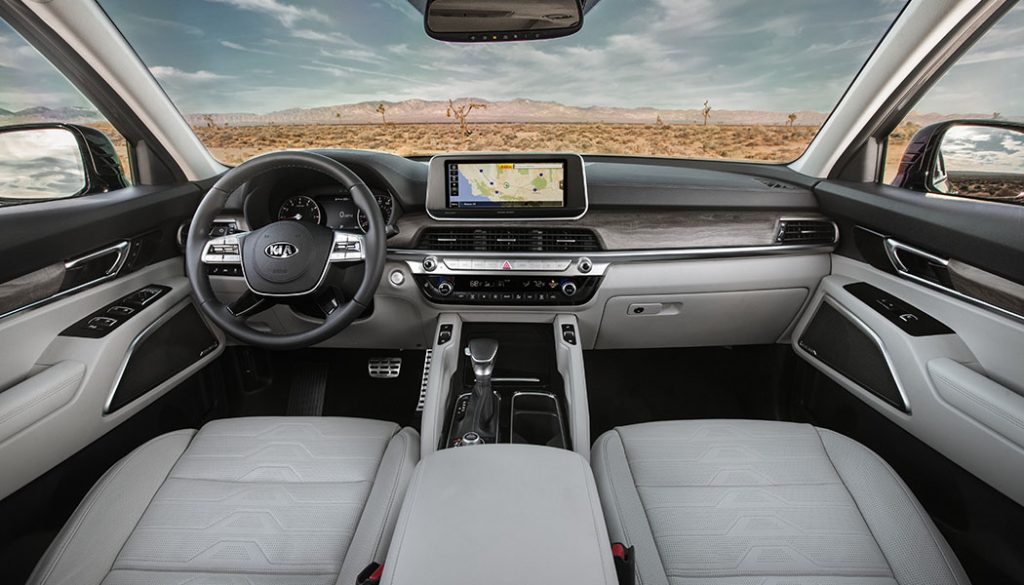 Big Inside
Passengers in each
seat row can expect generous space, relatively trouble-free boarding and exits,
and loads of nearby cubbies and pockets and cupholders to keep organized.
As a 5'10 adult of
roughly average constitution, I can report that the third-row seats proved
relatively trouble-free to board and exit, the process assisted by highly-visible,
easy-to-use levers and buttons for getting the corresponding second-row seat
out of the way.
Adults may become claustrophobic
on longer voyages, but short ones should prove just fine. There's plenty of
third-row space for smaller passengers to grow into, too.
And with that third seating row upright, the cargo hold still offers up solid space. Ideal for a few gym bags, a mid-week grocery run, or a load of beach gear.
Seating folds flat
as required for more cargo room. Springy and lightweight latches and levers give
folding seat operation a low-effort lightness, and makes manipulating the
current seating and storage configuration a breeze. With all rear seating down,
the cargo hold is monstrous, wide, and flat.
Elsewhere on board, most will find the 2019 Kia Telluride's interior to turn in a pleasing look, relative to the price. Interfaces and displays are tidy and easy to learn, most materials in the cabin feel substantial and durable, and there's plenty of clever accenting and metal touches to dial up the sophistication. Words like smart, tidy, casual, and modern are good descriptors.
Loaded With Stuff
Most must-have crossover feature content was fitted to my tester. Favorites included the wireless smartphone charge pad and a handy surround-view parking monitor system that simulates a birds-eye view when parking and lets drivers see full-circle around the vehicle on a single screen. Building on this, your turn-signal inputs trigger a camera feed from the corresponding side of the vehicle to display in the instrument cluster. For added confidence in checking your surroundings. It's a delightful feature that might become your new favorite gadget.
I could have used some rain-sensing wipers, however.
Drives Softer Than it Looks
The ride quality is another asset that Telluride test-drivers will likely appreciate. A dense and sturdy feel is imparted, and shocks feel tuned for comfort-first ride quality, despite handling that's more car-like than you might think. It's like driving a great big sedan, but a little higher off the road. It might look like a four-wheeled house, but the 2019 Kia Telluride is no more labor-intensive to drive than a family-Camry. Most of the time.
Put simply, it's
dialed in to feel comfortable, responsive and confidence-inspiring in the sort
of conditions where it's likely to be used the most: with pavement underfoot.
Shoppers in locales with very badly maintained
roads, or those who regularly drive on rough off-road surfaces, may have better
choices, however. Telluride does its best work when the pavement is relatively
smooth. Rougher roads and many off-road surfaces do, however, draw more
harshness and noise from the suspension and tires than some will like.
Towing capacity is rated at 5,000 pounds, if you're curious.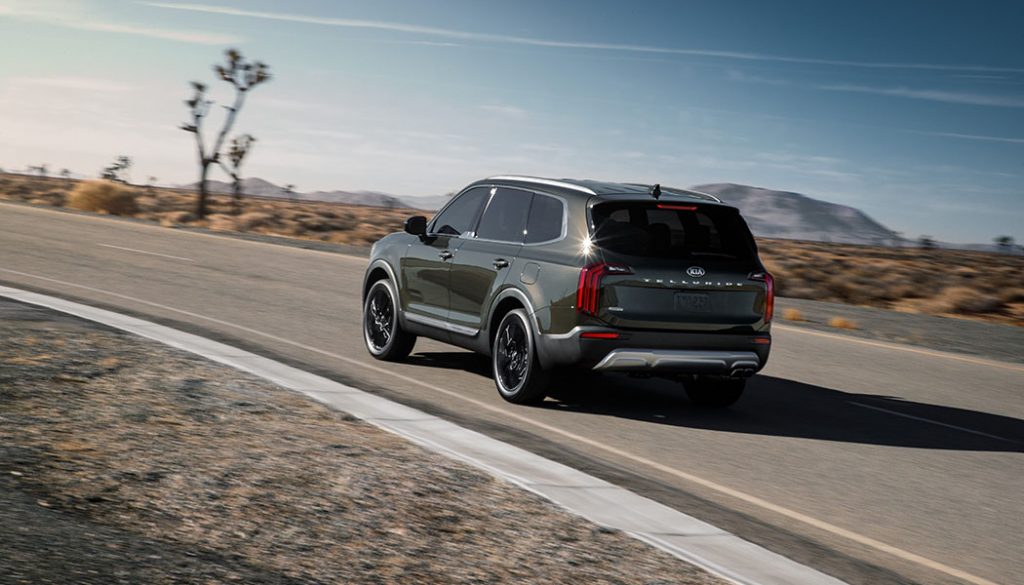 Not as Packed with Power
Telluride's main drawback, by my estimation, is its powertrain. Though it depends on the driver.
Those with a light foot, mostly after minimal engine noise and maximum fuel economy, will find the setup just right. Driven in no rush, Telluride's powertrain keeps to itself: noise levels and revs are kept down, and the engine and transmission work very smoothly with one another. You hardly even know it's there.
Heavier-footed drivers may be disappointed though. The 2019 Kia Telluride's 3.8 litre V6 packs a roughly-average 291 horsepower, though a lazy throttle and slow-and-steady transmission mean that responsiveness is not one of Telluride's best assets. It's tuned for efficiency, not performance. Plus, if you're not in SPORT mode, the Telluride is in no hurry to respond to heavier throttle inputs and can feel fairly sluggish.
Good thing the 2019 Kia Telluride works so nicely as a place to relax, socialize, and catch up—especially on long highway hauls. For the money, there are better options for sportier drivers, and for off-road usage. Beyond that, however, Telluride stacks up as a model that's very worthy of your attention—especially if space to spare is a priority.