Rugged Winners: Top SUVs to Consider Purchasing
Even as the automotive market has started to cool after a red-hot run, SUVs still very much rule the roost. It's not difficult to see why the top SUVs are so popular. Considering they offer utilitarian design, the promise of increased safety, improved visibility on the road, and possibly improved handing in inclement conditions.
That being said, not all SUVs are made equal. Quite simply, some are far better than their competitors.
With so many different options on the market, it can be difficult or even impossible for many shoppers to find the best out there. Hopefully, we can help give you a shorter shopping list. Whether you're looking for something large or small, budget-friendly or luxurious. Really, there's something for everyone.
Subaru Forester
Subcompact SUVs might be a little too cramped, but big models are just too large. That's where the Subaru Forester is an ideal fit. This compact entry on the list of top SUVs has a long-running stellar reputation for reliability and overall practicality. While you're not going to take on a super tough trail, deeply rutted dirt roads don't even present a challenge for the Forester.
The other thing is the Forester doesn't handle like an SUV. That's thanks to several factors, including a flat-four boxer engine. Which means much of the vehicle weight sits low. Not only is the engine great for handling, it delivers decent power and excellent fuel economy.
If you're concerned about safety, the Forester along with pretty much the entire Subaru lineup performs extremely well in tests and in the real world. That factor alone has helped the brand generate a loyal following for this one of the top SUVs.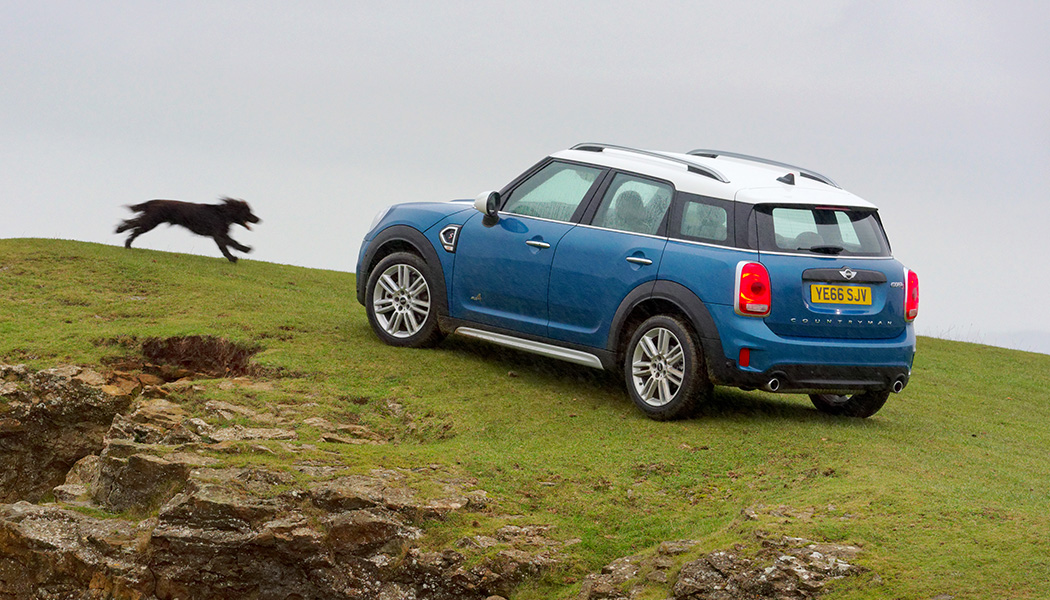 Mini Cooper Countryman
Not all SUVs are towering behemoths. While you might struggle to wrap your mind around the fact the Mini Cooper Countryman is classified as a subcompact SUV, it's actually an excellent option to consider if you're looking to economize space. Minis look small from the outside. But thanks to clever design they feel much more spacious once you're inside.
Like its smaller counterparts, the Countryman feels great to drive. It preserves much of that go-kart sensation. Thanks to tight handling aided by wheels pushed to the vehicle corners, plus lightning-quick throttle response.
With four doors and a liftback, the Mini Cooper Countryman is surprisingly utilitarian, which is part of why it's one of the top SUVs. What's more, you can get a wide array of trim levels from the spunky base all the way to the high-strung and highly-engaging John Cooper Works. In addition, just like with other Minis, the factory customization options are almost mind-boggling. You really can get the Countryman your way the day you take delivery, if that's your thing.
Mazda CX-9
Usually, midsize SUVs aren't something you drive to have some fun. Instead, they're people haulers or have really great cargo capacity. So you endure the sloppier handling, sluggish acceleration, etc. Not so with the Mazda CX-9. The three-row SUV is actually more engaging to drive than a lot of new cars, which might be why you see so many in the school pickup lines. Even responsible parents deserve to have some fun now and then.
Part of what makes the CX-9 a blast to drive is the intelligent all-wheel-drive system. Instead of leaning in the turns, this system helps the SUV snap through curves. Combining with that is the Skyactiv-G 2.5T Dynamic Pressure Turbo engine with 250 horsepower and a monstrous 310 lb.-ft. of torque. It's enough to make the 4,200-pound SUV feel like it's launching forward each time you accelerate from a standstill.
Mazda's simplistic design philosophy makes the exterior of the CX-9 look quite attractive, instead of some jumbled mess, so everything is buttoned up nicely. That same clean design permeates the interior, which is also highly functional. Little touches like the infotainment screen which pops out of the dash but doesn't obstruct your view out of the windshield, real Santos Rosewood inlays, and sculpted aluminum elements make the Mazda feel more like a luxury vehicle.
Toyota RAV4
Don't call it a comeback, but the new generation of the Toyota RAV4 is a great return to form. This compact SUV has always been one of the top SUVs, but this time Toyota has really hit it out of the park. Finding one of these available on a dealer lot can prove to be a challenge depending on where you live. But it's worth the extra effort.
If you want an efficient and practical vehicle to get you around the city on weekends, but that can still hit the trail and get you to more remote places on the weekend, the RAV4 could be the right fit. You can get it with a hybrid powertrain, which gives this Toyota plenty of get-up-and-go while also conserving gas. It's a feature unique to this one of the top SUVs.
Among the many improvements is Toyota Safety Sense, a suite of safety technologies, included as standard. Interior materials are better, combining with excellent craftsmanship for something which feels decidedly upmarket. Of course, Toyota's reputation for reliability means plenty of people will be keeping the RAV4 for the long haul.
Porsche Cayenne
With four trim levels for 2019, the Porsche Cayenne allows you to pick the heat level you enjoy. And like a true Porsche, this midsize luxury SUV can be had with a huge array of optional equipment. Just remember it's easy to inflate the price of the vehicle in a hurry if you get carried away, which absolutely is Porsche's brilliant strategy.
While you won't be rock crawling using the Cayenne, it has excellent road manners. Whether you're dealing with bad weather, negotiating tricky switchbacks in a mountain pass, or are cruising at high speed on the highway, this SUV will fill you with plenty of confidence. Plus, your passengers will appreciate the cushy ride. While you as the driver feel the SUV is responsive.
Just as you'd expect from any German luxury vehicle, the interior is quite comfortable. A sliding second-row means you can accommodate especially tall passengers without discomfort, or scoot it forward to fit longer cargo items. It's a nice feature you don't always see in any but the top SUVs.
Kia Telluride
The down-to-earth marketing campaign actually perfectly lines up with the actual vehicle. What the Kia Telluride offers is practicality at an affordable price. It undercuts many competitors on price, but if you take a close look at the Kia Telluride, Kia achieves this without cutting important corners.
First of all, the Telluride is tough and capable. You're probably not going to take it on the Rubicon Trail, but that's not a reality for most three-row SUVs. But this has a body-on-frame design, like a truck, so it can handle some pretty rough conditions if needs be. That also means better towing capacity than unibody crossovers, in case you have a camper or boat you want to take places.
That's not to say the interior of this midsize SUV is without comforts. On the contrary, you and your family will find the Telluride to be quite accommodating. Among the many options is a microphone to amplify the driver's voice to the rear seating areas, head-up display, and dual sunroofs. Plus, there's enough room for adults to sit on all three rows, so nobody will be eating their knees during a trip.
BMW X5
Another luxury SUV from Germany, the BMW X5 is a top dog in its segment for plenty of good reasons. First off, its road manners are excellent, living up to the marketing tagline of being the Ultimate Driving Machine. You get to choose between two performance engines, both turbocharged, while all-wheel drive comes standard across the board. Towing capacity is actually quite impressive, topping out at 7,200 pounds, which might surprise quite a few people.
While not everyone is a fan of the cosmetic update on the X5, it certainly adds a bolder flavor to the SUV. What's most noticeable is the larger kidney grilles, which are absolutely hallmark to the brand.
Quite a few interior improvements have also been introduced. For example, dual 12-inch digital screens are a huge addition, keeping up with changes in tech and preferences in the luxury vehicle market. Passenger volume has increased, and it's most noticeable if you add the optional third row. This is an SUV to choose if you want comfort and performance rolled together.
Ford Expedition
When you need maximum size, the Ford Expedition is the standout choice. Offered in its sizable regular format and MAX, which boosts the cargo area dimensions considerably, this is one of the most spacious full-size three-row SUVs on the market today. In fact, adults over six feet can actually sit comfortably on the third row. Which is fantastic. Tip-and-slide second-row seats and power reclining third-row seats are also available.
If you're in need of serious towing capability for your choice of top SUVs, the Expedition is an excellent choice. Not only does it boast a maximum towing capacity of 9,300 pounds, the 3.5-liter EcoBoost pushes a peak 470 lb.-ft. of torque. That's not all, because the optional Pro Trailer Backup Assist saves you from the embarrassment and potentially expensive consequences of struggling to reverse with a trailer hitched up to your ride. Instead of turning the steering wheel this way and that trying to figure out which way the trailer will go, you just turn a knob the way you want the trailer to go and the system takes care of the rest. After a long day on the road dealing with the extra work of towing, it's nice to not have to also struggle just to back up to a boat launch, down a driveway, etc.
Yes, the Ford Expedition is a lot like an old school SUV, but it's not an unsophisticated brute as you're already learning. All kinds of cutting-edge tech is available or included. Like blind-spot monitoring, mobile WiFi hotspot, and a rear entertainment system. This vehicle is like the mobile command base for camping and other outdoor activities. Plus is the ultimate road trip solution.
Jeep Wrangler
If what you really need or want is an SUV which will really take you places far away from pavement, the Jeep Wrangler is a solid choice. It doesn't need much of an introduction when it comes to trail capabilities. Plus what it's lacking can easily be corrected by the sea of aftermarket solutions readily available.
There's a lot of fun elements to the current crop of Jeep Wranglers. Not only are there several interesting trim options, it's the only one of the top SUVs on the market with removable doors, a removable roof, and a fold-down windshield. If you track mud or whatever else inside, the floor has drain holes so you can just hose it out.
Available in two- and four-door variants, the Wrangler now comes with more creature comforts than ever before. All kinds of safety technologies are available. You can add heated leather seats, satellite radio, and navigation, among other options. Roughing it has never been so easy to endure.
Toyota Land Cruiser
No SUV on the market can rival the combination of rugged trail capabilities, legendary reliability, and excellent luxuries featured in the Toyota Land Cruiser. Chief criticisms include that the SUV hasn't been redesigned in far too long, but the formula works incredibly well. So that shortcoming is easy to overlook.
There's just one trim level for the Land Cruiser, so you're going to get a fully-loaded vehicle. That means leather, seat heaters/ventilation, navigation, and everything else your heart desires is absolutely included. You won't suffer rolling around in this vehicle anywhere. Keeping you and your passengers quite happy.
You May Also Enjoy:
What We Know About the Jeep Pickup Truck Right Now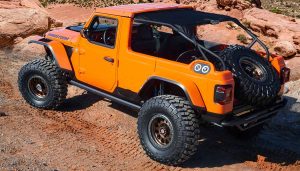 But the real reason to choose the Land Cruiser of the top SUVs is the excellent off-road capabilities. Don't think this legend has grown soft. Because it will get you to remote locations and back. Advanced technologies help make the journey less stressful. Like the Multi-Terrain Monitor, which shows video feeds of the immediate terrain in front, behind, or to either side of the vehicle. So you're better able to check for obstacles. There's also a Kinetic Dynamic Suspension System which helps with traction by loosening the suspension for better wheel articulation than when you're on the road. Including automatically disconnecting the front sway bar.