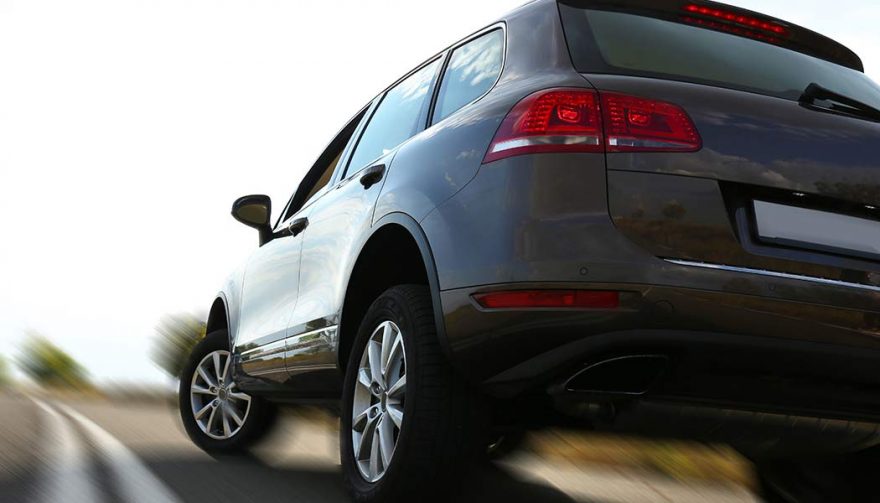 The definition of an SUV is still uncertain, but their popularity isn't.
The Top SUVs for 2016
Is there a single definition for SUV? We think not. In the boom years of the 80s and 90s they were easy to spot; large frame on body vehicles with big honking tires, plenty of clearance and at least the appearance that they could handle themselves off the road. Back then they appealed to people who liked the high ride, wanted room to haul people and stuff and didn't mind a ride that handled like a truck.
The SUV has evolved since then.
Today you often have to consult the marketing material to determine if the vehicle you are looking at is indeed an SUV. Even the government and insurance companies can't agree on what an SUV really is. They come in every size, clearance, cargo capacity, passenger seating and with interiors that run the gamut from barebones to ostentatious luxury.
One thing is for certain; the number of monster, body on frame SUVs is dwindling while the smaller, often times unibody models is one of the hottest segments of the industry. With that in mind we've listed some of the top SUVs for 2016 by size class.
Sub-compact SUV
That's right, sub-compact. Go figure. Most reviews would put the 2016 Honda HR-V at the top of this new class because of its class leading cargo capacity of 58.8 cu. ft. and its magic backseat that that flips creating the largest interior space in the group. It is fuel efficient with an EPA rating of 28/31, crash worthy with a 5 star rating, comes in FWD and AWD and probably will share Honda's traditionally high resell value. On the down side acceleration is lethargic and it suffers from the same confusing touchscreen controls that plague other Honda models.
If you think there's nothing odd about an SUV sub-compact then you might also think that an SUV should handle like a sports car. If that's the case the 2016 Mazda CX-3 is the vehicle for you. With only 44.5 cu. ft. of cargo space you can't put as much stuff in the CX-3 as you can in the HR-V and the passenger cabin is tighter as well. However, the Mazda traditions of precision steering and handling are alive and well in both the FWD and AWD platforms. Acceleration is class leading. The passenger space is small but ergonomically designed and controls are easier to read and reach. If you want spunky you want the CX-3.
Compact SUV
Honda tops the list again but there is little comparison between the 2016 Honda CR-V and the smaller HR-V. For starters the CR-V has 70.9 cu. ft. of cargo space, plenty of room for even the biggest grocery run and while it cannot be described as hot off the line it has ditched the reputation as a slug that previous iterations of the model had unfortunately earned. It seats 5, has a 5 star safety rating, is available in FWD and AWD and leads the class in fuel efficiency with an EPA rating of 29 combined use.
If you are transitioning from a car to an SUV the 2016 Ford Escape is an excellent pick. With 68.1 cu. ft. of cargo space the Escape has the storage space that your car doesn't. Thanks to Escape's civilized steering, handling and suspension you will hardly notice the difference between driving a sedan and a SUV particularly when you toss in one of Ford's two turbocharged four cylinder engines. It has a well-crafted cabin complete with some neat technology including Ford's new Sync 3 touchscreen interface. A bit more thirsty (23-26 mpg combined) than many in this class the Escape still represents a good value for a compact SUV.
You May Also Enjoy:
Honda Pilot Sheds Boxy Look – Named 2016 SUV of the Year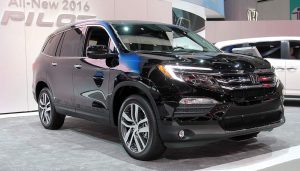 Mid-sized 2 Row SUV
The 2016 Ford Edge gets the nod as best mid-size 5 passenger SUV. While the Edge has a supple ride, plush seats and whisper-quiet cabin (it's built on the Ford Focus platform) it also has the characteristics of a more traditional SUV with drivetrains available in RWD or optional 4×4. The base turbocharged four-cylinder engine is adequate but if you like more power and more towing capability Ford offers a V6 and a turbocharged V6. It doesn't pretend to be anything but what it is, a great crossover for customers who need the cargo space but not a third row.
Mid-sized 3 Row SUV
For people who need to haul up to 8 passengers the redesigned 2016 Honda Pilot fits the bill nicely. After a complete remodel the Pilot offers one of the best examples of a comfortable 8 passenger ride offering more seating space than even the GMC big boys. The redesign also shaved weight from the SUV making it best-performing and fuel-efficient choices in the segment (EPA rating 31 mpg combined on base model). With a maximum cargo capacity of 83.9 cu. ft. the Pilot is ideally positioned to haul a lot of stuff or people.
Big Boy SUV
The 2016 Ford Expedition is advertised as "the vehicle for buyers who require the robust passenger, cargo and towing capacities of a traditional SUV." Make no mistake; this body on frame bad boy is a truck with an extended roof. With over 130 cu. ft. of cargo space, room for 8 passengers, a towing capacity of 9,200 lbs. and a turbocharged 3.5L V6 to power it all the Expedition definitely qualifies as robust. With optional 4×4 drivetrain and a 9.5″ clearance the Expedition is ready to be the family hauler and driving adventure all rolled into one.
There is another class of SUV that really has nothing to do with size and everything to do about performance and endurance and that class is the off-road rides. That's a completely different market. The guy driving the Jeep Wrangler most likely would never consider buying a Ford Edge.
Sadly the number of off-road SUVs is dwindling but if you are interested, check out our list of top 10 SUVs to take off-roading.