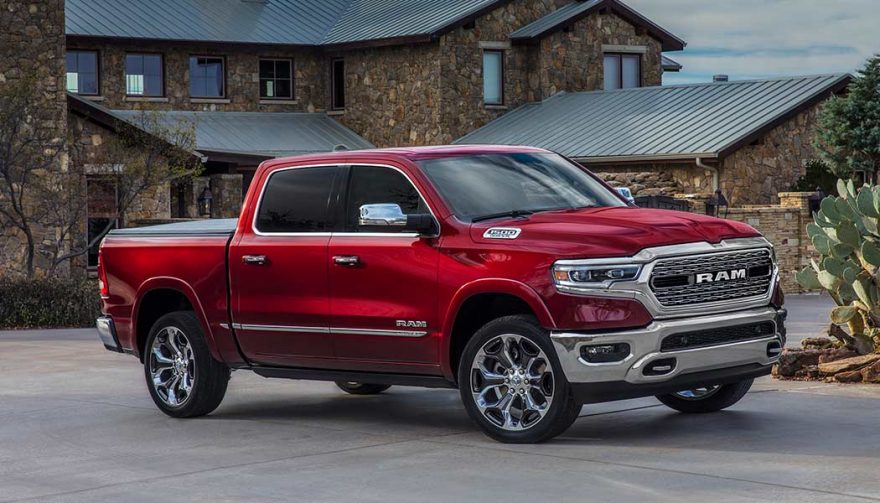 The all new 2019 Ram 1500 is over 200 pounds lighter
Revealed: All-New 2019 Ram 1500 Pickup Is Longer and Lighter
The anticipated 2019 Ram 1500 pickup truck finally made its debut to rival the updated Ford F-150 and forthcoming 2019 Chevrolet Silverado. Though the new exterior appearance isn't a huge departure from current models, the 2019 Ram 1500 is all new inside and out.
The overall weight for the new Ram pickup, one of the best selling trucks annually, drops 225 pounds. A new frame, with 98 percent high-strength steel, accounts for 100 pounds of that reduction. Though the frame is lighter, it provides increased stiffness and durability. Now there's 12,750 pounds of towing capacity and 2,300 pounds payload.
Though it's lighter, the all new 2019 Ram 1500 is longer and wider. The wheelbase and cab are up to four inches longer, the bed height is up 1.5 inches, and the width stretches out by .5 inches.
That weight reduction also helps an all-new mild hybrid system deliver attractive fuel efficiency. The eTorque mild hybrid system is one of several changes to the powertrains on the 2019 Ram 1500. According to Ram, it replaces the traditional alternator on the engine with a belt-driven motor generator. The generator works with a 48-volt battery pack to ensure quick and seamless start-stop function, short-duration torque addition during certain driving conditions, and regenerative braking.
Engine Options
The 2019 Ram 1500 will be available with two engine options. The upgraded eTorque version of the Pentastar V6 comes standard. It is rated at 305 horsepower and 269 lb-ft of torque. The other is the 5.7-liter HEMI V8 capable of 395 horsepower and 410 lb-ft of torque.
Both powertrains also get an Interactive Deceleration Fuel Shut Off feature to reduce fuel consumption. It pauses fuel flow to the engine cylinders when the vehicle is decelerating.
Every 2019 Ram 1500 engine gets a fully electronic TorqueFlight automatic eight-speed transmission. It has a wide spread of gear ratios that keeps engine rpm in the right range for the task. Ram says there are "more than 40 individual shift maps to optimize shift changes and points for fuel economy, performance and drivability."
Inside the All-New 2019 Ram 1500
Perhaps inside the all-new pickup is where Ram wants to try to distance itself from other full-size competitors. It's the largest cabin in the segment, and it's loaded with all sorts of features, in particular the first application of Uconnect 4C NAV on a 12-inch fully configurable touchscreen.
The new Ram also gets push-button start, an electronic parking brake and a redesigned rotary e-shifter dial.
For personal devices, passengers won't have any trouble finding an outlet. There are five USB ports in the center console, three communicate with the Uconnect interface. There are also two three-pronged 115-volt household plugs, as well as an additional 115-volt outlet in the RamBox in the bed.
As with every new vehicle, the all-new 2019 Ram 1500 comes stocked with active safety features. In fact, Ram says there are more than 100 standard and available safety and security features. Among the items are adaptive cruise control and front-lighting systems, advanced brake assist, blind-spot monitoring, forward collision warning, parking assist, and a whole lot more.