2021 Ram 1500 TRX: The Ultimate Off-Road Pickup
Move over, Ford Raptor, there's a bigger beast roaming the plains. The 2021 Ram 1500 TRX is a supercharged, 700 hp assault on the off-road that's setting out to be the quickest and fastest pickup truck you can buy. It has an all-new suspension system with special dampers, a beefier rear axle, a unique transfer case, and what Ram calls the largest air filters in the segment. For good measure, Ram has used this beast to introduce some new towing features that make it easier to back up your rig.
Big Power
Ram's not calling the 2021 Ram 1500 TRX a Hellcat, but this is that FCA 6.2L supercharged V8 you'll find in the Dodge muscle cars. Here it makes 702 hp and 650 lb-ft of torque thanks to some changes and calibrations designed to make it superior off road.
With a high-strength TorqueFlight eight-speed automatic as well as new launch control system, the TRX can hit 60 mph in just 4.5 seconds, 100 in 10.5, and run a quarter-mile in the 12-second range making it far quicker than most sports cars. The dual-path air intake feeds the beast, and that big filter is designed to trap four times more dust than the competition.
Big Suspension Upgrades
Underneath is an all-new suspension with 11.8-inches of ground clearance and 13-inches of travel. Skid plates protect all of the important bits and Bilstein coilovers handle the rocks, bumps, and jumps. Yes, jumps. There's a Jump Detection feature that modifies power delivery and suspension to make sure you land as softly (for the driveline) as possible.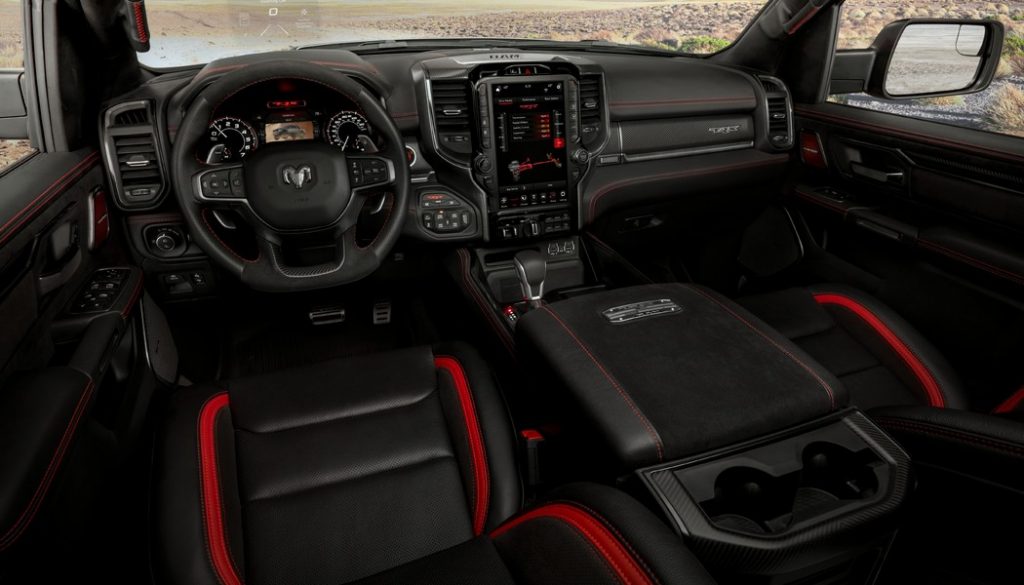 Independent front suspension and a five-link coil-spring rear help keep the 35-inch tires controlled, with help from the adaptive dampers and progressive bump stops built into the shocks. Beadlock ready wheels are an available option on the 2021 Ram 1500 TRX, right from the factory, and the truck is loaded with cosmetic upgrades like the flow-through new grille, fender flares, and clearance lights.
Big Interior
Inside, the 12-inch Uconnect infotainment system has Performance Pages just like the SRT performance models as well as off-road info and navigation. It also boasts a 19-speaker audio system for maximum volume when you're not listening to the exhaust.
New tech features on the 2021 Ram 1500 TRX include a forward-facing camera to let you see the trail in front of you and a digital rear-view mirror that shows a camera feed in the back. Despite the off-road capability, the TRX can tow up to 8,100 lbs and put 1,310 lbs in the bed. It also has Trailer Reverse Steer Control as an option that uses a dial to steer the truck and point your trailer in the right direction. No more fighting a jackknife when it's time to park that boat or RV. This truck, currently the most capable and quickest off-road pickup on the market, will start to arrive at dealers soon. Expect the reply from Ford to be equally brutal, but who doesn't love a good truck fight?