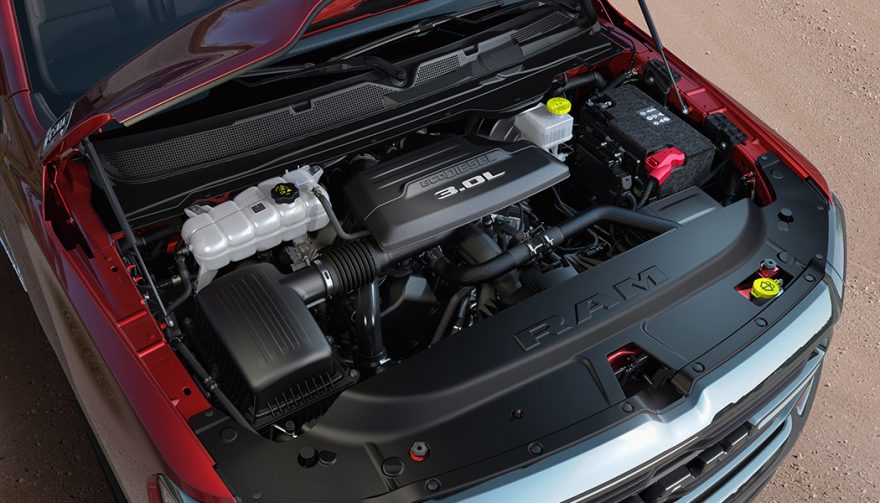 Diesel trucks are all about torque. Even the half-ton versions. Which is why the 2020 Ram Ecodiesel didn't let GM hold the crown for more than a week
2020 Ram EcoDiesel Takes Lead in Half-Ton Torque Wars
The torque war between heavy-duty diesel pickups is nothing new. Now, like all conflicts, the torque wars have grown, expanding from the HD truck market to the half-ton truck segment. The latest weapon of rear-tire destruction comes from Ram. With a new generation of Ram EcoDiesel that beats Ford's Powerstroke and even eclipses the new GM diesel that was revealed just one week before.
480 lb-ft. That's how much torque the 2020 Ram EcoDiesel can output. Almost half of what the much larger Ram 3500's 6.7L diesel can manage. But more than anything else in the segment, and it comes from just 3.0 liters of displacement.
That's 14 percent more torque that last year's truck, and it will come with reduced noise, vibration, and harshness, says Ram. That's thanks to changes to the engine like revised intake ports for the cylinder heads. Plus a composite oil pan to help keep things quiet. And a new EGR system that is designed to increase fuel economy.
Horsepower is up too, hitting 260 hp and 3,600 rpm. Along with the extra power, towing rises. Once again, the Ram EcoDiesel delivers class-leading figures, able to tow 12,560 lbs.
So how does that match up with the competition?
You May Also Enjoy:
Chevrolet Previews Next-Gen 2019 Silverado Pickup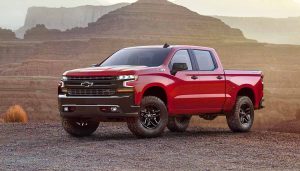 Related Search Topics (Ads)
F-150 Powerstroke
Ford's own 3.0L diesel V6 manages 440 lb-ft of torque. It wasn't long ago that a figure like that would be enough to be the best of the HD trucks, but now it's the lowest figure of the half-ton models. The F-150 diesel is no 2020 Ram EcoDiesel, but it still manages 250 hp to go with the torque. Which is enough to let it tow 11,400 lbs. Ford says it has the highest diesel payload, too, at 2,020 lbs. Neither Ram nor GM have revealed their payload ratings for the newest diesels.
2020 Silverado and Sierra
Over at GM, powering the 2020 Silverado and Sierra 1500s is a new inline-six diesel. Also displacing 3.0L, the engine in the GM twins splits Ram and Ford on power.
The 460 lb-ft it delivers ruled the market, if only for a week. The 277 hp, though, gives it the highest horsepower figure of the latest diesels. It comes with some tricks of its own for heavy towers, too. Like a variable intake manifold that helps improve performance across the RPM band. There's also active thermal management that can send coolant to different parts of the engine independently. Helping the engine warm up more quickly for improved efficiency, but then using less energy to keep the engine at the right temperatures as you drive. Maybe more importantly, GM says that helps warm up the cabin more quickly in the winter. The GM engine is the only one with start-stop to further help fuel economy.
So it's a good time to be a diesel pickup shopper. Especially if you're looking for a half-ton instead of an HD truck. But if you want the torque king, then there's one choice. The 2020 Ram EcoDiesel. For now, at least. Expect Ford and GM to fight back.