2020's 10 Cheapest Three-Row Crossovers
Three-row crossovers can be an extremely convenient vehicle to own. That's true whether you need the extra seats on the third row daily or just want some flexible capacity when taking additional people places, like for a carpool. However, as you've likely already noticed, once you start looking at three-row vehicle options the prices seem to inflate dramatically. The fact is you don't have to spend a fortune just to have three rows in a crossover. There are many budget-friendly options on the market from which you can choose. That's great, because the more choices the more likely you'll get the other features you really want, so check out 2020's 10 cheapest three-row crossovers.
10. Subaru Ascent $31,995
Ever since the disappointing Tribeca, Subaru fans have been clamoring for the Japanese brand known for making affordable, all-wheel-drive vehicles to make another three-row vehicle. That time has come with the Ascent, which is the biggest Subaru ever made. With all-wheel drive standard and 8.7 inches of ground clearance, this is a good option to consider if you live where heavy snowfall is a consideration or you just like to get to the slopes when the powder is nice and fresh. This one of 2020's 10 cheapest three-row crossovers is definitely made for families on the go, which could explain the 19 cup and bottle holders scattered among the three rows of seats.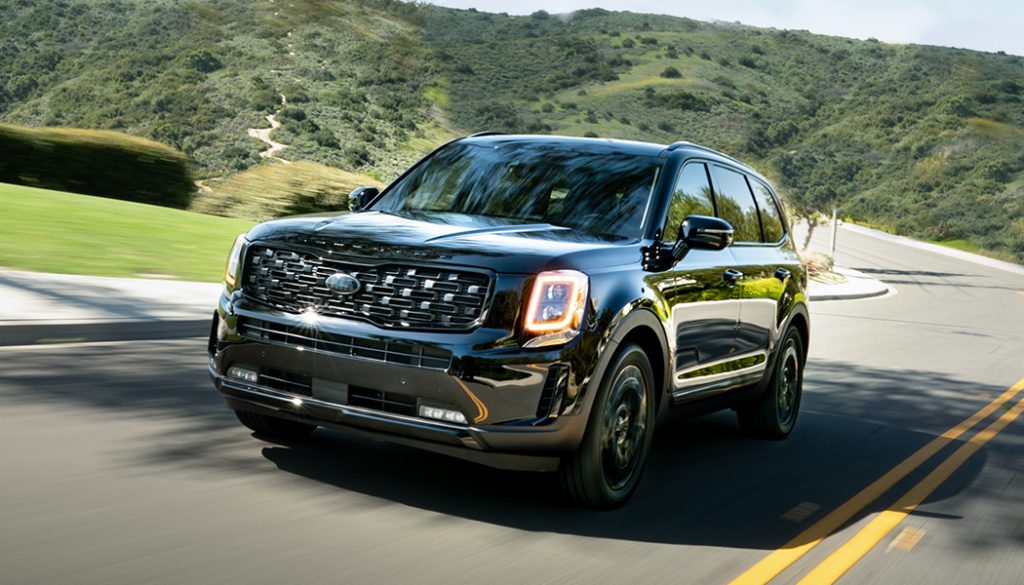 9. Kia Telluride $31,890
Some people might call the Kia Telluride an SUV and not a crossover, but let's not split hairs here. It has rugged all-wheel drive like you'll find on a truck and it comes with some serious benefits. Among them is the ability to take this Kia on some pretty serious trails. You can also tow a boat, camper, or trailer without problems, something you might not be able to swing with the other options on this list. And as many have found with Kia, there are some surprising available luxuries for the Telluride, although those can inflate the price beyond what you might want, so beware.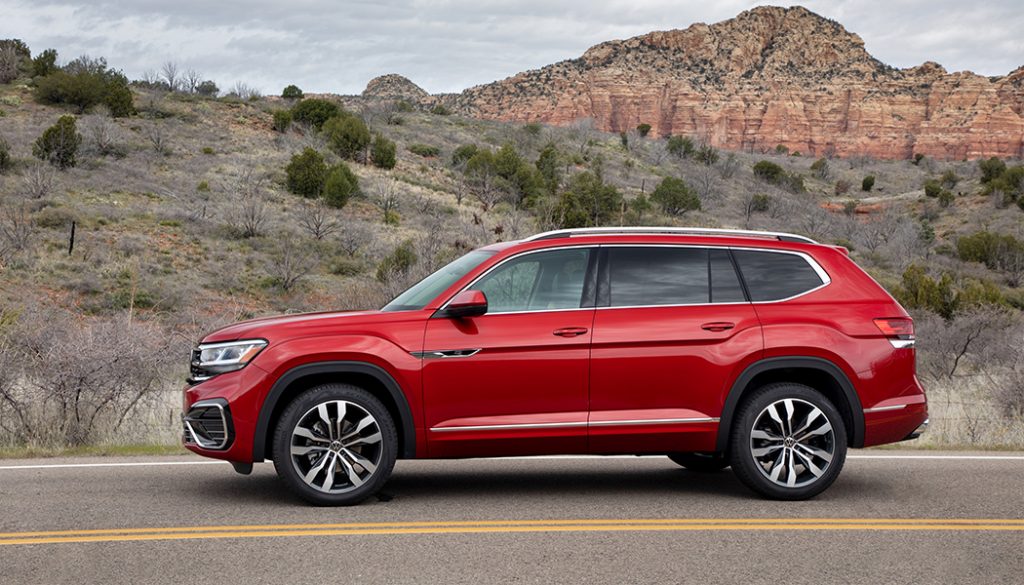 8. Volkswagen Atlas $31,545
Freshly redesigned, the Volkswagen Atlas could be the most visually appealing option on this list of 2020's 10 cheapest three-row crossovers. It also allures shoppers with German engineering, something you can't easily dismiss considering the country's reputation not only as the birthplace of the automobile but also for turning out many fantastic vehicles decade after decade. According to VW, the third-row seating provides plenty of legroom and headroom, which isn't necessarily the case with every option on the market, sadly. That's a big deal if you're going to be sticking older kids or adults back there. Technology options abound, but opting for those can easily push the price far above $40,000, which defeats the purpose of this list. However, overall fit and finish of the Atlas is impressive as is the comfort of the seating on all trims.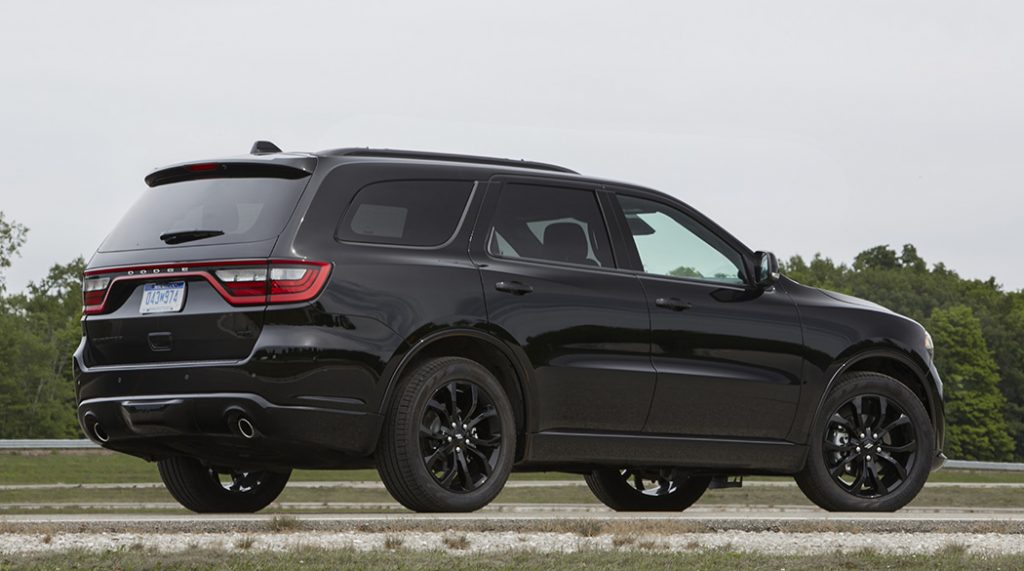 7. Dodge Durango $30,495
Dodge has done quite the job of refining its bad boy image, however, while it has dropped other family-oriented models the Durango remains in the brand lineup. That's excellent news if you want something comfortable and practical, but don't want to look like you're growing too soft. Sadly, at this price point, you're a far cry away from the tire-roasting Durango SRT, however, the base version of the three-row crossover is still an impressive machine. One of the many highlights are the 50-plus seat configurations, which are perfect for families which use their vehicle for more than just hauling people.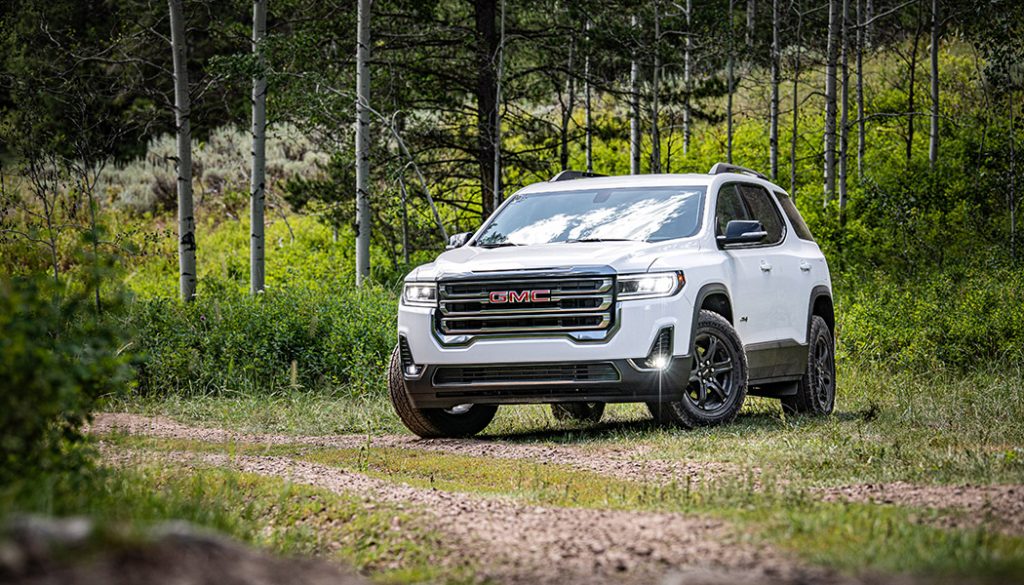 6. GMC Acadia $29,800
You're not going to be looking at the Denali version of the GMC Acadia for under $30,000 but that doesn't mean you're getting a stripped-down vehicle. The GMC brand has a reputation for offering well-rounded features on every trim, like the standard 18-inch machined aluminum two-tone wheels, interior humidity sensor, and 4G LTE WiFi hotspot capability included on this one of 2020's 10 cheapest three-row crossovers. Plus a lot of people like the styling of GMC products, which look a little chunkier and more muscular than many of the other options out there.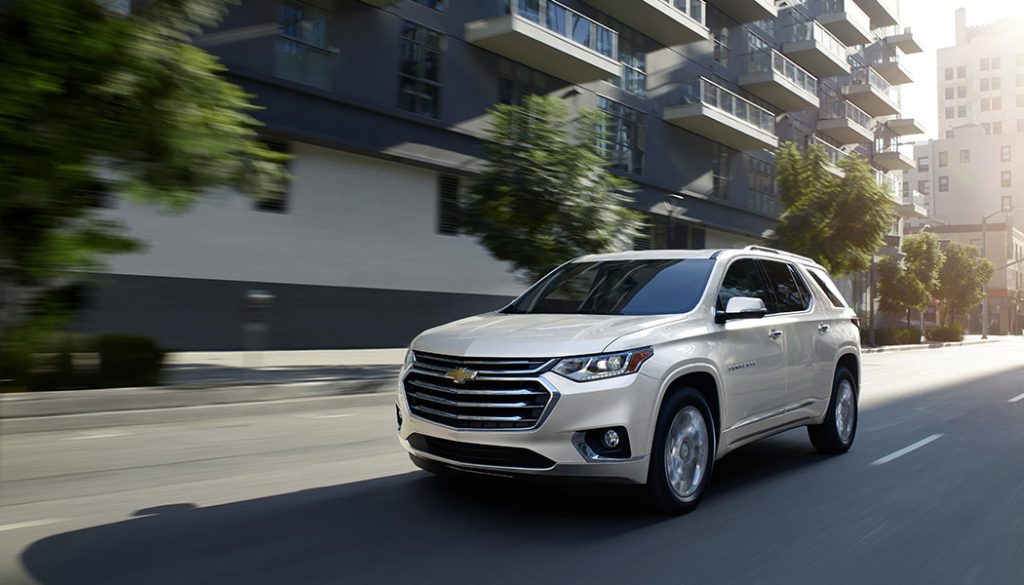 5. Chevrolet Traverse $29,800
A close cousin of the GMC Acadia, the Chevy Traverse has become a favorite of many budget-conscious families who need three rows but don't want to get on the minivan bandwagon. The current generation serves up sleek styling and a surprisingly spacious interior, including a practical amount of cargo space behind the third row. Two hidden storage compartments are great for keeping valuables out of sight or hiding presents from the kids, plus Smart Slide second-row seats make for easy access to the third row.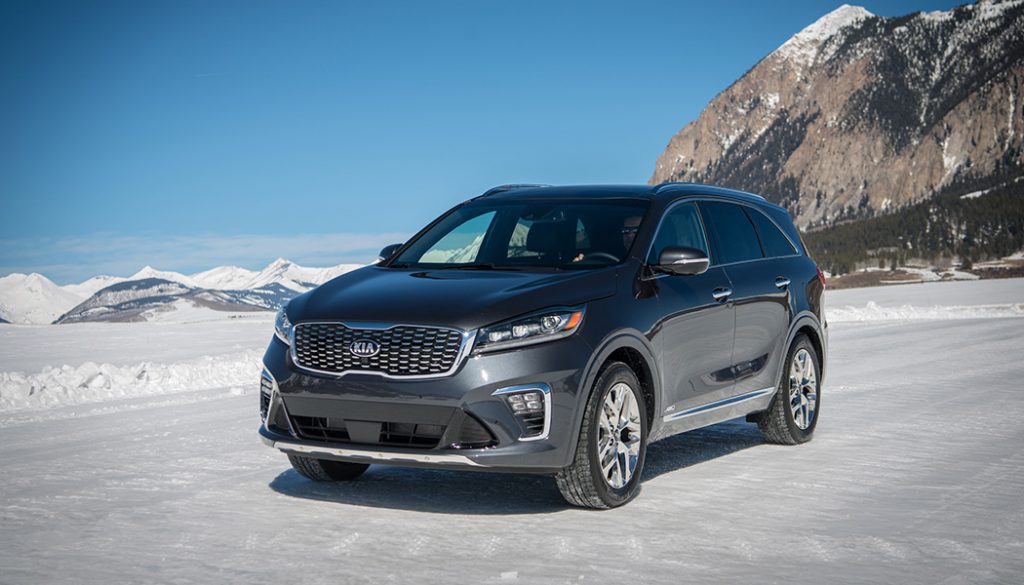 4. Kia Sorento $26,690
Kia has been positioning the new Sorento as an adventure vehicle for families who like to get out into nature on the weekends. While it won't be running with Jeeps on the Rubicon Trail, this three-row crossover does offer a fair amount of utility while primarily being comfortable and practical for on-road use. Just like with other modern Kias, the Sorento can be outfitted with all kinds of comforts, technologies, and everything else you find on most competitors. Plus, the overall quality of the vehicle is impressive, especially at this price point, near the low-price end of 2020's 10 cheapest three-row crossovers.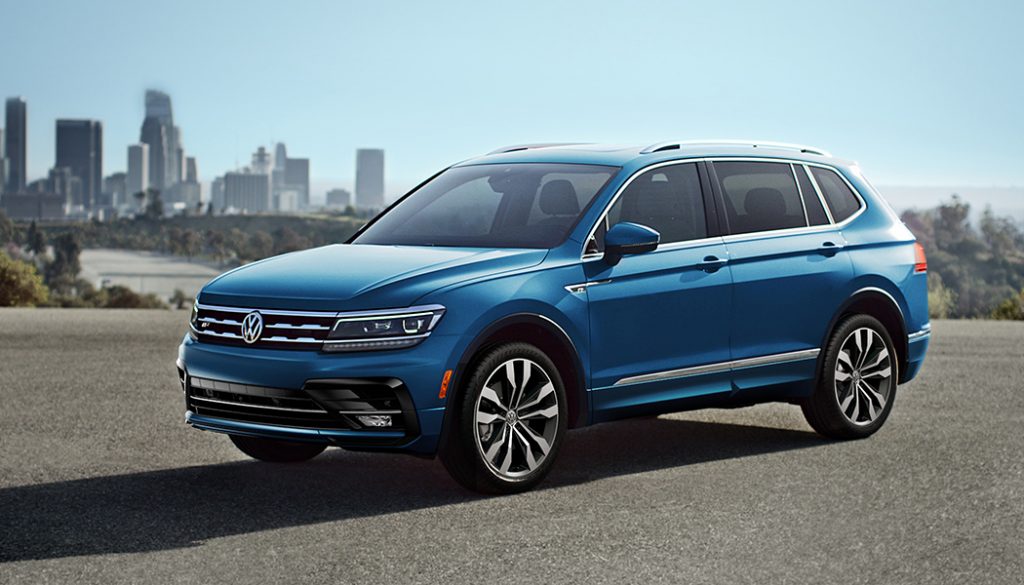 3. Volkswagen Tiguan $24,945
It used to be that the Tiguan was a pretty small two-row crossover, but the VW has grown up some and now can be had with three rows. That being said, it might be stylish and pretty comfortable, however, the optional third row is admittedly pretty cramped. In other words, it's not a great option for taller people or long road trips, making this one better for occasional third-row use.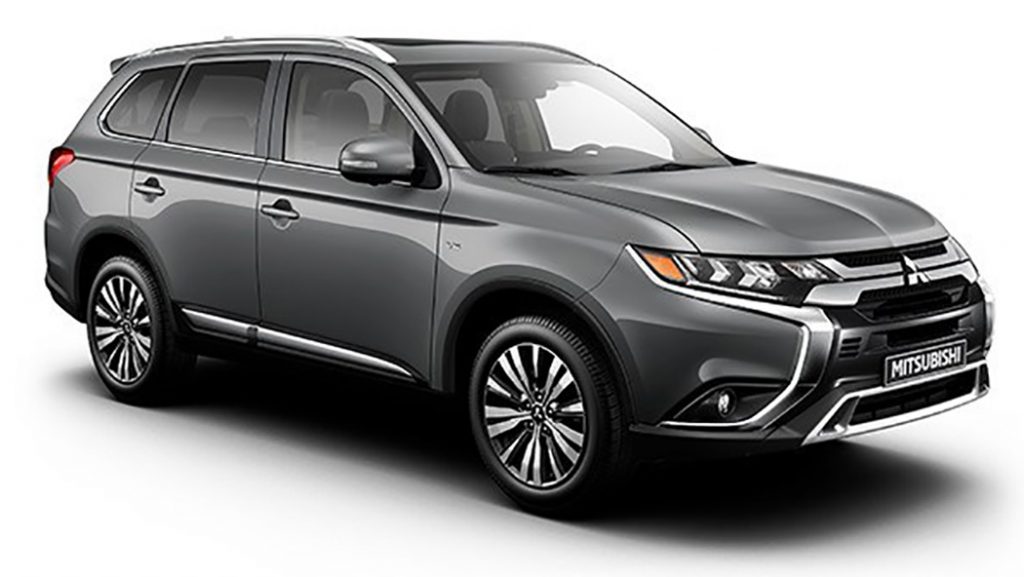 2. Mitsubishi Outlander $24,895
Many people pass right over Mitsubishi these days, and that means you can get a great vehicle at a great price. The Outlander is very modern in all the right ways, offers plenty of comfort and conveniences, plus the superior handling dynamics of standard Super All-wheel control, Mitsubishi's proprietary all-wheel-drive system. Legroom in the third row is about average for a midsize crossover.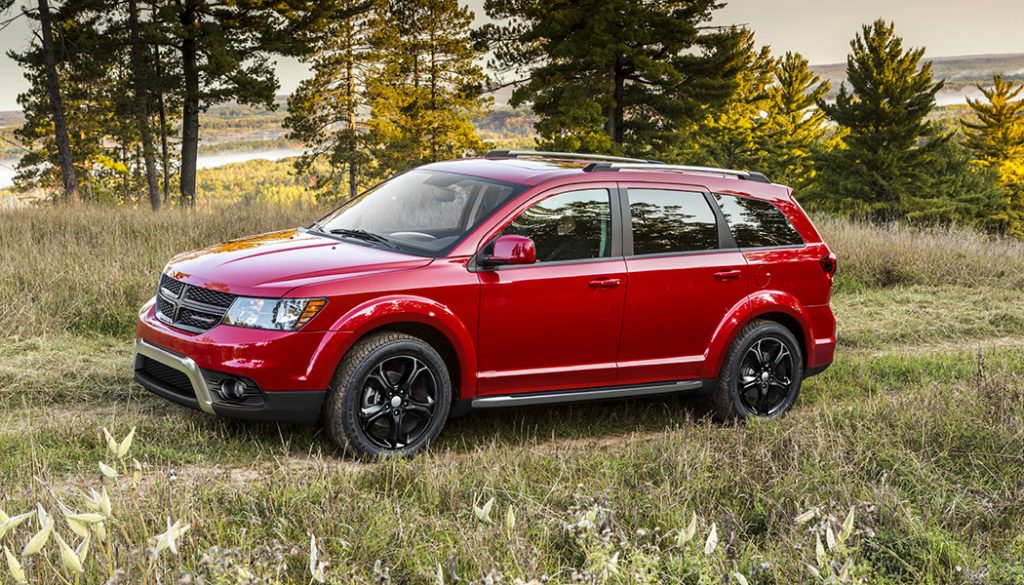 1. Dodge Journey $23,495
The 2020 model year will be the last for the Dodge Journey, which long has been the go-to ultimate budget three-row crossover. It might not be the most refined or attractive option on this list, but with such a low base price there's not too much to complain about if price is your number one priority. And it had better be your only priority, since this is the only one on the list not available with all-wheel drive. And the only engine choice is a four-cylinder that's a bit little for this bigger ute. Act fast if you want one, though, because the cheapest of 2020's 10 cheapest three-row crossovers won't be making a return performance for 2021.