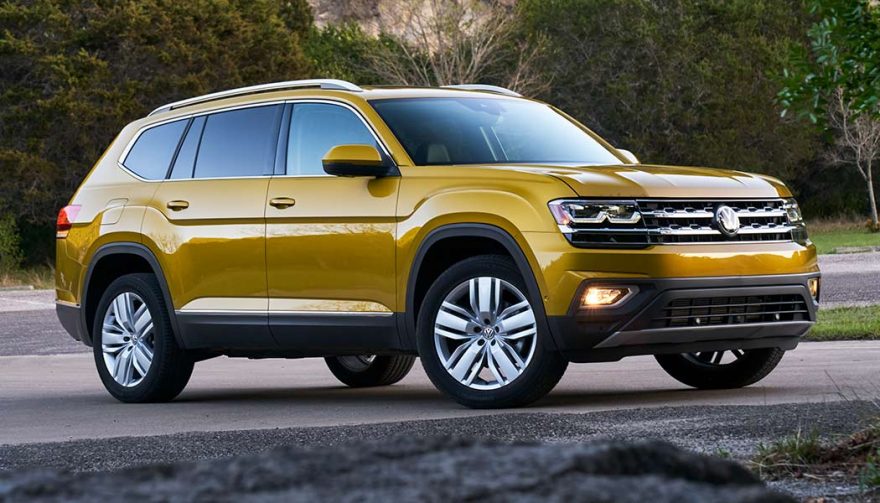 Given all the options, there's a Volkswagen Atlas that's just right for virtually any shopper.
Volkswagen Atlas: Three-Row SUV Is a Gentle Giant on the Road
The all-new Volkswagen Atlas has arrived, and here's the rundown. This one is the biggest Volkswagen yet, cooked up for North American shoppers who want size.
This midsize SUV has three rows of usable seating, the latest safety tech, and a unique look that's hard to miss as it comes driving down the road.
Familiar and Easy to Use
The Volkswagen Atlas is a hefty cruiser, but you needn't fear its size if you're considering it as your first great big SUV. Despite being a beefy hauler, it isn't any more difficult to drive, maneuver or live with than a small car. Sure, you sit up high and there's a lot of vehicle around you, but at the controls, like the steering, brakes, throttle and so on, it's light and lazy when driven around town.
For a great big machine, it's even easy to dock into the most challenging of parking spaces, thanks to a relatively small turning circle, as well as a full 360-degrees of around-view, high-resolution camera coverage.
Also notable is the execution of the on-board atmosphere in the Volkswagen Atlas. Those shoppers moving into an Atlas from a recent VW model will feel right at home. Many of the controls, consoles, interfaces and switchgear are all sourced from other models. Heck even the shape and patterning of the leather seats is instantly VW. Ditto the cabin's overall layout, which is clean, tidy and upscale, but without looking overdone or excessively ritzy.
Lots of Choices
Given the trims and other options, there's a Volkswagen Atlas that's just right for virtually any shopper. Basic units get a 2-liter four-cylinder turbo engine and front-wheel drive. Go with an VW Atlas equipped with 4Motion AWD, and you'll need the V6 engine.
You May Also Enjoy:
2020 Volkswagen Atlas – The Ideal Big Family Mover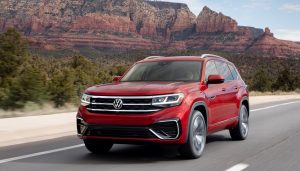 Related Search Topics (Ads)
Various trim grades, each complete with a selection of value-bundled features, can be specified. My tester was a full-jam V6 SEL Premium with 4MOTION unit. It had all of the toys. Coming in just over $48,000, it wasn't cheap, but compared to the price of a great big BMW, Mercedes or Lexus with similar feature content, you start to see the appeal if you want all the flagship fancies, but not the luxury car pricetag.
Space to Spare, User-Friendly Tech
I noted no issues with space, which is hardly surprising given Atlas's immense size. Up front, there's ample room for two big adults. Ditto in the middle-row seats. In the very rear, space is tighter, though a full-sized adult can fit with relative ease.
The middle-row seats tip and slide for easy third-row access, and even with third-row seats in use, there's still a decent remaining cargo hold in the rear. Fold the third row down, and you've almost got a comfy two-row cargo van.
Cross shopping? You'll likely find Atlas easier to board and exit than a comparable Ford Explorer, and the rear row seats are considerably more adult-friendly.
Aside from the sense of space, the interior impresses with its effective use of some great new tech. For instance, the tester's instrument cluster was an all-digital display screen, complete with great graphics, liquid-smooth animations, full customization and zero reflective glare.
Old School Power
My tester ran had a 3.6-liter V6, direct injected for 276 horsepower. At writing, this "old school" engine was the only VW powerplant that isn't a four-cylinder turbo.
Power output is adequate if not thrilling, and the engine works best driven gently, where it revs low, stays smooth, and barely makes a peep. Opened up, there's a nice meaty growl, though the Volkswagen Atlas does feel the pressure when called upon for a fast pass, especially with a full complement of passengers and gear on board.
More powerful crossover options exist, including the EcoBoost-powered Ford Explorer, with a roughly 90 horsepower advantage at a similar price point.
The latest version of the 4Motion AWD system is also on offer, and works with little-to-no driver input. Other than selecting the appropriate drive mode from a console-mounted dial, the system expertly calls the shots on its own, and leaves drivers feeling like they're in good hands as it pulls the best grip from the surface beneath, even on glare ice and in deep snow.
2018 Volkswagen Atlas on the Road
On the highway, the VW Atlas rides with a solidly planted steering setup that helps it stay on course with minimal readjusting required.
Here, the throttle is fairly lazy, which helps save fuel and requires a good smash for a fast pass. Outward visibility is above average, thanks to the tall, square windows. There's also a bevy of outward-looking safety systems to increase your confidence and situational awareness.
Noise levels are about par for the course. At times, wind noise climbs higher than I like, but mostly, it's a fairly quiet and peaceful place to be.
This all speaks to the main appeal of the Volkswagen Atlas. Simply, it's enormous, but easy to drive, easy to manipulate, and it easily tackles almost anything thrown its way. It's a big gentle giant, and you should have no issues quickly making it part of your life.
The Gripes
At this price, I left the Volkswagen Atlas wishing for a little less hard plastic lining in the interior. It mostly looks great on the inside, but it can feel a little low-budget when you touch certain parts.
Further, and largely thanks to the big wheels, very rough roads can cause ride quality to degrade drastically, even causing some interior squeaks and rattles on tough roads. Visit the roughest road you can find on your test drive, then you'll know if the VW Atlas will be comfortable enough for you.
Ultimately, here's a worthy test drive in this very overcrowded segment, and one that'll likely find even more appeal for the shopper who is already a loyal VW fan.
Related Video: