2020 Volkswagen Atlas – The Ideal Big Family Mover
For some who have fuzzy memories of Volkswagen's iconic Bug and Van (often decorated in psychedelic colors), It's hard to accept that VW is now making a midsize SUV with three rows, tons of passenger and cargo space, complete with in-car Wi-Fi hotspot as a standard feature. And get this, the engine isn't in the rear, it's right up front of the 2020
Volkswagen Atlas.
While ageing hippies and dune buggy rats may be wistful about the development, the rest of America with growing families welcomes the 2020 Volkswagen Atlas as a refreshing, and value-packed addition to the SUVs they have to choose from.
Introduced in 2018, Volkswagen has tweaked the 2020 Atlas
slightly to further enhance the design and features that have led the SUV to an
amazing two-year sales success. If you have a large family or a regular need to
haul up to eight adults, or you simply want a spacious road trip ride capable
of hauling all your gear and towing up to 5000 pounds, then you have to give
serious consideration to the 2020 Volkswagen Atlas.
There is a lot to like about the Atlas. A closer look will tell you what makes it so popular.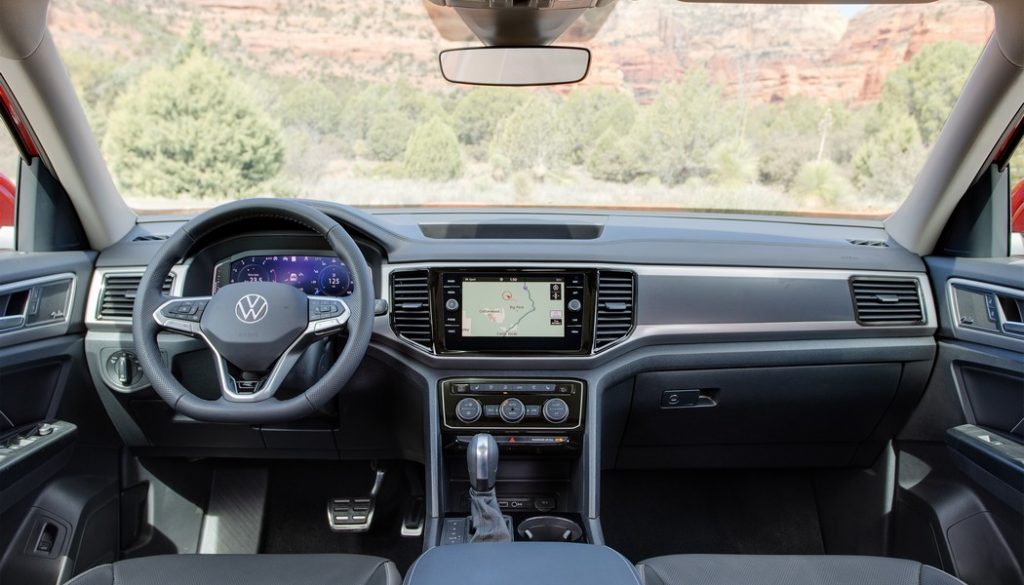 What Makes the 2020 Volkswagen a First Choice Family SUV?
The short answer is the Atlas meets all the expectations
Americans expect in a family SUV. Space is the Atlas's strong suite, lots of
space. The second and third rows are bench seats wide enough and comfortable
enough to seat three adults across. The third row, which is exclusively a kids
zone in much of the competition, has the head and leg room to accommodate
passengers up to 6 feet tall.
Safety is a major concern for family haulers and the Atlas
comes packed with forward collision warning with pedestrian detection and
automatic emergency braking, blind-spot and rear cross-traffic warning, a
rearview camera and a full suite of airbags as standard equipment.
Overall, the Atlas is a conventional, safe, reliable family ride that is value priced. It's one weak spot is the turbocharged four-cylinder base engine that simply doesn't have the oomph needed to satisfactorily move this large vehicle. However, the optional naturally aspirated V6 provides all the power and acceleration a family could want.
Exterior
Overall, the 2020 Volkswagen Atlas is not a head-turner. It has an understated, subtle design that promotes owner pride and its reputation as a practical and reliable people mover.
Available in three trims, S, SE and SEL, and eight classy colors, the Atlas exterior varies little among the trims which is not a bad thing. The Atlas exterior features a massive grille with chrome trim interlaced throughout the grille and outlining the headlight housing. An attractive glassy black fascia, two air intakes and fog lamps offer a balance to the grille giving the entire front end a handsome look.
The SUV's profile features 20 inch wheels with split-spoke design and shaped metalwork for the front wheel wells and a muscular haunch appearance for the rear. The back end is home to a stubby little spoiler, LED brake and taillights and a tasteful touch of chrome trim. The SEL model offers an automated remote hatch opening feature.
Interior
We've already mentioned the roominess of the 2020 Volkswagen Atlas. Add to that an easy to read dash design (including a programable digital instrument system), ergonomic placement of controls, a seven-inch touchscreen, adequate USB charging slots, three-zone climate control, and a Wi-Fi hotspot to keep everybody connected and you have a family ride that everyone can enjoy.
The doors are extra wide allowing for easy entry and exit and the sliding second row of seats makes it a breeze to gain access to the third row. While we are talking about the second row, it's interesting to note that it reclines. If the third row is empty, the second row can become the perfect place to take a nap during those long road trips.
Nobody is going to call the interior materials luxurious but they are durable, attractive, comfortable and practical which pretty much describes the whole ride.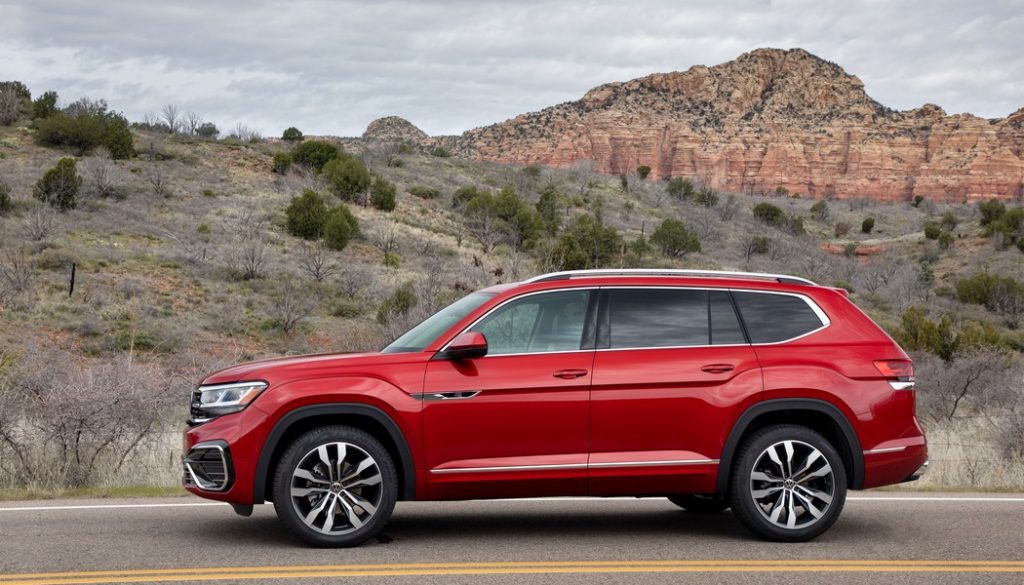 Under the Hood
As mentioned, the base engine for the 2020 Atlas is a 2.0L turbocharged 4-cylinder engine that generates 235 hp which just doesn't feel like enough. A larger, more refined, naturally aspirated 3.6L V6 that develops 276 hp and 266 lb-ft of torque. Both engines are mated to a smooth-shifting 8-speed automatic transmission that rapidly downshifts when you punch the pedal.
The 2020 Volkswagen Atlas comes standard as a FWD powertrain but has AWD (VW calls it 4Motion) available as an option. The AWD, coupled with the V6 and the exceptional braking performance, combine to make the Atlas a solid, well planted and responsive performer.
With a 0 to 60 time of 7.5 seconds, the Atlas is not a
hotrod but on the road you really don't feel like you are missing anything. You
can take onramps with confidence and you will enjoy a surprisingly throaty
sound coming from under the hood when you hit passing gear.
If you have a large family and need a comfortable, safe,
reliable ride that is valued price (and comes with 2 years of free maintenance)
you need to give the Atlas a serious look.