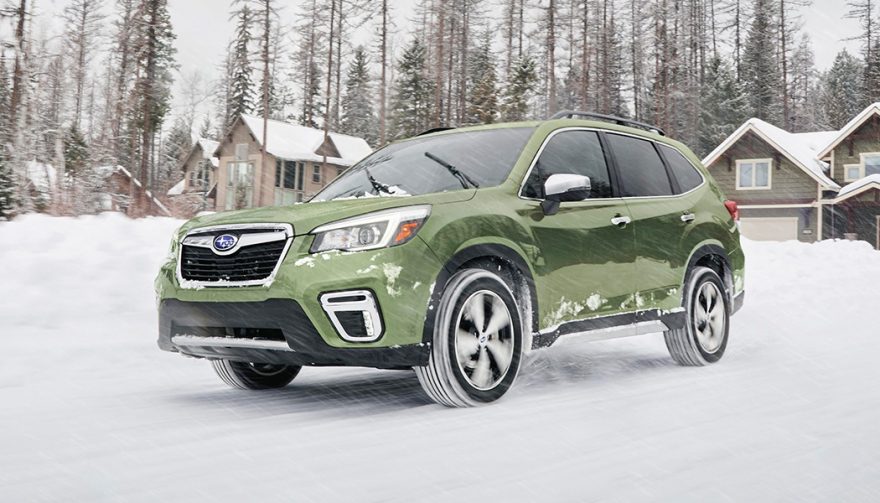 If you have to get to the ski lift, or the grocery store in the snow this winter, and you're looking for a new motorized sleigh, you will want to check out these 7 crossovers with reputations as snow goers.
Snow Busters – Seven Best Crossovers for Snow and Ice Covered Roads
Good news snow bunnies, the Farmer's Almanac is calling for above-average snowfall for most of the Northeast, the Central Plains states, Great Lakes, and Inter-mountain region. If you live outside those areas don't worry, you'll get your normal snowfall (whether your city or town is ready or not). So the snow is coming, and its coming in a big way for some of you, the question is are you ready to tackle it on the road? If you have a 4×4 truck or body on frame SUV you're probably like a kid anxious to try out his new sled. But these rigs are typically big, more difficult to drive, and ride like… well like a truck. What America has chosen as a practical alternative to the go-anywhere 4×4 is the unibody crossover. It handles and rides like a sedan, usually has more clearance than a sedan and most offer AWD. So since buyers have chosen crossovers, we're finding the best crossovers for snow.
Crossovers have many characteristics that make them ideally suited for snowy roads. But like all vehicles, some are better suited than others. If you have to get to the ski lift, or the grocery store in the snow this winter, and you're looking for a new motorized sleigh, you will want to check out these 7 crossovers with reputations as snow goers.
1. Subaru Forester
The reason the Forester sits on the top of this list is the fact that AWD is standard on all trims, not optional like most of the competition. Toss in a Vehicle Dynamics Control system that automatically applies braking pressure to avoid the car sliding sideways in a curve or while making a turn, an 8.7-inch ground clearance, and you have one of the most surefooted rides in its class. Seats, steering wheel and sideview mirrors can all be heated to keep you comfy cozy while blasting through drifts.
2. Chevy Traverse
Need to transport a hockey team? The three-row Chevy Traverse might be one of the best crossovers for snow for you. The snow busting feature here is a twin-clutch all-wheel-drive system that optimizes torque between the front and rear axles and left and right wheels. Front and rear stabilizer bars help keep the shiny side up. The Traverse comes with the normal trinity. Heated front seats, exterior mirrors and steering wheel. But also puts a smile on passengers faces by heating the second row as well.
3. Mitsubishi Outlander Sport
The Outlander Sport comes with a kind of AWD Plus that Mitsubishi calls its All-Wheel Control system. This feature automatically adjusts power and braking between the vehicle's wheels to gain optimal handling not just snow and ice, but all kinds of slippery road conditions. 8.5-inches of ground clearance gives the Outlander Sport a leg up in dealing with drifts. Of course, the Outlander comes with heated seats, mirrors, and steering wheel.
You May Also Enjoy:
Ford Explorer: Pretty Good At Everything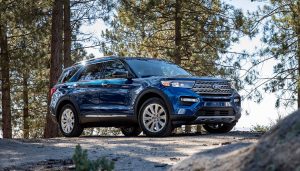 Related Search Topics (Ads)
4. Volkswagen Atlas
All new for 2018, the reason that the Atlas makes the list is because of its stellar worst-case scenario creds. Snowy roads can be dangerous. The Atlas gets great crash test scores and has a long list of advanced safety systems. It's also big. It's a three-row model designed to accommodate all adult passengers. With the optional AWD the Atlas is an impressive snow buster. VW has 4MOTION which automatically between front and rear wheels to optimize traction and stability. With 8.6" of clearance, the Atlas can bust through drifts.
5. Subaru Outback
It's marketed as a crossover but the Outback is really a high riding station wagon. It's spruced up with a few SUV design touches to make crossover status. It comes standard as an AWD ride automatically making it a candidate for snow buster status. It's a roomy comfortable ride with good handling and braking. And then there are the odds to consider. The Subaru is sold nationwide meaning in desert areas, mountains, in frigid areas and hot spots. We find it very interesting that 98% of the Subarus sold in the past 10 years are still on the road. Luck? We think not.
6. Ford Explorer
Formerly the best SUV for driving in the snow, the Explorer switched from body on frame to unibody in 2011 earning it a spot as one of the best crossovers for snow driving. Equipped with Ford's smart all-wheel drive system and Integrated Terrain Management System, the Explorer allows the driver to dial up the level of grip and performance they want in the snow. The front seats, outboard rear seats, exterior mirrors, and steering wheel can all be heated. With 7.8-inches of ground clearance, it's not the tallest ride in the crowd but is still a respectable snow vehicle.
7. Jeep Renegade
OK we had to slide a Jeep into this list even though we focused on AWD systems. The Renegade is a small Jeep but with 8.7-inches of ground clearance, the Trailhawk trim's four-wheel-drive system with a dedicated low mode, and 2.4L 180 hp engine, it can get you around in some serious weather. Toss in multi-mode drive choices including one specifically for snow, and you get a certifiable entrant on the best crossovers for snow.
Even if you snatch up one of these sure-footed rides with all their drive modes and high-tech drivetrains, it's important to remember that dumb driving in bad weather is …well dumb. With these best crossovers for snow you have an edge. But it still requires responsible driving to ensure you keep the shiny side up.