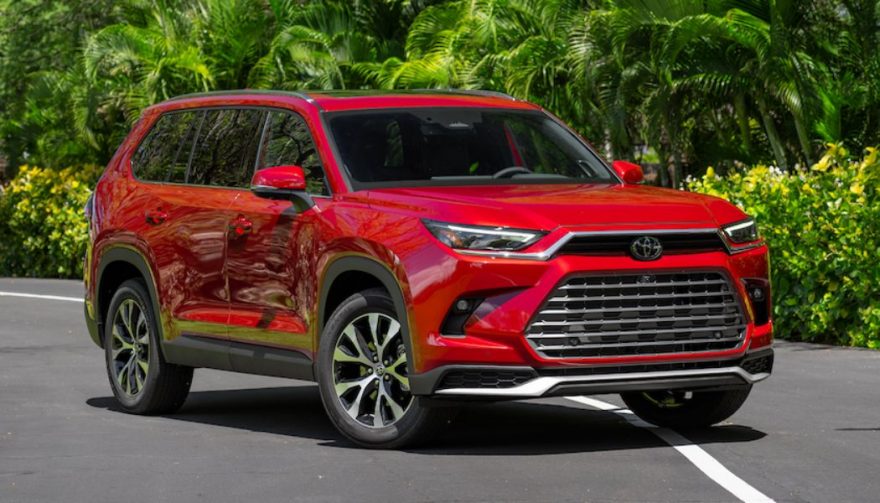 2024 Toyota Grand Highlander Hybrid
Large and Ready to Charge
Last year, Toyota announced the newest member of the award-winning Highlander series meant to bridge the gap between a compact SUV and a soccer mom-esque minivan. Toyota understood that families still need large passenger vehicles in today's modern climate.
The 2024 Toyota Grand Highlander hybrid looks to improve on the success of the previous Highlander series with modern features and technology that truly speaks to the consumer. The amount of competition in the hybrid and electric market is making way for design and innovation that the mindful driver will appreciate.
Grand Highlander 2024 Hybrid Trim Levels
The new Grand Highlander Hybrid has three different trim levels with several features that are standard or available to upgrade on each. Customers can choose the Hybrid XLE, Hybrid MAX Limited, or Hybrid MAX Platinum. Toyota ensures that buyers will be thrilled with even the entry-level Hybrid XLE. Including the term entry-level in something with so many notable standard features is difficult.
Noteworthy Mechanical Specs
One of the main differences between the entry-level XLE and the other offerings is the powertrain. The Grand Highlander Hybrid XLE comes equipped with a 245hp, 4-cylinder, 2.5L hybrid engine and front-wheel drive. It also comes standard with an electronically controlled CVT transmission.
When you move up to MAX, you get the Hybrid MAX powertrain that produces a whopping 362hp. This hybrid engine is a turbo-charged 2.4L 4-cylinder that utilizes dual variable valve timing. You also get upgraded to a full-time all-wheel-drive and a direct shift 6-speed transmission.
Standard Technology and Safety Features
Toyota took the word Grand with its new Highlander and ran with it. Even the base Hybrid XLE has technology and features that add safety and convenience. You are going to have a host of conveniences like power locks and windows with one-touch capabilities. Something else everyone will appreciate is access to seven different USB ports along with Qi wireless phone charging.
There is plenty of storage space in each trim level along with 13 different cup and drink holders for the optional eight-passenger seating. The eight-passenger seating and a larger touch-screen console are standard on MAX models.
You May Also Enjoy:
The 4 Best Toyota Hybrid SUVs On the Market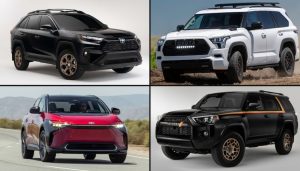 Related Search Topics (Ads)
Toyota has also included two different audio setups for the 2024 Grand Highlander Hybrid SUV. The Hybrid XLE has a standard 6-speaker system with the ability to connect to Apple and Android music services. The Hybrid MAX trim levels have an upgraded 12-speaker JBL system that includes a subwoofer and amplifier.
The safety features in each model of the Grand Highlander are certainly going to please potential buyers. They have many newer features, like a hill-start assist, blind spot monitoring, and a visible backup camera to keep you safe. Every model comes equipped with the latest iteration of Toyota Safety Sense that adds everything from pedestrian monitoring to adaptive cruise control for the driver.
Let's Talk Dollars and Sense
The price of an entry-level Grand Highlander Hybrid will not cause shock and awe amongst the population. The starting price for a Hybrid XLE is $44,670. This comes at a considerable value when looking at the current new hybrid and electric vehicle market.
To upgrade to one of the Grand Highlander Hybrid Max models, you will be looking to spend at least $54,040 and $58,125 respectively. Each of these models has several optional features available that will add to the cost if you decide to include them.
Overall, the 2024 Grand Highlander Hybrid SUV offers the consumer a lot of bang for their buck. There is a whole host of features and technology that genuinely make you feel like you are driving a new-generation hybrid SUV. There is plenty of room for everyone in the family, and Toyota is doing its best to bring the whole family together on the road.
Does the 2024 Toyota Grand Highlander SUV Stand Out?
The main takeaway from the 2024 Grand Highlander Hybrid SUV is that it is a vehicle that is big enough to cart around the extended family while you try to keep environmentally conscious. The road towards environmentally friendly but practical family transportation is still being paved. Yet, a hybrid vehicle like the Grand Highlander is showing that the industry is trying to head in the right direction.
This series of vehicles is showing that there is a lot of promise in the hybrid market, and consumers are soon going to find themselves with the ability to afford one. Of course, this won't see everyone jumping at the opportunity to plop down 50 grand or more on a new family vehicle. Yet, this does show a massive improvement in what will be affordable for the average family shortly. The 2024 Toyota Grand Highlander Hybrid is going to be near perfect for those in the market for an affordable Hybrid SUV that has all of the modern conveniences.