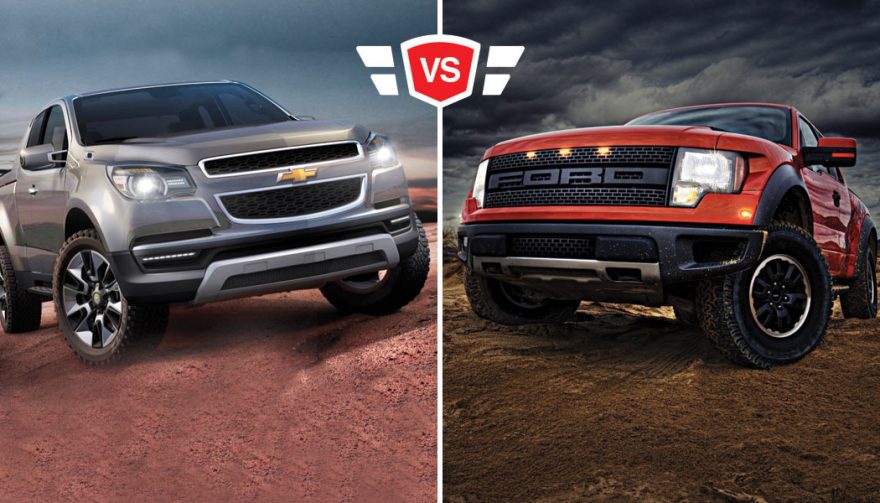 Ford and Chevrolet have been embroiled in a truck battle for years
Ford Trucks vs Chevrolet Trucks: There Can Be Only One Winner!
Ford and Chevrolet have been competing against each other in the truck market for generations. However, which brand makes the best trucks? Let's take a look at how these two companies differ in terms of the kinds of trucks they've got to offer.
Ford and Chevrolet: Side by Side Comparisons
How Are They Engineered?
Ford has made more advancements in terms of how its trucks are engineered. In particular, aluminum materials can be found in a typical Ford truck's body to make it stronger while keeping it from adding far too much weight.
In addition, Ford's V6 engines are often turbocharged. This allows for extra power to move into the engine as added air moves into the combustion chamber. This helps the fuel to make the engine faster and more efficient.
Chevrolet has not made too many advancements in this field. The same pushrod V8 engine that Chevrolet has used in many trucks in the past can still be found in today's models. It is also mostly made of steel and has leaf springs to support the vehicle's damping functions. Still, the familiarity that comes with its design makes it popular among fans of the company's trucks.
What Safety Features Are Included?
Both Ford and Chevy have trucks that have attained high scores in their crash tests. However, Ford tends to offer more safety features on its truck than Chevy does.
In particular, Ford offers 360-degree cameras and forward-collision warning systems that will prime the brakes so they can be more efficient. Monitoring systems are also included to identify the blind spots in an area.
What Is the Inside Like?
The inside parts of these trucks are very different in terms of how much space they contain. A Chevrolet truck will have about four to five extra cubic feet of space in the front over a Ford truck. However, Ford has that same four to five cubic foot advantage on the rear seats in the truck.
Check the Suspension
The suspension axles between these two vehicles are different from one another. The suspensions on Ford trucks are usually made with solid bodies with leaf springs. Chevrolet also uses leaf springs with A-arm front suspensions. A double-wishbone suspension is often used by Chevy to create an even arrangement with two mounting points to keep the wheels steady and less likely to become loose.
You May Also Enjoy:
The Ford F-150 Finally Goes Diesel, But How Does It Stack Up?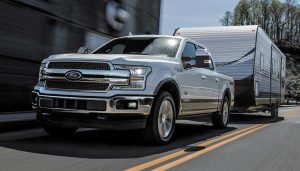 Related Search Topics (Ads)
What About Braking?
The braking features inside these trucks are varied based on each model. Most Ford trucks can brake from 70 to 0 mph in about 180 feet. It takes about 190 feet for Chevrolet's trucks to do the same. Ford has a slight advantage but Chevy still has a better rating than the nearly 200 feet it takes for a Ram truck to brake from 70 to 0 mph.
Look Into Technology
The technology features that these two brands use deserve to be explored just as much as anything else is. Chevrolet has its own special dashboard system called the MyLink system. This lets the user review the car's statistics in real time and use navigation control features. This is an optional feature on most Chevy trucks but it can be ideal for those who use these vehicles often. A typical MyLink screen will be seven to ten inches in size as well.
Elsewhere, the hill-descent control feature on Chevy's trucks is another unique technological marvel. This allows the user to keep the suspension under control by identifying the speed and decline that the truck goes through. This creates a more comfortable and controlled ride even while on off-road conditions.
Ford has its own array of tech features in its trucks. It offers high-beam controls that automatically adjust the lights based on the conditions in a space. It also uses a parallel parking assist feature, an adaptive cruise control setup and LED lights all around. These are features that are not easily found in most Chevy trucks, thus giving Ford at least some advantage in the tech field.
Check on Fuel Economy
The fuel economy totals on Ford and Chevy trucks are surprisingly identical. V6 engines made by the two tend to gather ratings of about 18 or 19 mpg in the city and up to 26 mpg on the highway.
Meanwhile, V8 engines typically go 15 mpg on city roads and 21 mpg on the highway. These are standards used by both Ford and Chevy on just about all their trucks. You should check the official sales labels on any vehicle you're interested in to get official estimates on what the gas mileage totals may be before buying a vehicle.
Be advised that Ford does use aluminum materials on many of its trucks to keep the weight down, thus keeping the truck from using too much fuel. Meanwhile, the transmissions on Chevy trucks can use up to eight speeds, allowing the user to adjust the engine based on how much fuel is needed to keep it running.
Either way, you will end up using more fuel if you have either a large amount of weight to carry in the truck bed or you are towing something very heavy. The added amount of engine power needed to carry or tow heavy objects may prove to be extensive and potentially capable of taking in more fuel than you might expect.
What About the Warranties?
The warranties on Ford and Chevy trucks are both good for the same amounts of time although the mileage limits are different. Both brands have 3-year, 36,000-mile bumper-to-bumper warranties. Meanwhile, their powertrain warranties both last for 5 years with Chevrolet's going for 100,000 miles versus the 60,000 miles that Ford has for its vehicles.
In summary, both of these truck brands have their own special positives. Ford has more general features to check out but Chevrolet also has plenty of strong trucks that are guaranteed by the company to last for an extended period of time. Be sure to check on individual models you're interested in to learn more about how these two car companies differ based on the vehicles they have for sale.