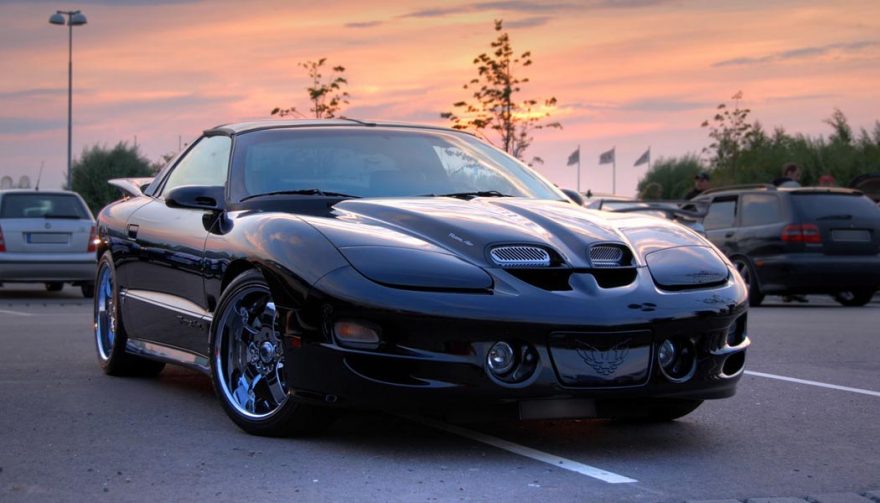 Your insurance company is going to have some painful news if you put a V8 in this angry bird.
5 Affordable Muscle Cars of the 21st Century
If you're looking for affordable muscle cars, your options are limited if you're looking at this century.
The early '60s through the early '70s is a time frame generally considered the "Golden Age" of muscle cars. Americans clamored for hopped up engines, and they could actually afford them.
Some of the more notable chariots included the '64 Pontiac GTO, 1968 Dodge Charger R/T and 1968 Plymouth Road Runner Hemi. Not to mention the 1969 Chevy Camaro ZL1 and of course the 410-horsepower 1968 Ford Mustang 428 Cobra Jet.
They were all hot, we can all agree on that. But there is one thing about the muscle cars of that time that is overlooked. They were mostly all affordable. If you could afford a car you could afford a muscle car.
Today we have cars with more than 1,000 horsepower and crazy torque, but they all cost a fortune. If you want performance, it's going to cost the equivalent of an entry-level luxury car and up.
But that's a fairly new phenomenon. However, there are affordable muscle cars from this century. If you have a need for speed and a beer budget, you'll want to check out these five affordable muscle cars.
2002 Pontiac Firebird Trans Am
This pony car is outrageous when equipped with the 5.7L 346 CID V8. A stock Trans AM completed the quarter mile in 13.16 seconds at 106.05 mph on Eagle F1 street tires.
The interior is a bit chintzy with an excessive use of plastic trim, but you're not making a fashion statement. What's more important to the car's performance is the Hurst six-speed transmission, aluminum drive shaft and an aerodynamic body that won't quit.
You can grab one of these for about $23,000. Be prepared however, for some painful news from your insurance carrier when you try to add the V8 version to your policy.
2006 Pontiac GTO
The '64 Goat was one of the first American muscle cars. It quickly established a reputation for performance and sexy good looks. When the GTO brand was re-launched in 2004, they got the hot engine part right but missed the mark on overall design.
The GTO was actually a rebadged Australian Holden Manaro. In 2006 the nondescript Aussie look was dumped and the GTO got a new flared hood, spoiler, bigger brakes and the same 400-horsepower, 6.0-liter LS2 V8 engine that powered the Corvette.
With that kind of power, it is no surprise this "Goat" can go 0 to 60 in 4.7 seconds. These sold for about $30,000 when they were new. Today the market value of an '06 GTO is about $17,000.
2007 Dodge Charger
Muscle cars are deeply embedded in the Dodge corporate DNA. It makes it hard for them to manufacture a "normal" automobile. The Charger is an example of how an otherwise "normal" family sedan becomes linked to the muscle car rumblings of the 60s.
Yes, it has four doors. But it also has edgy styling, sport wheels and, if you want, an intimidating 6.1L Hemi V8 engine capable of 425 horsepower. Tack on Mercedes-Benz suspension and transmission technology, and you have a car that can outrun anything in its class and most of the expensive "performance" cars.
It's the family sedan that makes dad look cool. When you find one you fall in love with, expect to lay out about $22,000.
2008 Dodge Challenger SRT8
The 2008 Challenger SRT8 looks, sounds and blows by the competition like its predecessor from 1969. The 6.1L Hemi V8 can crank out 425 horsepower and 420 ft-lb of torque. This reincarnation has a top speed of 173 mph and does the standing quarter mile in 11.1 seconds.
The SRT8 came as a limited edition, with only 6,400 units built. Each one sold at $50,000-plus before hitting a lot. Today you can park one of these monsters in your driveway for about $27,000.
2010 Chevrolet Camaro SS
Chevrolet reintroduced the Camaro in 2008 to take on the Dodge Challenger. It hit its stride in 2010 with a fantastic design and an optional 426-horsepower V8 engine with a five-speed manual transmission.
This dangerous looking four-seater with the gun slit windows can hit 0 to 60 in 5 seconds flat. Tire evaporating torque and a classic muscle car roar made the 2010 Camaro SS an easy pick for straight line speed enthusiasts of the time. Today this ride will set you back $30,000, so it's the priciest on our list of affordable muscle cars.
You May Also Enjoy:
All American Muscle: 2018 Dodge Challenger vs Charger