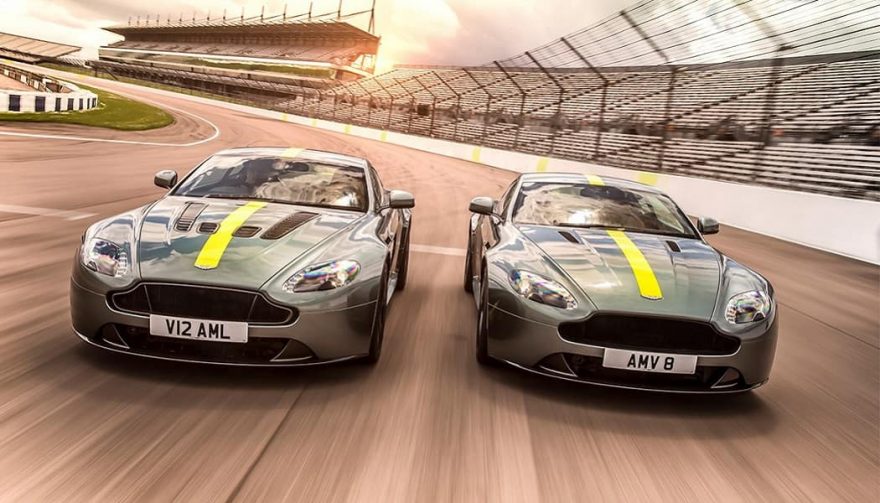 The Aston Martin Vantage AMR will be available as a V8 or V12
Aston Martin Spices Up the Vantage with AMR Edition
Gaydon, United Kingdom – The Aston Martin Vantage has enjoyed a good run, and the company is celebrating the car with an Aston Martin Vantage AMR edition. You might remember that during the Geneva Motor Show earlier in the year, Aston Martin announced the AMR sub-brand. It operates somewhat like BMW's M, taking race technologies and applying them to road cars.
During its run, the Vantage has competed in quite a few races. For the Aston Martin Vantage AMR edition, the British carmaker has drawn inspiration from the GT4, GT3, and GTE cars.
Shoppers lucky enough to get the Aston Martin Vantage AMR get a choice of two engines. One is a V12 kicking out 595 horsepower. The other is a V8 good for 430 horsepower. Both powerplants can be had with a coupe or roadster Vantage.
AMR offers four different paint and striping color schemes: stratus white with orange, ultramarine black with blue, zaffre blue with red, and scintilla silver with grey. A carbon fiber grille surround comes standard on all V12 models, and can be added to V8s.
You can also get carbon fiber caps for the side mirrors. To help the calipers stand out, Brembo-branded covers in red, orange, black and dark anodized are options, too.
You May Also Enjoy:
The New Aston Martin Vantage Is Bloody Brilliant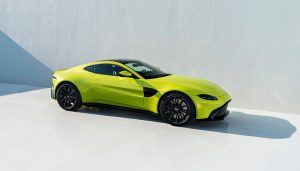 To tell which engine is stuffed under the hood, you just have to look at the wheels. All Aston Martin Vantage AMR V12 models come with 10-spoke lightweight wheels. The V8s have five-spoke wheels. Both versions come in a gloss black, satin black, or graphite finish.
If the standard interior doesn't make the car special enough, Aston Martin says it offers several options. Carbon fiber seats help shed more weight. They add a two-tone leather upholstery as well. Upgraded carpeting with leather binding that's in a contrasting color punches things up another notch. A carbon fiber package swaps out different cabin components, shedding weight and making everything appear sportier.
Commemorating No. 95
An AMR Halo Pack commemorates Aston Martin's No. 95 Vantage GTE, which won the 2016 WEC. The car wears stirling green paint, plus lime green striping and accents.
As for the badge, it incorporates the Union Jack into the wings logo, just like the GTE car. On the inside, owners enjoy a black color scheme, with lime green accents.
Slapping the AMR Aero Kit really adds some flair. AMR developed the kit along with Aston Martin Racing, so you know it isn't just for show. Everything carbon fiber, including the side sills, front splitter/dive planes, and rear spoiler.
You can order the Aston Martin Vantage AMR right now. Hurry, because only 300 will be made for the entire global market. That's fairly exclusive, making for a great way to celebrate a successful car.