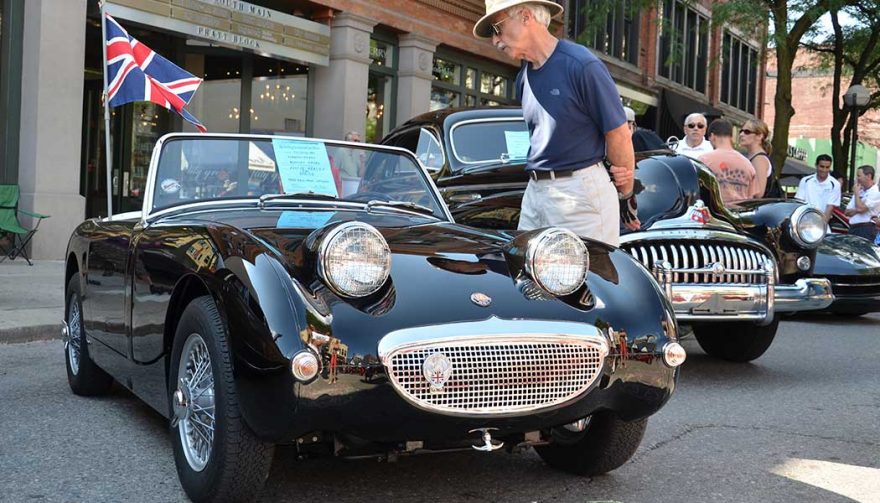 The British Motor Corporation told the world that the Austin Healey Sprite would be low cost sports model "a chap could keep in his bike shed."
Classic Driving Impressions: Austin Healey Sprite
This is the story of an Austin Healey Sprite, and how it gave me a new perspective on driving.
It was 1973. I was moving from one employer to another. My old job had me on the road five days a week. As part of the package, I had a nice 1972 Chevy Bel Air as a company car. If Chevy made unmarked cop cars, they would be equipped just like my Bel Air, except mine didn't have the high performance engine, brakes and suspension. My company car was pretty much bare bones and vanilla, but it was free transportation.
The loss of that job and the company ride put me in the position of shopping for a car to get to and from my new job. Nobody was more shocked than I when, six days later, I gave up a 4-door, full size sedan for a 13-year old, two-door, two seat ragtop that had a 6-inch ground clearance, weighed less than 1900 pounds and had the oddest headlamps I had ever seen.
You Can't Walk By An Austin Healey Sprite Without Looking
I didn't start out looking for an Austin Healey Sprite. I thought I might get a good buy on a late 1960's muscle car, now that the oil crisis had hit and oil went from $3 a barrel to $12. The older Pontiacs and Plymouths were gas hogs and I figured they would go cheap.
But here was this little 1960 red convertible with "bug eye" headlights mounted on the hood just begging me to get in and take a test drive. The salesman knew about as much about the car as I did. He was a pretty chunky guy and the passenger cabin is "intimate" to say the least, so he declined to accompany me on a spin around the block.
My first thought was this is so cool. Sitting 6 inches off the pavement gives you a whole new driving perspective. Kind of like a ride at an amusement park. The four-speed manual transmission "snicked" into gear effortlessly, the clutch felt strong, the brakes were a bit sporty but then I was accustomed to power brakes, and the steering responded immediately. If anything, the roadster was easy to oversteer and would take a bit of experience to master.
With A Sprite, Less Is More
I pulled smartly into the dealer's lot mightily impressed with the coolness and fun factor of this little sports car. Believe it or not there was a manual in the glove box and between it and the salesman's limited knowledge we discovered:
The Austin Healey Sprite was powered by a 948 cc engine with dual carburetors that generated a whopping 90.5 hp. On the plus side, it got 35 mpg at a time when fuel prices had skyrocketed. A good argument to use when convincing the wife what a bargain the car was!
It had an advertised top speed of 90 mph. My new commute was entirely on surface streets so that was plenty fast.
There is no trunk in the conventional sense. To get to the spare tire you had to fold down both seats and dig it out of its storage area.
When you popped the hood, you actually popped the entire front of the car. The hood and fenders were one piece which was hinged at the windshield line. To open the engine compartment you raised the entire front of the car. From a distance it looked like the Sprite had been in a front end crash.
And then there was the size…or lack of it. It was 151″ long and 60″ wide, with a wheelbase of 90″.
The convertible top could be raised with one hand and was not the most substantial roof on the market. I lived in Chicago and kept the top down except when the cold, snow or rain made that an impossibility. To its credit, the Sprite came with a tonneau cover that left only the driver's seat exposed, trapping the heater's output under the cover and keeping your shifting hand warm in otherwise top-up weather.
I can't remember what I paid for it. I didn't want to lay out the cash, but nobody would finance a 13-year old Austin Healey Sprite, so you do what you have to do.
You May Also Enjoy:
When You Need to Look Good for a Day: Luxury Car Rental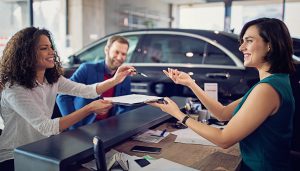 Related Search Topics (Ads)
Why Leash Laws Are A Good Idea
I paid for the car and had to face the moment of truth. I had to drive it home and surprise my wife.
Her car was in the drive, so I pulled up behind her. There was plenty of room. When I got out and saw the two cars together, her Mercury Capri looked like a limousine.
She came out and was initially impressed with my new Austin Healey Sprite. Let's face it, from a feminine perspective, it was cute. Bright red, funny headlamps, and it was so small…what's not to love? I suggested we take a spin over to a friend's house to show it off and she agreed.
Sitting six inches off the road is not for everybody. It was not a position my wife found comfortable. There was a chrome grab handle mounted on the dash in front of the passenger seat (to handle the G forces?), so she put a death grip on it and settled in.
Now this was 1973 and there really weren't any leash laws. It wasn't uncommon for a dog to chase a car. I was doing about 30 mph on a residential street when I heard barking. I didn't see the dog until my wife started screaming. The dog's head (it was a German Shepherd mix) was even with hers and she was frantically trying to crank the window up while hanging onto the grab bar.
I was in third gear and made the mistake of just crunching the pedal. We almost stalled and, needless to say, the dog was still with us. I dropped down to second and we got enough acceleration to beat the canine. I would learn later that the Sprite's zero-to-sixty time was nineteen long seconds. Apparently, a German Shepherd's time is pretty close to that of a Sprite!
So that was the end of the husband-and-wife road rally team that I had envisioned. No weekends spent navigating twisty back roads and hanging out with people in Triumphs and MGs.
Driver-Car Relationships
The British Motor Corporation told the world that the Austin Healey Sprite would be low cost sports model "a chap could keep in his bike shed." It was designed by the Healey Motor Company and produced by MG using parts and components from other vehicles to keep the cost down.
Part of the fun driving experience was pure smoke and mirrors, the rest was unintended performance through simple design and small size.
Given the size of the engine, there was a ton of shifting going on to keep your speed up while climbing even the shallowest of grades, and also to maintain speed when cutting a curve (which you sought out constantly). You were never really going that fast, but when you were so low to the ground, it seemed like you were flying.
There was "power nothing" on the Austin Healey Sprite – no power brakes, steering or windows. Consequently there were no servos or belts to fail. Mechanically, the car held up admirably thanks to its simple design. I've never fully bought into the rumor that the Brits used cotton insulation in their wiring, but it wouldn't surprise me if they did. If a drop of rain found its way into the engine compartment, it seemed to be sucked up by the insulation resulting in a short in something.
For the next 2 years, I had a love hate relationship with the car. You don't so much drive an Austin Healey Sprite as wear it. Every movement of your hands and feet has immediate feedback. It's almost like an extension of your body, and when it gets a cold you're the one who sneezes.
I had hours of fun blasting (sort of) down Sheridan Road along the lakefront in Evanston, Winnetka and Glencoe, Illinois. I'm not a mechanic, but mechanical problems like a failed master cylinder don't bother me and I had a few of those with the Spite. But I simply don't have the patience to solve electrical problems, and wound up having to pay for a new wiring harness to be installed.
At some point I just gave up. My suggestion to my wife that we sell both cars and get matching MG Midgets didn't get too far.
Now It's A Classic
If you could find a 1960 Sprite in restored condition today (and actually there are quite a few), you would probably have to lay out about $60,000 for one.
I'm retired now and live in sunny Southwest Florida. If I win the lottery, I just might track down a restored Bugeye and buy it. However, if you're a first time sports car driver, my suggestion is to save $35,000 and buy a brand new Mazda MX-5 instead. It will give you all of that wonderful British roadster feeling without leaving you stranded. That part you can do without.