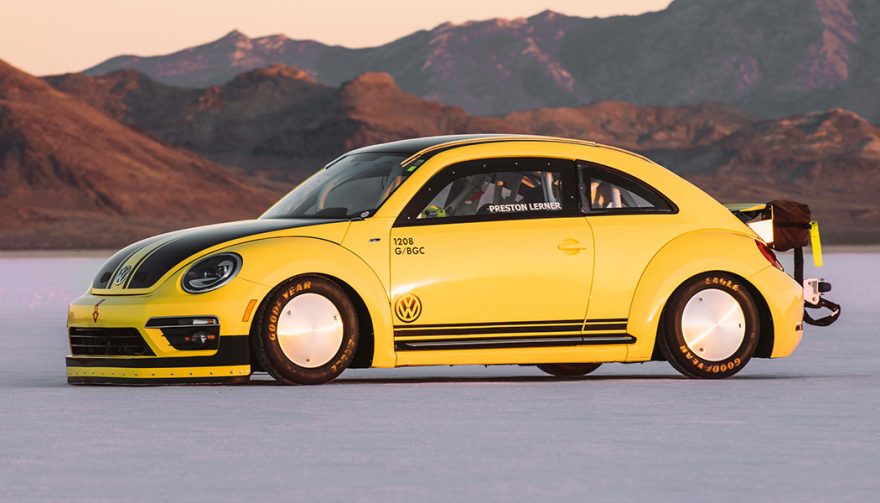 The Beetle land speed record is now over 205 mph thanks to 600 hp, and a need for distraction.
Beetle Land Speed Record A Magnificent Distraction
Dr. Porsche's first Volkswagen Beetle, built in 1941, had 25 hp and a top speed of 62 mph. Fast forward to 2016: A specially prepared Volkswagen Beetle has reached a speed of 205.122 mph over a flying mile at the Bonneville Salt Flats – the highest speed ever recorded for a Beetle. Dr. Porsche would indeed be proud – a Beetle Land Speed Record!
A 300 Percent Horsepower Increase
The Beetle used a highly modified version of the EA888 TSi engine that is available in the Beetle R-Line model. The Beetle Land Speed Record's engine featured new turbochargers, pistons, camshafts, connecting rods, and head modifications. It produced 543 horsepower and 421 pound-feet of torque at the wheels. That is the equivalent of over 600 hp and close to 500 lb-ft. at the flywheel.
In case you were wondering, that's how much power you need to get a non-aerodynamic shape like the Beetle's to go that fast. Other performance upgrades included:
Lowered suspension
Special Salt Flat wheels and tires
Limited-slip differential to aid traction
Stripped-out interior with rollcage, racing seat and harness
Fire suppression system
A pair of parachutes to slow the car down
Is There Any Point To A Beetle Land Speed Record?
We can all agree that it is a cool thing indeed to see a Beetle exceed 200 mph. But should we not also also ask whether this project will produce any benefits for future Volkswagen customers? It most likely will not.
You May Also Enjoy:
Volkswagen Wins Fourth World Rally Title in a Row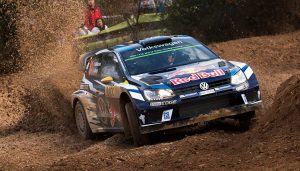 Related Search Topics (Ads)
Stunts like this fall into the bread and circuses category. None of this Beetle Land Speed Record technology has any application to street vehicles. There will not be a 600 hp Beetle, now or ever. Nothing to see here, folks.
While we watch this bright shiny object streak across Utah, throwing up roostertails of salt in its wake, let's spare a thought for the untold billions of dollars VW will be paying out for its Dieselgate sins for many years to come. Will VW have adequate resources to both pay all these penalties and develop a new generation of vehicles that the public will want to buy?
Volkswagen Needs A Breakthrough
Perhaps Volkswagen should return to that original 25 hp Beetle for inspiration. It was the right car for its time, a great step forward in personal transportation. That's what VW needs now, a groundbreaking leap forward in transportation, taking us far beyond what we have now. The next few years will tell whether they can pull it off and gain back the consumer trust that has been lost.