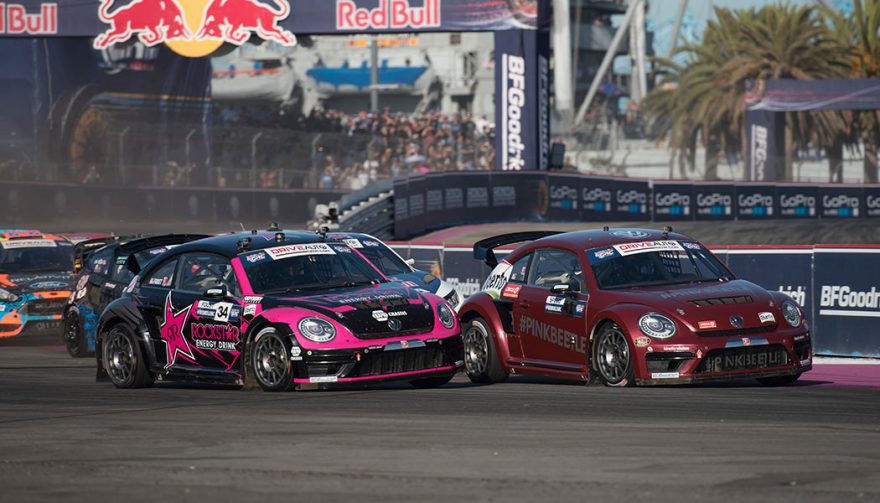 VW driver Scott Speed won his second consecutive GRC Championship, with his teammate Tanner Foust finishing second.
Volkswagen Locks Up GRC Championship In LA
In a rare bit of good news for VW, the Volkswagen Andretti Rallycross team took the 2016 Red Bull GRC Championship in convincing fashion at the final event in Los Angeles. VW driver Scott Speed won his second consecutive Global Rallycross Driver's Championship, with his teammate Tanner Foust finishing second.
This comes on top of Volkswagen's Red Bull GRC Manufacturer's Championship win earlier this year in Seattle. The Volkswagen Andretti Rallycross team won a total of eight events and achieved 14 podium finishes during the 2016 season. It was a very good year for VW, at least in Global Rallycross.
A Close Battle Between VW Teammates
Tanner Foust was in the lead in the driver's standings coming into the weekend. He held a slim, 13-point margin in the championship standings over teammate Scott Speed. But Speed started the weekend well, setting the fastest time in qualifying and winning each of his Heat and Semifinal races. Foust ran into trouble, qualifying fourth and finishing second in his Heat races, putting an end to his streak of 25 consecutive preliminary race victories. Foust won his Semifinal and earned a second-place starting position for Saturday's GRC Championship Final, next to his teammate.
Saturday's Final went to plan, with both Volkswagen drivers pulling away from the field. Scott Speed took his fourth victory of the season and Tanner Foust grabbed second place in the team's fourth double podium finish. This was also its third 1-2 sweep of the year.
Sunday would be more difficult for the Volkswagen drivers. Foust qualified second and Speed had the fourth fastest time in the session. Both drivers started in the same Heat, and Foust led Speed to the checkered flag. Speed made a last-lap pass in his Semifinal race to take the win, setting up a top starting position for the Final. Foust then ran into trouble in his Semifinal, and was pushed out of the lead at Turn 1. He fought back to a third-place finish, but was issued a penalty and relegated to fourth place, forcing him to the Last Chance Qualifier.
Foust prevailed in the LCQ, earning a spot in the last GRC Championship Final of the season. Now separated by four points, whoever finished ahead of the other would end up winning the Driver's Championship.
Foust had an amazing start, passing nearly half the field on the outside of the first few turns, ending up in third position behind his teammate. Speed held position in second, maintaining a small gap to Foust. Although Foust remained close to Speed throughout the race, he was unable to pass him, allowing Speed to claim second place and the Championship victory.
Foust's second-place finish in the championship was an improvement over his third-place effort in 2015. His streak of 25 preliminary race wins in 2016 set a new record, and he added four victories to his Red Bull GRC total this season.
Volkswagen Andretti Rallycross had a great GRC season in 2016. The team took eight victories from 11 race entries and secured the Manufacturer's and Driver's Championships, all with only two cars entered.
What Does The GRC Championship Mean to VW Owners?
While winning both the GRC Manufacturer's and Driver's Championships is a feather in the cap of both Volkswagen and Andretti, this effort will have little to no rub-off effect on Volkswagen's U.S. lineup.
The Beetle has never been developed or marketed as a performance street vehicle, so it is hard to see why VWoA picked it for the GRC. Perhaps because it's "cute?" Do not expect a "GRC Championship Edition" Beetle in VW showrooms. Additionally, these GRC Beetles are custom-built from the ground up for the specific needs of this type of competition. With the possible exception of the engine block, there is minimal parts interchangeability. Just as with the Beetle Land Speed Record car, this is a developmental dead end.
The future for Volkswagen is not in performance. It is in electric vehicles, crossovers, and probably electric crossovers. Onward to the Brave New World, VW enthusiasts!