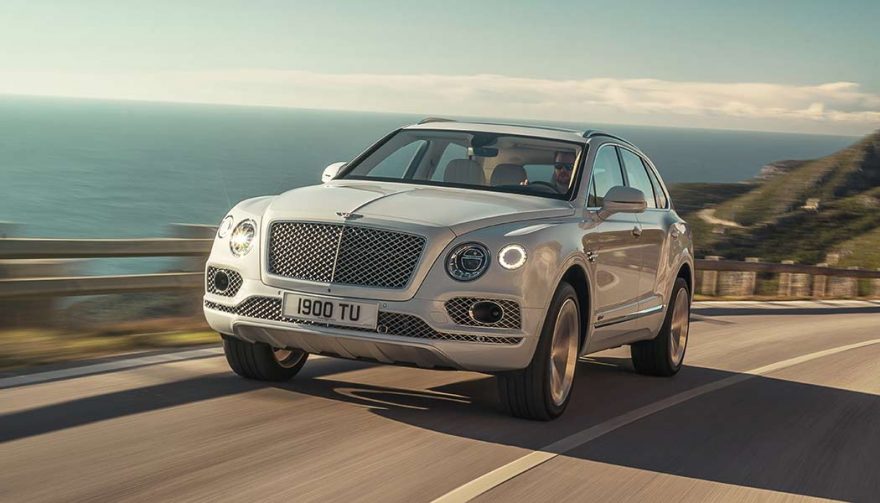 The Bentley Bentayga Hybrid has an electric-only range of 31 miles
Bentayga Hybrid Is Bentley's First Shot at Electrification
Premier luxury car maker Bentley is getting in on the electrification game. Calling it the "world's first luxury hybrid model," the Bentley Bentayga Hybrid SUV represents the company's "first step toward full electrification," according to a release.
Other luxury automakers, such as Porsche, BMW and Lexus, may sneer at such a claim, but nevertheless, that's what Bentley Motors says.
The Bentley Bentayga Hybrid combines an advanced electric motor with a powerful and efficient new gasoline-powered V6. However, though it uses new power technology, the new plug-in hybrid doesn't betray any of its Bentley upbringing.
"The Bentayga Hybrid is our first step on the road to electrification, combining traditional Bentley values with the very latest technologies. It gives customers the best of both worlds – engaging, effortless performance on the open road and silent, emission-free driving in the city, which will become increasingly important with the ever-changing regulations around the world," said new Bentley Motors chairman and CEO Adrian Hallmark.
A Few Power Firsts
At the heart of the Bentley Bentayga Hybrid are two power sources, a highly efficient electric motor and a new turbocharged 3.0-liter V6 engine. Along with the first hybrid powertrain in a Bentley, this is also the first time the car maker has utilized V6 power. Bentley has yet to reveal performance specs.
The electric motor also functions as a generator to provide a maximum electric-only range. However Bentley says is only 31 miles max on electric propulsion alone.
The Bentley Bentayga Hybrid offers fortunate drivers three electric driving modes. Choosing between EV Drive, Hybrid Mode and Hold Mode will enable the driver to better manage battery usage.
The Bentley Bentayga Hybrid uses its navigation system to help calculate the maximum efficiency of its electric motor. The system will automatically determine which driving mode is most efficient for each part of the trip – constantly calculating battery usage and storing energy for sections of the journey where it is most useful.
Starck Power Dock
Bentley collaborated with renowned designer Philippe Starck to create a highly stylized home charging station. You could easily consider the Starck Power Dock as a piece of functional art.
Bentley describes it best. "The stylish surround is formed from pressed eco-linen with bio-sourced thermosetting resin, while the domed frontage is fashioned using a hot-pressure aluminum casting."
Bentley says it takes two and half hours to fully recharge the battery on 240-volt power.
Bentayga Hybrid is not yet available to order. However, it will become available to order in selected markets from the second half of 2018.