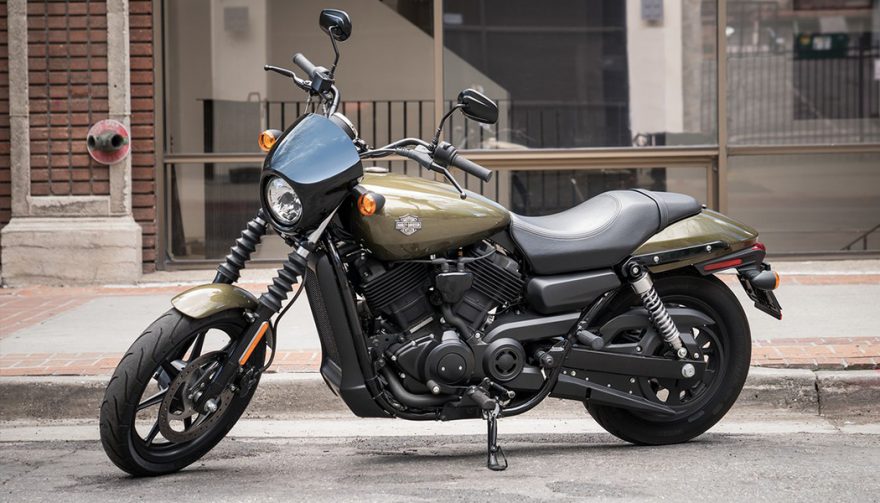 The HD Street 500 is purpose-built for the brand new rider
Nothing feels as free and exhilarating as driving without a seat belt on, the open sky overhead, taking corners on two wheels, the wind rushing past your face. But, since that's not a legal way to drive your car, you're entertaining the idea of buying a motorcycle. But you want to know, what are the best beginner motorcycles? How can I get the thrill without getting in over my head?
As a rider myself, I know how thoroughly intimidating it is when there's huge horsepower under the seat and hundreds of pounds you need to keep upright at a stoplight. And trust me, I also know the embarrassment of lifting your bike up after tipping over unexpectedly at a stop. You need to pair up with a motorcycle that's the right size and the correct purpose for your needs. To that end, read on about the best motorcycles for beginners that are currently available.
Harley Davidson Street 500
Because a Harley gets immediate respect, it's always a good buy. The HD Street 500 is purpose-built for the brand new rider. It accomplishes its role by being a very easy-riding, stylish, and comfortable beginner bike. And it looks dead sexy, just like a Harley Davidson should.
The 500cc Revolution X V-Twin makes 29.5 lb.-ft. of torque, which is more than plenty for a new rider. The 25.7-inch seat height is great for comfort, and makes balancing the nearly 500-lb two-wheeler possible for most heights. It's definitely one of the best beginner motorcycles.
Honda Rebel
Just because you're new on a motorcycle shouldn't mean you're stuck with a kiddie bike. Honda understands that and brings you a motorcycle that looks aggressive and sounds badass, yet is surprisingly easy to ride. Nobody wants to look like a beginner, even if they are one. The Honda Rebel is a sexy bike with matte black paint and a sporty look. Most of all, it's available in as a Rebel 500 and a Rebel 300, ready for beginners and novices.
The Honda Rebel 500 has a comfortable seat height of 27.2 inches, and weighs an easy-to-manage 408 pounds. Its 471cc is powerful enough for city and highway use. The Rebel 300 is very much the same but weighs 44 pounds less and is just 286cc, which is good for city bikers.
Kawasaki Ninja 300
Let's face it, some want a sport bike instead of a cruiser. Kawasaki makes a small-displacement crotch rocket in the Ninja platform. It's a fun bike to ride still, even though it's just a 296cc engine in it. But you don't have to worry about popping a wheelie unexpectedly. You'll just look like you can.
The Kawasaki Ninja 300 is available with or without ABS brakes, and a new rider should choose the safer option – ABS. It rides a little higher at 30.9 inches, but that's more about the type of riding than anything. And at 383 pounds, it's not too heavy for a beginner to handle.
Suzuki TU250X
For someone who likes retro styles, Suzuki makes it brand new. The Suzuki TU250X is built for the 1980s, from the teardrop gas tank and old-school muffler to the not-so-modern plastics. They even use a round headlight for posterity sake.
It's just 326 pounds, and has an average seat height of 30.3 inches, which works for most riders needing a beginner bike. The Suzuki TU250X is one of the only ones with a passenger seat, although you wouldn't expect much in the way of performance with two people aboard. You'll look good in a sparkly visorless bucket when you're riding this one.
Triumph Scrambler
Maybe you want a little more power – you might be a bigger, stronger guy or gal. Triumph has a bunch of awesome bikes, and the Scrambler is one of the ultimate entry-level motorcycles around anywhere. It has the classic sixties look, calf-burning exhaust routed along the side, and classic accents and paint.
But what matters for the best beginner motorcycles is the ability to control the bike. It's a big 865cc engine, which makes the overall weight 472 pounds. The seat height is 32.8 inches, which could rule it out as a beginner bike for anyone under five and a half feet tall. But it's also a motorcycle that would be enjoyable for the novice or experienced rider for years down the road.
Yamaha V Star 250
Somewhere between a classic cruiser and a custom-style motorcycle is the Yamaha V Star 250. It's been built to appeal to a wide range of riders, and that goes doubly for the new rider. At just 249cc, it's efficient and powerful enough for day-to-day riding in the city. It's not the most fleet of foot, so probably not too good on the interstate.
It has a nice, low 27-inch seat height that's great for smaller riders, and the weight is just 326 pounds. Between its clean look and small stature, it's one of the best beginner motorcycles, without a doubt.
Kawasaki Z125 PRO
If you're thinking an on-road/off-road bike, it's what we call dual-purpose. Kawasaki gives us an option for beginner riders in that type of category, the 2018 Kawasaki Z125 PRO. It's built to be a blast to ride, is a cost-effective way to get into the hobby, and is one of the best beginner motorcycles you'll find.
The tiny motor, just 125cc, might not sound like enough, but the bike is super-lightweight. It's just 225 pounds which is easy enough to handle for smaller riders. But you can't be too small – the seat height is nearly 32 inches.
Can-Am Spyder
Not ready to take the training wheels off yet (metaphorically speaking)? Balancing on two wheels isn't for everyone. The Can-Am Spyder is a good choice for a beginner rider who wants the open-air experience without the nerves of just two wheels. It's a bigger unit, so it needs more than the rest have – at least 1300cc of displacement.
It's an ultra-modern design with molded panels and an aggressive 'grille.' The Can-Am Spyder is equipped with ABS brakes, a semi-automatic transmission, and can come with or without a radio, power height-adjustable windshield, and heated grips. But most importantly, you get comfortable with being a rider, and hopefully, you can graduate to a two-wheeler in time.
Honda CB1100EX
Just because you're a new rider doesn't mean you need an underpowered bike, right? Honda has a machine that's fantastic for beginners who aren't what you'd call small in stature and has a little extra oomph. The Honda CB1100 EX is a standard motorcycle with basic options, and it's perfect for a bigger rookie rider.
An 1140cc transversely-mounted four-cylinder engine tucks low into the frame and is balanced perfectly. That's important for new riders, because it eliminates that standstill, tip-over risk. At 540 pounds, it's not the lightest bike either, but it's not hard to control. The seat height is a tall 31.2 inches – once again, a good beginner bike for the larger rider. Standard ABS and triple disc brakes are certainly welcome for the Honda CB1100EX to add safety for a new rider.
Suzuki GSX250R
Beginner bikes should still be fun to ride, and that's what the Suzuki GSX250R is all about. It's part of Suzuki's Katana family, so it has the fully-faired sides and the sport bike appearance. Absent, though, is the indescribable power that Suzuki offers on the big sport bikes that would get new riders into hot water.
The parallel-twin two-cylinder engine is ultra-efficient, at up to 76mpg, as well as modestly enjoyable to ride. The Katana design is forward-leaning, which is a draw for many of the go-fast enthusiasts, but your body position isn't nearly as aggressive as the GSX-R series.
The seat height is still rather tall at 31.1 inches, but at 392 pounds, it's easier to handle than many other beginner bikes. Honestly, though, the Suzuki GSX250R is all about getting a beginner bike that looks like the ones the expert riders play with.
Honda Gold Wing
You might not think of the Honda Gold Wing as a beginner motorcycle, but a huge number of new riders are retired people who want a new hobby, and want to travel. This makes the 2018 Honda Gold Wing is the perfect bike.
Sure, it has a monster 1833cc six-cylinder engine, but being horizontally-opposed smooths it out. Control is actually quite impressive because the transmission has reverse on the manual gearbox, and walking mode on the automatic dual-clutch transmission. Did I just say 'automatic transmission'? Yup, and that's one of the things that makes the Honda Gold Wing so great for beginners.
Ride two-up on the Gold Wing easily, and there's storage for overnighters in luggage compartments. The 2018 Honda Gold Wing is more stylish and even has Apple CarPlay integrated into the LCD screen in the cluster. Cruise control, a stereo, Bluetooth – you name it, the Gold Wing has it for the beginner touring bike.
BMW G 310 R
It's a unique combination of a sport bike, naked bike, and a little bit vintage. The BMW G 310 R has appeal across a few genres, and at a fantastic price point too. The ride is more upright than most sport bikes, but the 313cc single-cylinder with 34 horsepower feels much more powerful than you'd expect.
ABS brakes are standard equipment, and the bike weighs in at just 350 pounds including a full tank of fuel. The standard seat height is 30.9 inches, but a higher and lower option can be bought to give it just the right feel for you.
 Triumph Bonneville Bobber
It's another odd entry for beginner bikes, but not all beginners need a low-displacement engine. Perhaps you want a custom look but don't have the experience to do it yourself. The Bonneville Bobber is great because it's got the look you want in an exquisitely-developed package. It's got that minimalist appearance and basic equipment, but no one will notice when they're admiring your bike.
It's built with a 1200cc liquid-cooled parallel-twin engine with 76hp, and that's going to be fun. The seat is slung relatively low at 27.1 inches, but it looks super cool suspended above the chassis. The riding position is a little forward, and combined with its low position it handles and turns like a dream. Of course, it's built with standard ABS and traction control, which are both important features for a powerful beginner bike.
Harley Davidson Freewheeler
It's a clever name that plays off the term 'three-wheeler.' The 2018 HD Freewheeler might also be referred to as 'an abomination' by some motorcycling enthusiasts, but the fact remains that it's a solid choice for entering the open-air cycling scene.
Because there's no need to balance the Freewheeler on two wheels, the weight doesn't matter. Good thing too, as the HD Freewheeler tips the scale at over 1,100 pounds with fluids. That extra wheel means that it's nearly impossible to drop, too, though we're sure that someone has managed it. The Milwaukee-Eight 107 is a massive 107 cubic-inch engine for a beginner bike, but it's tamed down by the weight, and a very smooth six-speed manual gearbox.
The biggest challenge you'll face with the Harley Davidson Freewheeler as a beginner rider has nothing to do with control. Instead, it's acceptance as a biker from those who don't consider a trike as a true motorcycle. Oh, and it costs twice as much (or more) than most of the other beginner bikes we've discussed so far.
Aprilia SR Motard 125
Perhaps it's too daunting to start with a full-scale motorcycle as a new rider. No worries, there's still an option to get you comfortable riding on two wheels. A scooter with above-average guts can do the trick, although you'll eventually want to upgrade to the real deal. In the meantime, the 2018 Aprilia SR Motard 125 is a good jumping-off point.
With 125cc of displacement from its single-cylinder 9.5-hp engine, the Aprilia SR Motard ain't too shabby for performance. You'll get phenomenal fuel efficiency and have a similar open-air experience as a motorcycle but you're restricted to city speeds.
Like a trike, your biggest hurdle to overcome will be earning respect from people riding motorcycles. There's something about the step-through design of a scooter that just doesn't do it for experienced riders.