Four of the Best New Motorcycles for 2020
Motorcycles provide a feeling of freedom, uniqueness, independence, and the gut thrills that come with riding astride two wheels. That can't be matched by any SUV or pickup truck. And now, you'd be hard pressed to find a better form of transportation to practice social distancing than the two-wheel thrills of the best new motorcycles for 2020 .
Whether you want to hit the road, the trail, cross an open field, or blast around a track, or just look incredibly cool, there's a bike that will get you there. In fact, it's amazing that such a simple vehicle can have so many variations. Adventure touring/ dual sports, cruiser, power cruiser, dirt bike, enduro, café/naked bike, and chopper are just a few of the "model" types.
With that in
mind, here are a few picks in the most popular classes that we think you might
enjoy:
Cruiser – BMW R nine T
Cruisers come
in a variety of flavors. Harley Davidson is the iconic favorite and if you just
have to own a pair of leather pants with the HD logo stamped on the butt, buy a
Harley. BMW calls the R nine T a heritage Classic given the design inspirations
come from early Harley Davidson and Indian bikes. Cruisers are about laid-back
style and a comfortable time in the saddle. For many hardcore bikers, BMW is
considered the brand for the gray hair set but the R nine T is the perfect ride
for anyone looking for a connection with the countryside, the sense of freedom,
and a oneness with the machine.
This entry on the best new motorcycles for 2020 definitely has a meaty retro look featuring a brushed aluminum tank and a two-into-one exhaust last seen in the 50s and 60s. It has a low saddle (31.7") position which may scare off taller riders, but it shouldn't. Even the lankiest bikers can swing onto this ride and find themselves in a relaxed, upright position perfect for cruising the roads for hours.
While the BMW R nine T has a chunky look, its low center of gravity and lightweight frame gives the rider surprisingly maneuverable performance. An air-cooled, 1170cc two-stroke boxer engine generating 110 hp provides the snappy acceleration while a pair of Brembo brakes and BMW's Automatic Stability Drive keep the wheels on track. If you're looking for a long-range cruiser that won't beat you up, the T nine R is the bike you want.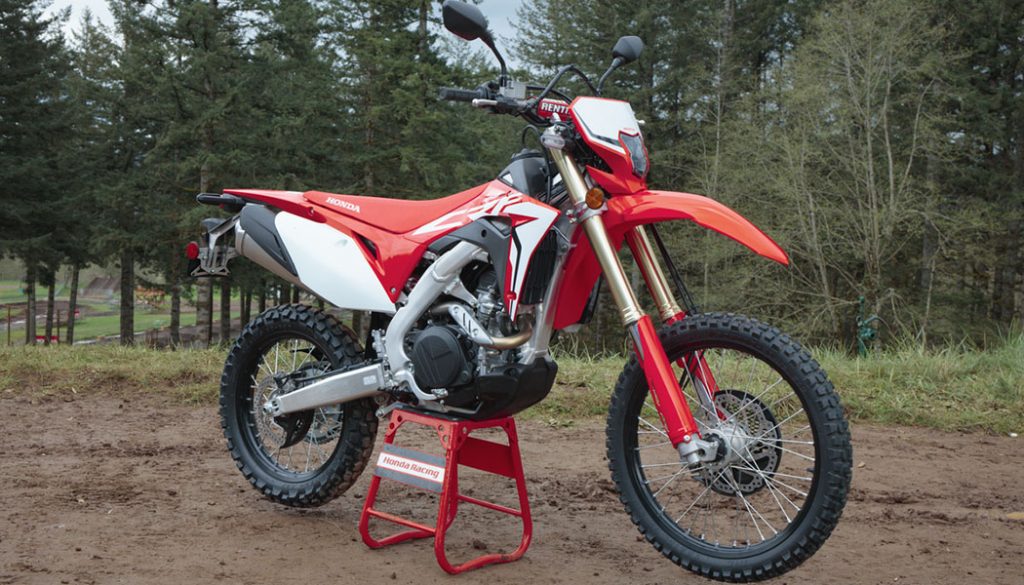 Dual Sport – Honda CRF450L
If you enjoy
ripping up twisty roads and then taking the fun off the asphalt and onto the
dirt, a dual sport bike is just the ticket. There is a ton of competition in
this class which is mostly dominated by Japanese manufacturers and the lone
Austrian builder, KTM. The "best" is a matter of personal choice. The kind of
riding you're contemplating requires your body literally fit the bike making
seat height a key decision factor.
But based on a consistent record of performance, reliability, and overall value, it's hard to beat the Honda CRF450L for one of the best new motorcycles for 2020. For starters, it's hot looking. But the CRF450L is not just a pretty face. Lightweight and perfectly balanced, equipped with adjustable Showa front and rear suspension, a gutsy 449cc Unicam engine and a six-speed transmission, this on-road/off-road bike offers as many thrills as you want to risk. The 18" wheels are perfect for pavement while the 12.4" ground clearance lets you take on the trails. It's wild looking but street legal in all 50 states. For dedicated dirt bike fans, this means you can ride, not trailer, your bike to your favorite off-road playground.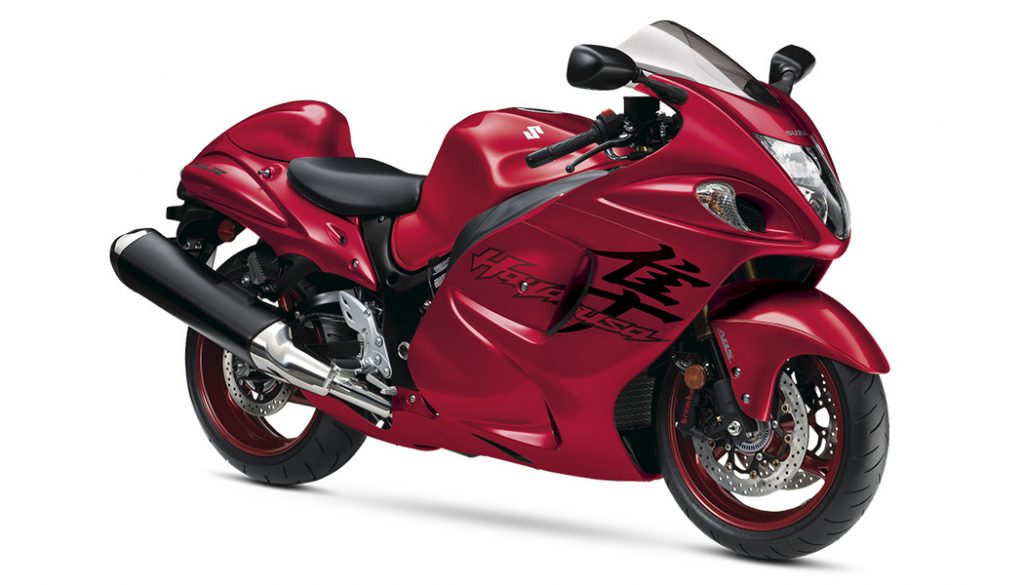 Sport Bike – Suzuki Hayabusa
The Suzuki Hayabusa or "Busa" is an engine with a saddle on top of it and two wheels. It is a crotch rocket. It's the bike that will scare the heck out of anyone who loves you. The top end is impressive but it's the acceleration that will make you wet your pants. It's fast. Everything about the Hayabusa is designed for speed including the aggressive driving position the rider has to assume to minimize drag. Powered by a 1340cc 4-cylinder engine fed by ram air intakes, is the fastest production bike on the market. With a top end in excess of 190 mph, it's not surprising that Suzuki has stopped production in both Europe and Asia who have 186 mph lawful limits. However, you can still go 0 to 60 in 2.4 seconds in the U.S.A. in this one of the best new motorcycles for 2020.
Like all sportbikes, it's all about aerodynamics with the Hayabusa. Fairings cover most of the frame and every forward-facing part is designed to slice through the air. Suzuki says the bike is light and maneuverable and that's true at speed. But at 586 lbs. this bike is a handful at slow speeds. The bottom line is if you have a serious need for speed, you're not going to go faster on any other bike.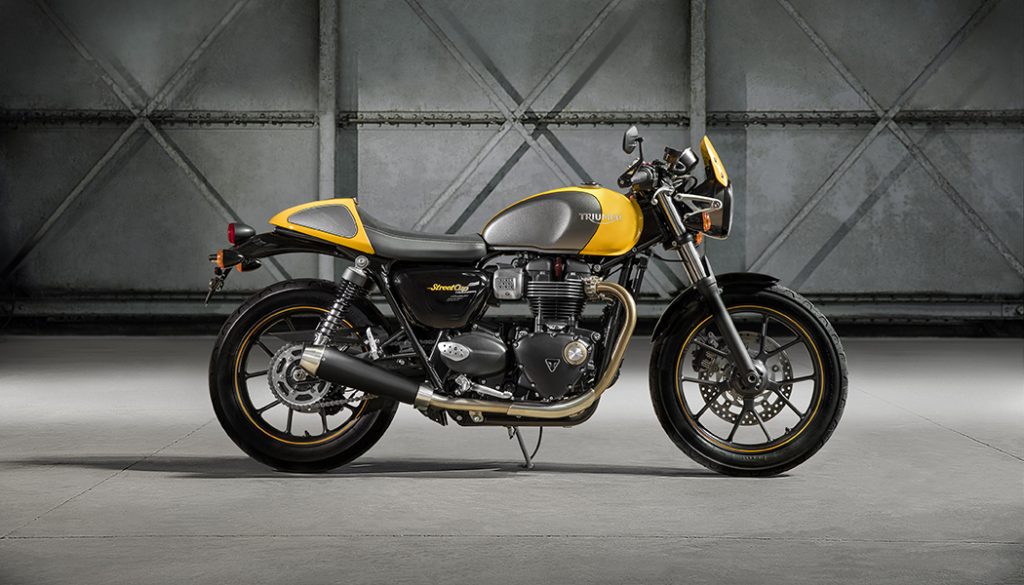 Café Racer – Triumph Street Cup
Café bikes started out decades ago as project bikes. Enthusiasts kept stripping off parts from their old bikes, tweaking what was left and then racing (sort of) them. This was the birth of the urban street racer. They weren't particularly powerful machines but they were fun. They have a distinctive look. A bench-type saddle, small tail fender, small windscreen, low handlebars, and everything else exposed to the world. Café bikes are sometimes referred to as naked bikes. It's an acquired look for many but there are enough people who want one that major brands now manufacture a café model.
The Triumph Street Cup is actually a "trim" of the Triumph Bonneville, a serious cruiser. It definitely pays homage to vintage motorcycle clubs both in its retro design and color scheme. Powered by a 900CC high torque, water-cooled twin, it has dedicated rear suspension, and is equipped with switchable traction control, ABS, and a torque-assist clutch. If you live in an urban environment and you want a fun way to get from café to café, this Triumph may just fill the bill. 
So there you have it. Four completely different bikes for different types of riders. And that's the challenge in trying to select the "best" new motorcycles for 2020.