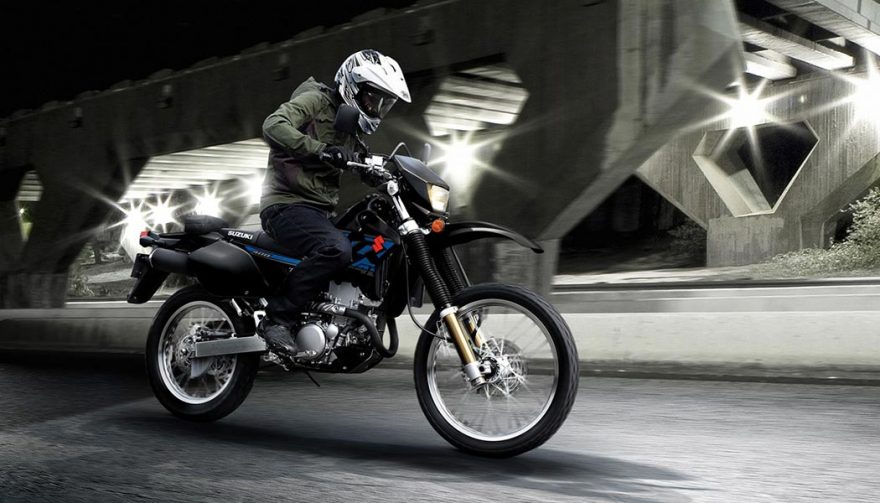 The Suzuki DR-Z400S' four-stroke 398cc single-cylinder engine makes just 32 horsepower
The Best Dual Sport Motorcycles Offer the Best of Both Worlds
The best dual sport motorcycles have a great balance between handling, power, and ruggedness. They can handle the terrain on pavement or dirt, so you get the best of both worlds.
These 10 bikes are the best dual sport motorcycles you'll find kicking around here.
2018 Suzuki DR-Z400S
The 2018 Suzuki DR-Z400S might find its way into your garage. It's an awesome smaller dual sport motorcycle that is a dream to ride. Its four-stroke 398cc single cylinder engine makes just 32 horsepower, but if you aren't riding hard all the time, it's more than enough. And with a wet weight of just 317 pounds, it still moves you well.
More than 11 inches of suspension travel and over 11 inches of ground clearance are great features for the 2018 Suzuki DR-Z400S. Shorter riders might have an issue, though, as the seat height is extremely tall at 36.8 inches.
2017 Honda CRF250L
The 2017 Honda CRF250L embodies exactly what the best dual sport motorcycles are all about. It's a dirtbike with mirrors, signals and lighting that make it street legal. It has an upright seating position that makes it steady and comfortable for the trail or the highway. It has a single-cylinder 250cc four-stroke engine with 24.4 horsepower. That might seem underpowered at first, but the low and mid-range RPM torque has some serious pull.
With nearly 10 inches of front suspension travel and 9.4 inches in the rear, the Honda CRF250L can really go anywhere. You'll have a bunch of road noise from the knobby tires and your hands will go numb from vibration, but that's what the segment is all about.
2017 Honda XR650L
Honda gets serious about dual sport motorcycles with the XR650L. Riding trails with 40 horsepower and 47 lb-ft of torque might sound like fun, but you need to be prepared for it. The 2017 Honda XR650L does its best to help out. It's just 346 pounds wet, so it's easy to maneuver. It has over 11 inches of suspension travel and 13 inches of ground clearance, so you won't get stuck. The XR650L has a 2.8-gallon fuel tank and 52mpg EPA rating, so you won't run out of fuel.
Honda touts the XR650L as a good commuter, even though it has knobby off-road tires. I'd expect that a 644cc engine will likely find itself on the road more often than not.
2018 Yamaha WR250R
Some of the best dual sport motorcycles are more intended as an off-road bike that's legal to ride to the road. The Yamaha WR250R is that type of bike. The 250cc is liquid cooled for ultimate reliability on the dirt and has 10.6 inches of suspension travel with three-way fully-adjustable shocks. At just 295 pounds, it's a lightweight to throw around.
But don't expect any glamor on the road. It has the tools to do the job, but none of the refinement. You'll be chattering your teeth long after you get off the 36-inch-tall seat because of its knobby trail-spec tires.
2018 Kawasaki KLX 250
Kawasaki advertises the 2018 KLX 250 as a good motorcycle for new riders, but I think experienced riders will still have some fun on this one. The KLX 250 has a 249cc single-cylinder four-stroke that is extremely efficient. That's why the fuel tank only needs to carry two gallons at a time. Nearly 10 inches of suspension travel and over 11 inches of ground clearance make the 2018 Kawasaki KLX 250 a thrill to throw over the odd dirt jump.
On the road, it has manners. The stock tires are aggressive but not overly so, and the four-stroke attitude keeps you in control. At 35 inches, the seat height puts the rider in a decent position for comfort and capability.
2018 Yamaha XT 250
The 2018 Yammy XT 250 gives you an entry-level bike for the street and a capable off-roader. Toss in a bit of retro styling too. The four-stroke 249cc single-cylinder gives you low-end zip right out of the hole. Plenty of trail debris can pass underneath the Yamaha XT 250 with 11.2 inches of ground clearance.
The XT 250 is ideal for smaller riders. The seat height is just 31.9 inches, so you don't have to be a sasquatch or knuckle-dragger to sit comfortably in the seat.
2018 KTM 500 EXC-F
The 2018 KTM 500 EXC-F claims to be the strongest dual sport motorcycle in the world. That's an important part of the equation because you don't want to break down somewhere, but there's more to the KTM 500 EXC-F than that. It's extremely light at just 240.3 pounds (plus fuel), making it perhaps the lightest dual sport motorcycle around. Essentially, it's a serious off-road race bike that's street legal.
It can pose a problem for your typical street rider, though. With a 38-inch seat height, you need to be seriously tall to make it your daily rider. It's a great motorcycle for tall riders though.
2017 Honda Africa Twin CRF1000L
It's easily one of the best dual sport motorcycles available today, and it's finally back in North America after a hiatus. The 2017 Honda Africa Twin CRF1000L is a large bike at 998cc, but you'll find it handles steadier because of its parallel twin design. And despite its healthy 94 horsepower, it only weighs in at 511 pounds wet.
The seat is adjustable from 33.5 to 34.4 inches in height, accommodating different sizes of riders. It has a monster 9 inches of suspension travel for those high points on the trail. And for added comfort, choose between a 6-speed manual and a 6-speed dual-clutch automatic transmission.
2018 Kawasaki KLR 650
Another bike that leans more toward the road than the off-road is the 2018 Kawasaki KLR 650. The 651cc engine gives a ton of power across all RPM ranges, ideally for highway cruising. The suspension travel is just under 8 inches front and rear, and the seat height is a comfortable 35 inches.
But it's capable of going off-roading. The upright rider position gives great control, even for a bike that tips the scale at 432 pounds. No doubt about it, this would be one mean-looking bike riding around worn dirt paths.
2018 Suzuki DR650S
One of the midsize bikes that is easily one of the best dual sport motorcycles of all is the 2018 Suzuki DR650S. That's a serious claim considering the competition. The 644cc single-cylinder four-stroke makes a respectable 46 horsepower, but that's just a supporting feature for the DR650S. Simply put, it's a great all-around dual sport motorcycle.
It's versatile, with up to 1.6 inches of seat height adjustment (34.8 to 33.2 inches), and 10.2 inches of suspension travel. The tires are a good balance of street and dirt. Its large 3.4-gallon fuel tank is fantastic, and it weighs just 366 pounds for easy maneuverability.
You May Also Enjoy:
9 of the Best Sport Touring Motorcycles on the Road