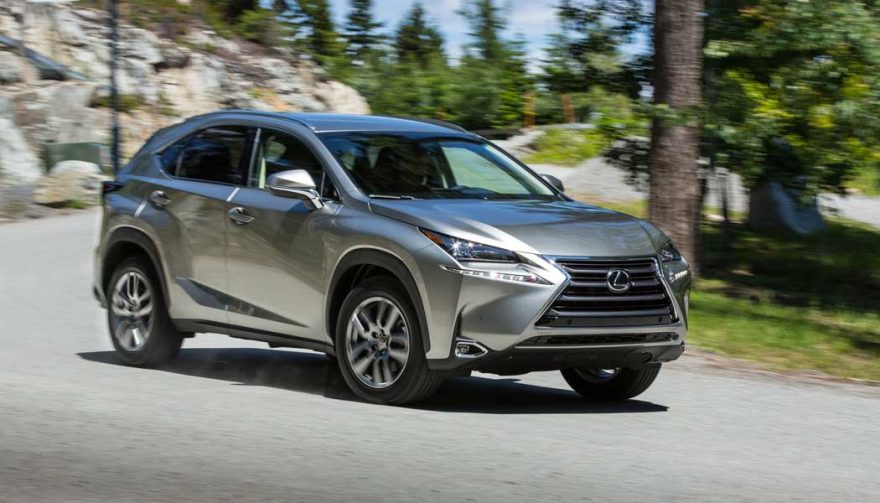 The Lexus NX is a great midsize SUV, but the interior doesn't match the Lexus price point.
Trying to find the best midsize SUV or crossover is a difficult task. With more than 60 models to choose from under $40,000, you may need some help narrowing down your choice to just one.
Here are 15 great candidates for the best midsize SUV or crossover, loosely ranked based on subjective criteria.
15. Lexus NX
Really, it's a luxury cute-ute. The Lexus NX Turbo/NX Turbo F Sport, and NX 300h are essentially the same vehicles with differences in the powertrain. The powertrain is solid, which earns its place on the list. The NX Turbo and NX Turbo F Sport both use the 2.0-liter turbo four-banger with 235 horsepower, zipping this little doodah along with a little pep. The NX 300h hybrid powertrain jacks up the efficiency factor while dumbing down the power to 194 combined hp. The turbo versions are available in FWD and AWD; the hybrid is only AWD.
Inside, you get the typical premium treatment you'd expect from a Lexus. Neat features like the remote touchpad, wireless charging and Lexus Enform are great and all. Intuitive Parking Assist keeps you from playing bumper cars in the parking lot. But the interior is a little drab and the Lexus price point doesn't quite match up with the rest.
14. Ford Edge
It's all about the toys in the Ford Edge. For years, the Ford Edge has been a go-to vehicle for middle-aged families, but Ford is looking to change that. The new Edge has updated looks that are younger and more striking, but the real attraction is in the cabin. Available SYNC 3, available Adaptive Cruise Control, available Enhanced Active Park Assist, available Adaptive Steering. All the good stuff is available on the Edge…but not standard.
The base Ford Edge feels stripped down with empty gaps where buttons and features should be. But if you choose an upper trim, you'll be quite satisfied with the tech options. Also, the 2.7-liter EcoBoost engine ain't bad. But if you can, opt for the 3.5-liter V6 or the 2.0-liter turbocharged EcoBoost engine for a fun drive.
The looks are boring and disappointing, and it feels like you're driving a minivan at times. That said, it's still a great SUV.
13. Nissan Rogue Sport
The 2017 Nissan Rogue Sport debuted this spring. It can be a touch confusing because it's so similar to the Rogue. Side by side, you'll notice the Rogue Sport is slightly smaller and has a wider range of trim levels available. That's code for "they have a lower entry price." Most people will have to look twice and look closely to find the differences.
The reason Rogue Sport makes the list and Rogue does not is simple:  the Sport version fits better. It's not as bulky as the Rogue, and its 141 horsepower is sufficient for a low-priced compact SUV. Interior dimensions are tighter, but just barely for the passengers. Since no one uses the cargo area frequently, there was no objection to trimming it down.
12. Volkswagen Atlas
Not exactly a well-known vehicle, the Volkswagen Atlas makes the list of the best midsize SUV contenders because it's made so well. In fact, it's so durable that it's backed with a 6-year, 72,000-mile bumper to bumper warranty. It's a seven-seater, and there's space to spare behind the rear-most seat for a few cargo items too.
One of the best features in the Volkswagen Atlas is the massive front-to-back panoramic roof. Then there's the fully digital instrument cluster that's customizable. Your navigation map can be displayed in full color between your gauges. Remote start, tri-zone climate control and overhead-view camera are all great features to take advantage of. The 8-speed tranny comes with either a 235-horsepower 2.0-liter turbo or a 3.6-liter V6 with 276 ponies, so it's a capable performer too.
The darkness continues to loom for VW, so Atlas sales aren't what they could be. Equipped as it is, the Atlas has the potential to be a top seller in time.
11. Ford Flex
Love it or hate it, the Ford Flex turns heads. No one else makes an SUV quite like it. The Flex offers and SE, SEL and a Limited trim, changing the way you experience the Flex mainly on the inside. All three trims use a 3.5-liter V6, with the Limited offering an optional 3.5-liter EcoBoost engine also. AWD is available on SEL and Limited.
Like the Edge, the Flex SE is basic. Aside from interesting design, the usual power options and seating for seven, it doesn't stand out. You must spend more to get the good stuff. That includes available 19- or 20-inch wheels, heated second-row seats, dual-zone automatic climate control, SYNC 3 and the finer interior materials.
10. Honda Pilot
If the Honda CR-V is too cramped for your style, the Honda Pilot should be where you look next. Much of the same look and feel of the compact SUV are in the Pilot, but all with a little more space, more power, more capability – just more in general. The Pilot has room for either seven or eight. If you're dead-set against a minivan, maybe this is an option?
The Pilot has an available rear-seat entertainment system, satellite-linked navigation, leather-trimmed seats, LaneWatch and a great Display Audio infotainment system. Under the hood, each Honda Pilot has a 3.5-liter V6 with 280 horsepower, and it's available in FWD or AWD.
A vehicle of its size could stand to have another engine option, and it would perform well as a RWD or 4WD vehicle too. Another negative is the base model – any standout features will run you thousands more than the entry level price.
9. Nissan Juke
Since rolling onto the scene in 2011, the Nissan Juke has been a standalone in the segment. No one dares try to be like the Juke in the looks department because of its uniqueness. Any attempt looks like a copycat. If you've ever driven the Juke, you'll notice the 1.6-liter turbocharged engine is surprisingly zippy, and when equipped with AWD it has amazing handling.
The interior space leaves something to be desired. Rear-seat passengers will be cramped for a drive longer to the 7Eleven on the corner, and don't try to pack more than a few bags in the hatch area. It's an SUV for the city through and through, so those negatives aren't likely to play a factor.
Function-wise, the dash and center stack are Nissan circa 2005 with orange and black digital displays. The controls are plasticky and cheap, but what do you expect for a vehicle that starts around $20k?
8. Jeep Renegade
Quirky, the Jeep Renegade seems to be a popular and well-ranked vehicle. From a side profile, it looks like a Nissan Cube from a few years ago, and a bit like a full-size Hot Wheels. The looks don't quite match up with the performance in some opinions, with just 160 horsepower in the base models from a 1.4-liter MultiAir turbo engine. The upgrade to a 2.4-liter TigerShark 4-cylinder comes in the upper trims, adding another 20 ponies to the tally.
Unless it's a city runner only, get the Jeep Active Drive 4WD system. It's a Jeep, so it should perform like it. If it can't go off-road, what good is it?
The interior is plainly arranged, but it's an entry-level SUV so that's permitted. Even for a cynic like me, the dual opening sunroof and the "X" taillights are pretty cool.
7. Nissan Juke Nismo RS
Take a deep breath before you hit the road in the Nissan Juke Nismo RS. You'll have a tough time catching it once you start throwing the Nismo around. The numbers aren't stellar – just 215 horsepower and 210 lb-ft of torque from the 1.6-liter direct-injected and turbo'd four-banger. I'll promise you, you'll regret going with FWD over the Torque-vectoring AWD system. The Juke Nismo RS is fast – like, really fast.  Once the turbo kicks in, you're peeling all four tires as you scream to 60 miles per hour in 6.7 seconds. That doesn't sound fast, but take a second off for the turbo lag.
Yeah, it has an interior. High-bolstered Recaro racing seats are the best thing about it, because the rest feels like a typical Juke. Get familiar with the drive control system – if you plan on getting anything close to decent fuel mileage, pick the ECO setting.
Don't assume the RS is meant for everyday driving. It's more than an upper trim level. It's bred to go fast on a budget. If you don't mind a mundane interior for a few years, the Nissan Juke Nismo RS could be the most fun you have with your pants on.
6. Jeep Grand Cherokee
There's a reason the Grand Cherokee has been around since 1993. It's a fantastic combo of performance and luxury, which is why it's also the most awarded SUV to date. For the 2017 model year, the Grand Cherokee has so many options. There's a well-equipped Laredo trim level to start things off, then ranging up to the Limited, Overland, Trailhawk and even the SRT.
For our purposes, we'll focus on the Laredo. For just over $30,000, you get into a 295-horsepower V6 with 2WD, although 4WD is an option. Active driver assist features are available, and a touch-screen 5.0-inch Uconnect 5.0 system is standard.
The Grand Cherokee is a selection that shouldn't be quickly overlooked. It may be priced a little higher, sure, but the performance and dependability should factor in as well.
5. Mazda CX-9
It says something that the largest Mazda model currently made starts at just over $30,000. The Mazda CX-9 is a sharply-dressed SUV with top-notch options. Mazda's KODO design leaves the CX-9 looking like an intelligent, athletic breath of fresh air. Three rows of seating mean room for up to seven people.
The 2017 Mazda CX-9 has great base features including tri-zone automatic climate control, push button start, 7-inch touch screen display, Bluetooth and Mazda's Multifunction Commander Control. Upgrade can see your CX-9 equipped with navigation, heated front seats and heated side mirrors, Mazda Radar Cruise Control, LED headlights and more.
Only one choice of engines is available – a 2.5-liter turbocharged SKYACTIV-G 4-cylinder with 250 horsepower. It's sufficient for the CX-9, but where's our Mazdaspeed?
4. BMW X1
Let's kick performance up a notch, shall we? The 2017 BMW X1 is fast – 6.3 seconds from 0-to-60 kinda fast. That comes courtesy of a 228-hp 2.0-liter engine mated to an 8-speed automatic transmission. Those Germans know a thing or two about go-fast. In typical fashion, the BMW X1 looks great doing it. Its looks encompass the traditional Bimmer features like the kidney-shaped grille and a 3-Series style hood and body lines.
But it's a BMW, so it's a premium model compared to the others. A full-color Head-Up Display is an option, as is an upgraded leather interior. You know it's going to have a plethora of power options, and it's put together with one of the finest fit and finishes you'll come across.
The BMW X1 does all right as a FWD model, but it does so much better with xDrive AWD. Nimble handling and sporty driving are what you can expect. There are plenty of other packages you can select too, but it's going to raise the price well above our $40k ceiling.
3. Kia Soul
If you thought you'd have to spend $20k or more to buy an SUV, think again. The Kia Soul is a compact SUV, but it still fits in with these others. Just don't expect it to match up apples to apples with the BMW X1, the Jeep Grand Cherokee, or even the Mazda CX-5.
Base power is a 130-hp 1.6-liter 4-cylinder, while middle of the road trims have 160 horsepower from a 2.0-liter 4-banger. Top level trims have 201 horsepower by adding a turbo to the 1.6-liter. Unfortunately, it doesn't seem the Kia Soul currently offers an AWD system.
Because it's such a reasonably priced SUV starting at just $16k, the Kia Soul is quite popular. It has interior options like navigation, a Harmon Kardon audio system, active driver assist features and push-button start. If you're making your dollar go as far as possible, the Kia Soul is the way to go.
2. Mazda CX-5
It's nearly a tie for first place for best midsize SUV. The 2017 Mazda CX-5 absolutely rocked the SUV world with its incredible value and astoundingly sharp looks. A crisply manicured bumper and sleek grille are details that don't go unnoticed. Inside, the best price is the Sport trim. The best value is the Grand Touring. All of the options are downright stellar.
Base options include Mazda CONNECT infotainment, rearview camera, push button start, Bluetooth, Smart City Brake Support, and more. Upper options include 19-inch wheels, navigation, Bose audio system, and auto-leveling LED headlights.
The only major detractor of note is the powertrain. An exceptional predictive AWD system can't wash the underpowered engine. Across all three trims, only a 2.5-liter SKYACTIV-G engine with 187 horsepower is used. An upgraded engine option would definitely bump the CX-5 into first place for best midsize SUV.
1. Honda CR-V
For 2017, the Honda CR-V is all-new. Hands-down, it's the best one yet and dealerships can't keep them in stock. Honda's figured out how to sell cars based on boring performance and looks, but the Honda CR-V has both of those! So, look out – the newest Honda CR-V is going to be a hot seller year after year.
Aside from being beautifully sculpted for the first time, the 2017 Honda CR-V has technology that you wouldn't expect. If you opt for upper trim levels, you'll get a power hands-free liftgate, Real-Time All Wheel Drive, full LED headlights, Smart Entry, Rain-Sensing Wipers and the complement of Honda Sensing driver assist features.
A 190-horsepower 1.5-liter turbocharged engine gives the CR-V some get-up-and-go. The other option is a 2.4-liter naturally aspirated four cylinder. There's a minor difference in fuel efficiency, plus a turbo is always more fun. Both powertrains have a CVT tranny to round them out.
It's arguably the best midsize SUV or crossover we've seen yet, although our eyes are on the Mazda CX-5.
Related Video: