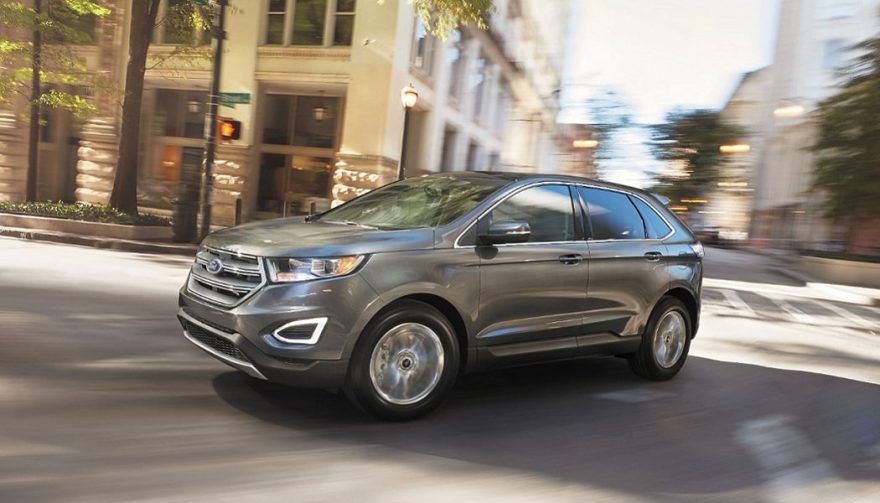 The Ford Edge has no off-road pretensions.
Ford Edge: It's Capable, but a Rough Mix of Sport and Utility
The Ford Edge is an interesting beast. It's a bestselling SUV, and people who like it seem quite dedicated to theirs. What is it that makes this vehicle so appealing?
Interestingly, the Edge has been crafted to appeal to a narrow section of the market. It's not highly economical and practical like the Ford Escape, and doesn't boast the utility of the Ford Explorer or Expedition. It's marketed more as a thing about style and driving pleasure.
With that approach, I left behind my preconceived notions of this crossover, and what I found was pretty surprising.
Ford Edge on Paper
You can get the Ford Edge in four adventurous models: SE, SEL, Titanium and Sport. They run the range from just shy of $29,000 all the way to a smidge above $40,000.
When it comes to the powertrain, you get three options. One is a 2.0-liter EcoBoost four-cylinder, which uses a twin-scroll turbo and an integrated exhaust manifold. Like other EcoBoost engines, it also features high-pressure direct injection. The results are a stout 245 horsepower and even more respectable 275 lb-ft of torque.
If you want more power and don't care about the fuel economy hit, Ford offers a 3.5-liter V6. It uses twin independent variable camshaft timing to squeeze out 280 horsepower, but you only get 250 lb-ft of torque, so there's a compromise.
Finally, the most potent of the bunch is a 2.7-liter EcoBoost V6. For the Sport model only, it uses twin turbochargers. A graphite iron engine block and aluminum heads help keep this engine lightweight. At the same time, it cranks out an amazing 315 horsepower and 350 lb-ft of torque.
The standard 6-speed automatic transmission can be shifted manually. You can get quite a few assistance technologies, such as adaptive cruise control, enhanced active park assist, and even a 180-degree camera with washer that lets you literally peak around blind corners.
You May Also Enjoy:
New Ford Edge ST Is a 335-HP High-Performance SUV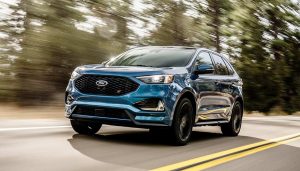 Among the available interior amenities is the standard fare, like leather upholstery, heated and ventilated seats, and a panoramic sunroof, to name a few. Ford also offers ambient lighting with different color options, so you can try setting a mood, if that's your sort of thing.
First Impressions
I won't lie, the Edge comes off as anything but edgy in its design. The thing is a chunky crossover, and it doesn't shy away from that fact. There's no pretense of off-road capability, with flourishes in the lower front fascia and bottom of the side skirts. This is an SUV for the city, and at least there's an honesty in its design.
At the same time, I can appreciate that Ford's design team practiced some restraint. You don't get loads of bling, a super angry front fascia or fake vents. Instead, the Edge features flowing lines from the front to rear, making for an overall clean and more sophisticated presentation. It's modern and attractive, which is more than I can say for some vehicles these days.
As you would expect, the interior carries over the swoopy, modern design language from the body. You don't feel like you've stepped into an alien spaceship, thanks to a layout that's familiar and functional. In lower trims, you get some low-rent materials, while the Titanium and Sport are loaded with higher-end finishes for a more luxurious vibe.
Drivers get quite a few physical controls on the steering wheel, which is nice. The buttons in the center stack are far too small. I've had experience with Sync and Sync 3 before, which I find to be tolerable and above average, respectively.
On the Road
I tried out the two EcoBoost engines, forgoing the more traditional naturally aspirated V6. The turbo 2.0-liter feels surprisingly quick from a standstill, making it great for tooling around town. Turbo lag is minimal, but if you start pushing the RPMs or get up to freeway speeds, this engine limits in a hurry. That means passing on the highway can be less than exhilarating.
It's a different story with the Sport model. The engine is a strong performer all around. It has plenty to give at any speed and in any situation. It transforms the Ford Edge into a vehicle you can almost forget is a crossover – almost.
No matter the model, the brakes are a little grabby. You might give passengers whiplash from time to time, but they do a good job of bringing the crossover to a halt in panic situations.
As far as comfort, I must admit the Edge's seats are lacking. The bottom cushions are far too flat, so taking longer drives means you're saddle sore by the time you arrive. Same goes for the back cushions.
The backseat contains enough space for taller people to actually stretch out a little, which is nice. But the seats are an issue you can't ignore. Cargo space is all right at 39.2 cubic feet behind the second row, or 73.4 cubic feet with the backseat folded down.
At least the suspension does a good job of cushioning any blows from speed bumps or potholes. For a big crossover like this one, it also holds all four wheels to the road quite well. Just don't buy the marketing spin that there's anything sporty about how this vehicle handles.
Utilitarian or Sporty, Not Both
Honestly, I wouldn't buy the Ford Edge for myself. I like utilitarian vehicles, or cars that are truly sporty, not a mixture of the two.
That being said, I wouldn't tell someone to not buy one. While it's not for me, there's nothing fundamentally wrong with it.
If you're the least bit interested in what the Edge is all about, I suggest taking one for a test drive. You'll know immediately if this is the kind of vehicle you'll enjoy driving each day.