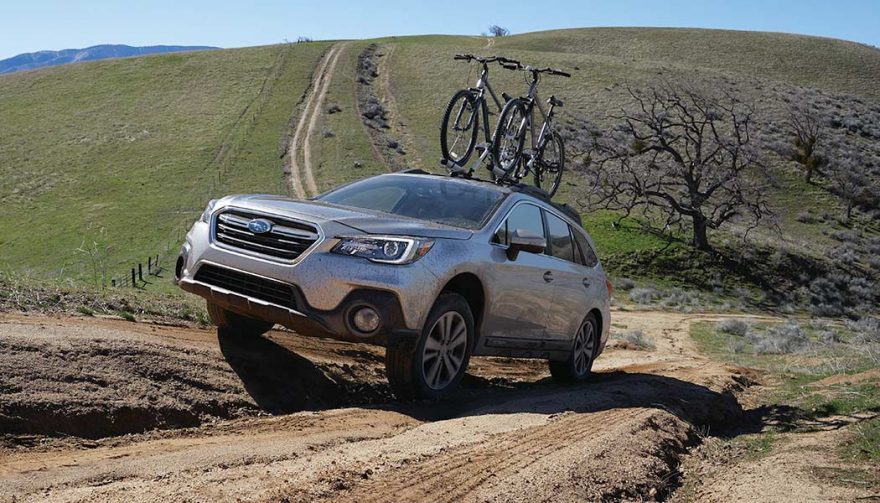 Sales for the Subaru Outback were up nearly 6,000 units
These Are the Best Selling SUVs in the US for 2017
Another year of sales and another year of big market share increases for SUVs and crossovers. The popular high-riding vehicles climbed 2.5 percentage points to make up 42-percent of the entire auto market in 2017. With that overall increase, five of the 10 best selling SUVs had double-digit sales increases.
So let's take a look back at the 10 best selling SUVs of 2017.
10. Subaru Outback: 188,886 sold
The Subaru Outback was one of the pioneering crossovers. It started life as a Legacy wagon and then got extra rugged cladding, a higher ride height and other SUV-like touches. Now it has taken over and the Legacy wagon is no longer offered.
The Outback offers good visibility, a higher seat for easy entry, and ample cargo space. Subaru's all-wheel drive offers excellent traction in all weather. A 2.5-liter flat-four offers good fuel economy for the class and an available 3.6-liter flat-six offers 256 horsepower. For 2017, sales were up nearly 6,000 units from 2016.
9. Jeep Wrangler: 190,522
The Jeep Wrangler was the only vehicle on our list of best selling SUVS to see a sales decline for 2017. However it may be a victim of its own popularity. For most of the year, teases and hints of an all-new model covered the internet. That new model was revealed near the end of the year and it's possible buyers were waiting for it. It was also a small decrease, seeing just 1,252 fewer Wranglers sold.
The Wrangler is one of the most capable SUVs off road of any on the market. The new model offers more comfort, more open-roof options, and a pair of engines – a 2.0-liter turbo-four and a 3.6-liter V6.
8. Toyota Highlander: 215,775
The Highlander saw a refresh for 2017. It got a new V6 with 295 horsepower and a new eight-speed automatic to help fuel economy. The updated grille looked sharp, although changes inside were minimal.
The Highlander is also the only midsize SUV that's available as a hybrid. That gives it excellent fuel economy for a vehicle that size. Sales of the refreshed Highlander grew by 24,396 last year, which shows that even if it isn't the freshest SUV inside, it still offers what buyers want.
7. Jeep Grand Cherokee: 240,696
Another one of the pioneers of the crossover segment, the Jeep Grand Cherokee was one of the first to combine off-road ability with passenger luxury.
The current Grand Cherokee went on sale in 2010 but has seen several small updates over the years to keep it fresh. On top of rugged good looks and four-wheel-drive capability, the Grand Cherokee offers a 3.6-liter V6 and a 5.7-liter V8.
New for 2018, the Grand Cherokee gets updated infotainment systems and a supercharged Trackhawk version that makes 707 horsepower. Jeep sold 28,423 more Grand Cherokees last year, up 13.4 percent.
6. Ford Explorer: 271,131
The Explorer was one of the first SUVs to gain popularity with buyers, and it has evolved with the market. While the first models were practically pick-up trucks, the Explorer is now a comfortable and capable crossover.
The Explorer has a premium interior with high-tech features like Ford's latest Sync 3 infotainment system. The clever packaging allows for impressive legroom in all three rows. Over 22,600 more people drove home in the Explorer compared with the year before.
5. Chevrolet Equinox: 290,458
The Chevrolet Equinox crossover was completely redesigned midway through 2017. The new version is smaller, lighter and better sized for its segment. Sales reflect the positive change, up just under 20 percent for the year.
The Equinox offers impressive handling for a crossover, and excellent power thanks to a pair of turbocharged four-cylinders. With a diesel engine option imminent, the Equinox offers much to buyers. Sales were up by 48,263 from the year before, making it one of the strongest movers on our list of best selling SUVs.
4. Ford Escape: 308,296
Ford's compact crossover saw a refresh under the hood last year. There was a new 1.5-liter four, as well as a new version of the turbo 2.0.
Ford also added Sync Connect which allowed users to connect to their Escape using their phone. Adaptive cruise control and collision avoidance features were added. It was a big new look for the Escape, but sales didn't reflect the changes. They were up, but only by 1,227 from the year before.
3. Honda CR-V: 377,895
An all-new CR-V was introduced for 2017. It wasn't bigger, but it was more of the same CR-V formula. Excellent packaging, great ergonomics, good fuel economy and best in class cargo capacity.
It's no surprise then, that sales were up. Honda sold 20,560 more CR-Vs last year compared with the year before. Still, it took a slip on our list of the best selling SUVs.
2. Nissan Rogue: 403,465
The Rogue got revised styling for the 2017 model year, and collision avoidance features like emergency braking and blind spot warnings became standard for 2018.
There was also a hybrid model added, although availability was limited. There was also a special edition Rogue One inspired by the Star Wars film of the same name.
It's not clear which of those changes were responsible, or if it was a combination, but the Rogue saw the largest sales increase of 2017. It was up 22.3 percent. That's a massive gain of 73,561 more Rogues sold.
1. Toyota RAV4: 407,594
The RAV4 has long sat atop the list of best selling SUVs. The last major redesign was for the 2013 model year, but showing some age hasn't hurt sales.
With the RAV4, Toyota offers loads of cargo space, great build quality, a hybrid version, and loads of standard safety features including radar cruise control, collision braking, and automatic high beams.
That's why sales are up again, beating out some of the best selling trucks. They topped 400,000 for the first time, up from 352,154 in 2016.
You May Also Enjoy:
Ford Explorer: Pretty Good At Everything