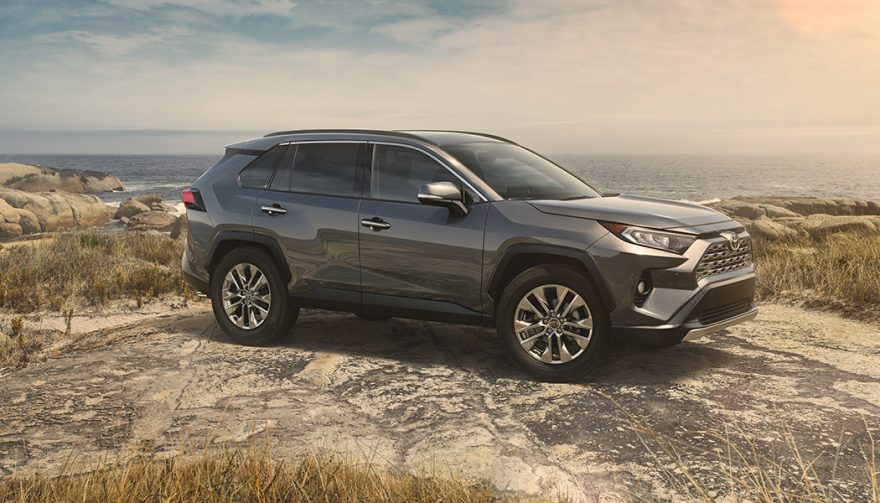 It was one of the first-ever, now it's a stalwart of the compact crossover category. Now, the 2019 Toyota RAV4 Limited is all-new. We drive it.
Form and Function: It's A 2019 Toyota RAV4 Crossover Review
A unique combination of several unique attributes and strengths helps set the latest-generation of the popular 2019 Toyota RAV4 crossover apart in a highly competitive (and crowded) crossover marketplace. Ultimately, this is a product with numerous strengths, few weaknesses, and one that's highly worthy of a look by those shopping out today's crossover scene.
If you've ever thought all crossovers look roughly the same, you'll like what RAV4's designers have come up with this time around. For its latest iteration, the 2019 Toyota RAV4 crossover looks less generic, more rugged, and more up-market than ever. There's no shortage of DNA carried over from the Toyota Truck lineup. With plenty of Tacoma and 4-Runner inspired design touches.
Shoppers can also
expect plenty of selection, thanks to numerous trim grades, options packages,
and both hybrid and conventionally-propelled options all on the roster.
My tester was the
top-line RAV4 Limited, with non-hybrid power. Under the hood was a smooth but
loud four-cylinder engine of 2.5 litres displacement, with horsepower pegged
just past the 200 mark.
This engine will
connect most readily with a light-footed driver concerned primarily with fuel
efficiency. When operated in no particular rush, it's smooth, nearly
imperceptible, and relatively quiet. There's enough power available at low revs
that, in many situations, there's barely a need to rev the engine high enough
that you're able to hear much from the engine room.
If you're a lead-footed driver after refined performance, there are better choices to consider, however. Simply, when worked hard, RAV4's powerplant performs well enough. But proves harsher and louder than numerous competitors.
Smooth Shifting
Engineers specified
an 8-speed automatic, which enables smooth shifts in both directions, and low
revs during cruising. This helps improve refinement and fuel efficiency.
Mostly, the transmission is undetectable: drivers will generally not notice any
sensation or sound, as the gearbox quietly does its job in the background.
Long-distance
drivers will likely find the two pleasant surprises discovered by your writer
(also a long-distance driver) on his test drive.
First, RAV4's seats
are above average, where comfort is concerned. Everyone's backside is
different, though I'd expect the majority to find the seats to be excellent.
Specifically, through what seems to be fine-tuned selection of varying
densities of foam in the seating structure, I found support galore in my ideal
seating position, and felt lighter on my hips and bum, even after 5 consecutive
hours at the wheel. No post-driving stretches were required.
Second? On a highway cruise, the 2019 Toyota RAV4 crossover's suspension demonstrates some expert fine-tuning. If you've been doing some competitor test-drives and found the ride too stiff and sporty, give this RAV4 limited a try. Here, the suspension seems a few notches softer than the average, with the resulting ride and handling balance carefully tweaked. The result is a ride that's more relaxing and less busy, more of the time, than the norm in this segment.
Notably, ride
quality is nicely maintained, even while the suspension is taking a mild
beating from rougher in-town roads. If that's an attribute important to you,
consider the Jeep Compass and Subaru Forester, too.
Interior Flair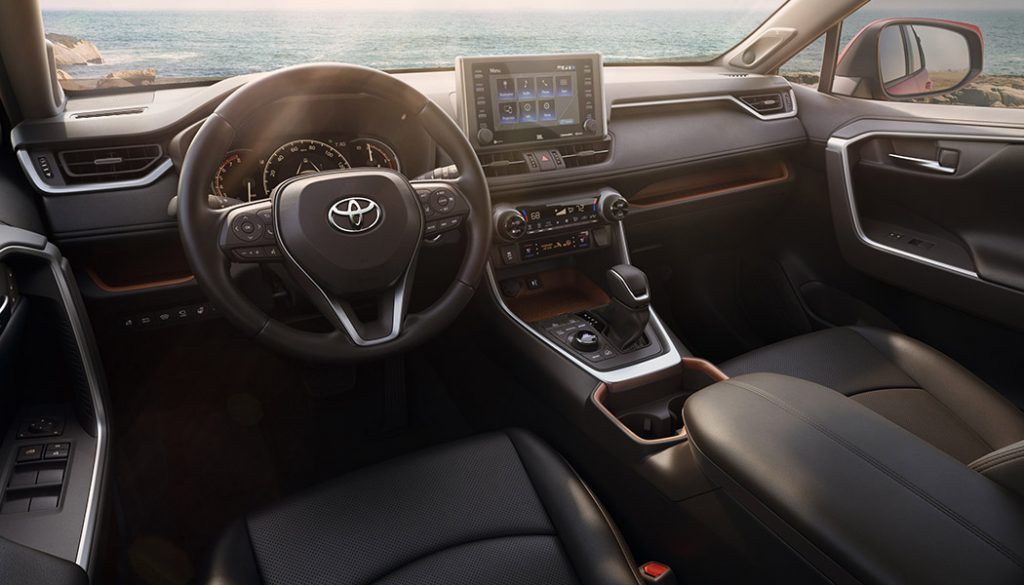 The 2019 Toyota RAV4 crossover's interior stirs a sense of high-end flair with plenty of texture, detail, layering, and colour to keep the eyes and fingertips busy. A tough, textured and rubberized finish to the door handle grabs, and the volume and climate control knobs are a delightful touch—right at key points where fingertips often visit.
Most controls are
located logically and quickly fall to hand when required. Small-item storage
near the driver is average or better. Wireless charging is on board, and
numerous power ports are located nearby, too.
Further back, a
power tailgate with kick-to-operate hands-free capability opens (quite slowly,
however) onto a cargo area that's square to the edges, deep, wide, and accessed
via a low load-in height. This can be helpful for smaller pets to jump in and
out, or for smaller helpers to load in the shopping.
Entry and exit are simple—with little more than a sideways slide required to get into your seat. Fully opening the doors creates a generous aperture, which may further ease entry and exit for larger or mobility challenged occupants and drivers. Rear seat space is very adult-friendly, too, with head and legroom levels being more than adequate for most.
A few handy feature
content touches help round out the package. For instance, a special dial
located near the gear lever enables quick access to numerous drive modes, which
electronically re-jigger various subsystem settings, including those related to
the AWD system, for added capability on specific types of challenging terrain. For
instance, with a little twist, special modes can be activated for added
confidence when traversing deep snow, rocks, sand, mud, and the like.
Just ahead of this
selector, three buttons set the eagerness of the powertrain up into ECO, NORMAL,
or SPORT mode, allowing drivers to dial in their ideal balance of sportiness
and fuel efficiency on the fly. You are the boss of the Toyota RAV4.
Other high-end
feature touches include a JBL stereo, slick camera-fed rearview mirror display,
climate-controlled leather seating, and more.
After Highs Come Lows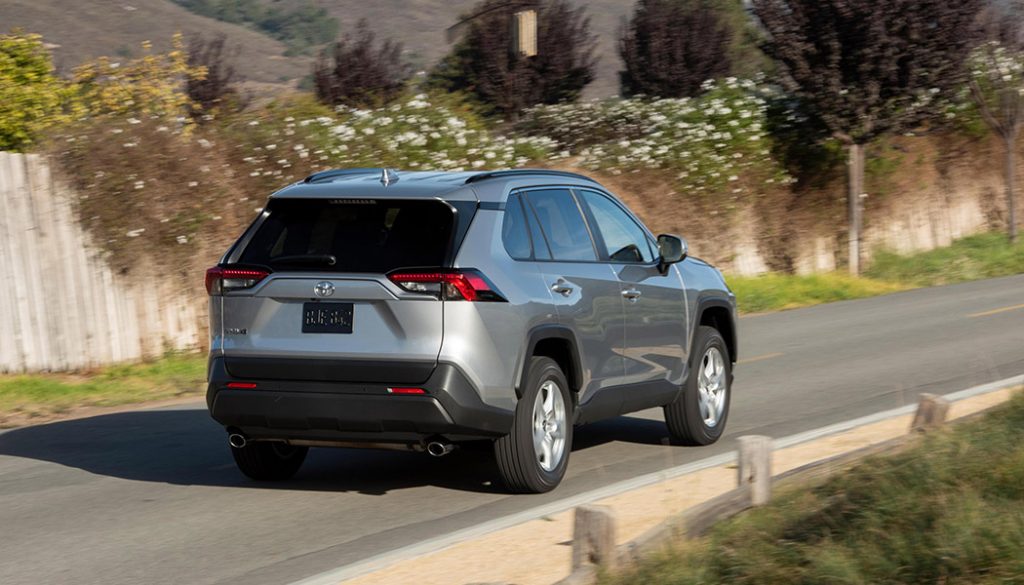 There are, however,
a few gripes.
First? The central
touch-screen interface isn't on par with the RAV4 Limited's price-tag.
Colour output is mostly dull navy blue and grey, graphics are unimpressive compared to numerous competitor systems, and my tester didn't include Android Auto. A must-have feature for many Android phone users. Though the system is logical and easy to learn, the graphics and functionalities may leave some out on the cold.
Second? Headroom.
Though average-sized
occupants will have no issues, taller folks may find the top bit of the RAV4's
cabin to feel crowded. At 5'10, your writer found the RAV4 often reminded him
of sitting in a tall-riding coupe: headroom was adequate, but not abundant.
Ultimately, the 2019 Toyota RAV4 crossover can be considered a priority test drive in this segment by anyone after strong levels of ride comfort, fuel efficiency, cabin design, and upscale feature content—provided the lacklustre infotainment system and sometimes-noisy engine aren't dealbreakers.