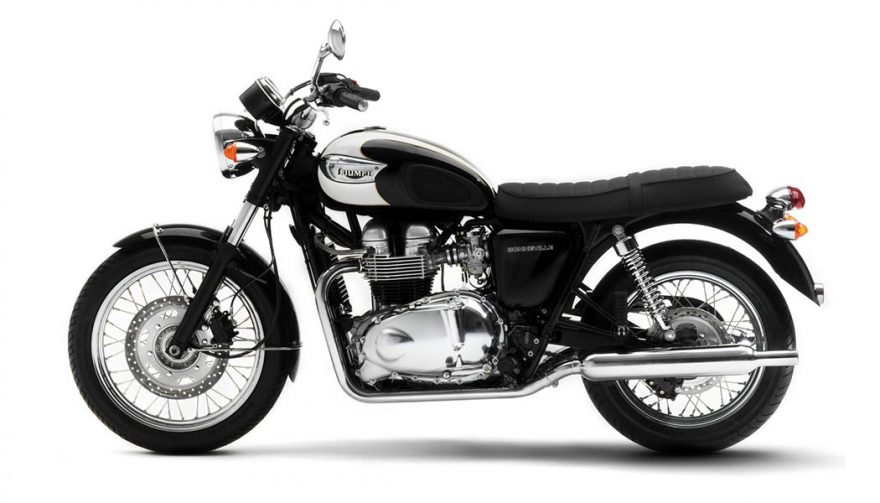 A good deal on a 2005 Triumph Bonneville T100 is around $3,500 to $4,000 in good condition.
The 7 Best Used Motorcycles for a Two-Wheeled Tight Budget
Between the costs of insurance, a helmet, motorcycle jacket and the rest of the gear you need, getting a motorcycle is an expensive endeavor. It's totally understandable if you're looking for some of the best used motorcycles.
While a new motorcycle is the ideal situation, there are some good used motorcycles out there. Before you just jump into it and buy the first bike you see on Craigslist, you'll want a bit of help. These are the seven best used motorcycles to buy if you can't splurge on a brand new bike.
2005 Triumph Bonneville T100
A beautiful, vintage-style motorcycle to choose is the Triumph Bonneville T100. It has that awesome combination of old-world simplicity and the reliability that comes with newer bikes. The long double seat is a favorite feature, as is the two- and tri-tone paint schemes.
The 865cc air-cooled parallel-twin engine makes 61 horsepower, so it's one of the best used motorcycles that could remain exciting for years to come. If you aren't concerned about having the fastest motorcycle and are more concerned about the looks, you won't go wrong with a Bonnie.
A good deal on a 2005 Bonnie is around $3,500 to $4,000 in good condition.
2008 Suzuki SV650
It's the second-generation SV650, and it is definitely one of the best used motorcycles out there. It was available in a few choices: naked, full-fairing and with ABS. It's one of the best used motorcycles for its extreme versatility. It looks like a sporty bike, rides like a cruiser, and is reliable beyond words.
It's a 645cc V-twin engine that makes 73 horsepower. The Suzuki SV650 is lightweight and very fuel efficient, making it a great choice for a newbie that intends on keeping their used motorcycle for a long time. You can snag a good one for between $4,000 and $6,000, depending on the mileage and condition.
1991 Honda Hawk GT
It's an oldie but a goodie. Also a naked bike, the Honda Hawk GT has ageless looks and is a fun ride, no matter your skill level. The Honda Hawk GT was only built from 1988 to 1991, so it could be tough finding one.
It has a 647cc four-stroke V-twin mounted inside its exposed aluminum frame, making a supposed 58 horsepower. It rides much like a sport bike with a wet weight of only 412 pounds. Being a Honda, there's no question that a well-maintained bike will last for a few more decades.
If you can track one down, it's going to be about $2,500 to $3,500.
2002 Harley Davidson Sportster 883
It's likely your first bike, so you should probably stick with the smaller-displacement Sportster 883 instead of the 1200. Both are great bikes, though. The Harley Davidson Sportster has been in production since 1957, but we like the newer ones on the used bike market. They are rock-solid, stylish and aren't too tough to handle for a first motorcycle.
The 883cc four-stroke V-twin is peppy, hence the name Sportster. The 2002 model is one of the last years the engine was bolted directly to the frame, and it gives it that classic Harley vibration. If you like a smoother ride, go for a 2004 or newer.
Depending on the mods, if any, expect to pay in the neighborhood of $3,000 to $5,000.
2001 Kawasaki W650
Another retro standard motorcycle that should be on your short list is the Kawasaki W650. It looks similar to the Triumph Bonneville, but it's pretty rare in North America. While it was produced until 2007, it was only imported for two years, 2000 and 2001. Should you come across one, you'll want to snatch it up immediately.
It's a 676cc engine with 50 horsepower and a traditional chain drive. You probably won't want to hit high speeds with it – it's not built for such things. It is a super-comfortable bike for commuting or for highway rides.
A good used Kawasaki W650 will run you about $4,000 to $5,000.
1996 Suzuki GSX-R750
Even though it's over two decades old, the 1996 Suzuki GSX-R750 is a fantastic choice for sport bike lovers. It's old enough that it isn't fuel injected yet, so working on it yourself shouldn't be too hard. It's new enough that it looks like one of the modern sport bikes, or near to it. And when you twist the grip, the GSX-R750 is a pure speed machine.
It's the first year for the Suzuki Ram Air Direct (SRAD), which boosted power to 128 horsepower. It's so much fun for short distances. Anyone with back problems will hate it after 30 minutes or so when you have to unfold yourself off the tank. But if you want to get to your destination fast, this is the bike for you.
Amazingly, the older Suzuki GSX-R 750 is dirt cheap. You can snag one for $2,00 to $3,500, ready to roll.
2007 Kawasaki Vulcan 1500 Classic
For the big boys who like big toys, the Kawasaki Vulcan 1500 Classic should be on your radar. This is a serious cruiser motorcycle. The Kawasaki Vulcan 1500 Classic looks beefy, and at 644 pounds dry, you need to be beefy to handle it. The Classic appearance includes black paint, chrome bling and available accessories like a windshield, backrest and leather tassels that blow in the breeze.
Inside the frame is a 1,470cc V-twin engine that has serious rumble and gritty torque for any driving conditions. The rake is perfectly comfortable for long-distance cruises, much like taking your couch for a 1,200-mile drive down the Pacific Coast Highway.
If it had the HD badges, this bike would be way more expensive used than it is. Although it's a brilliant choice with astonishing reliability, the 2007 Kawasaki Vulcan 1500 Classic can be found in some places for $3,000 to $4,500.
You May Also Enjoy:
9 of the Best Sport Touring Motorcycles on the Road