Best Vehicle Interiors Under $50,000 for 2020
Let's face it, the first thing that attracts us to a new ride is the exterior. Styling, color, trim, awesome rims, and aggressive good looks trigger something in our brain that makes us convinced we would look so cool sitting behind the wheel. The exterior gets all the loving attention of the owner. Exteriors get all the car washes, wax jobs, detailing, and customization to make them look more awesome than they already are.
And that's strange.
It's strange because you spend most of your time inside the ride, not outside. In fact, a knock-'em-dead interior can make a ho-hum exterior shine in the owner's mind. The reverse is true as well. A hot sports ride that has an interior heavy with plastic, a hit or miss climate control, and an impossible driver position is a lot closer to the trade-in lot than the compact coupe with the heated and ventilated seats.
Interiors can be game changers. They can completely change or enhance your perception of the ride. And the really smart interiors, are the ones designed with a classic touch that won't look outdated in three to five years.
So, who has the best interiors? We've listed our favorites for best vehicle interiors under $50,000. Some you would expect, others may surprise you.
2020 Ram 1500 From $32,900
That's right, we are starting with a pickup truck on the best vehicle interiors under $50,000. Trucks with luxurious interiors are nothing new but Ram's 2019 complete redesign has created a plush interior that doesn't compromise its ability to do real work. First, there's the spaciousness particularly in the back seat where passengers enjoy class-leading legroom. Upscale materials and fabrics, even in entry level trims, are enhanced by obvious attention to fit and finish. Every trim has heated and ventilated seats and a panoramic sunroof available. Of course, interiors are much more than comfortable places to sit. The infotainment package on the Ram 1500 features Uconnect displayed on an 8.4" touchscreen or an optional massive 12" screen. All the connectivity that you would expect is here including a 4G LTE Wi-Fi hotspot. This is one comfortable truck.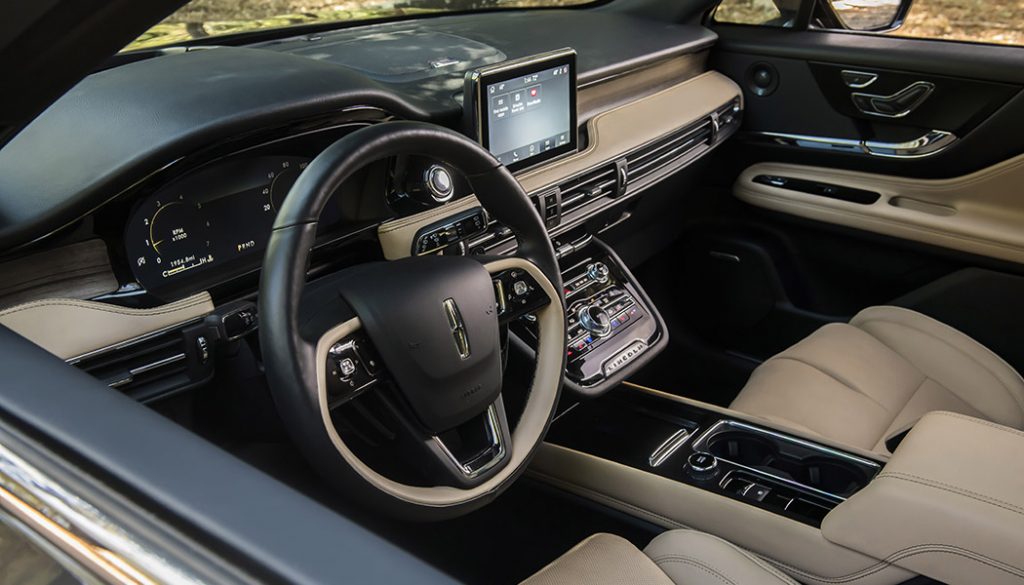 2020 Lincoln Corsair From $36,940
Brand new for 2020, Lincoln has introduced the Corsair, a compact SUV designed to compete with the Audi Q5, BMW X3, and the Mercedes-Benz GLC class. Lincoln has a rep for doing luxury SUVs right i.e. the Navigator. The Corsair picks up on that luxury vibe and is loaded with soft leather, a 14-speaker Revel audio system, a head-up display, and an app that allows users to unlock, lock, and start the vehicle. Once inside, the front seat passengers can spend hours finding the perfect position with a power 24-way adjustable bucket seat. Equipped with Lincoln's Sync 3 infotainment system on an 8" touchscreen, the Corsair offers all the info and connectivity you could want making it one of the best vehicle interiors under $50,000.
You May Also Enjoy:
2017 Hyundai Sonata: Not Best-In-Class, but It Comes Close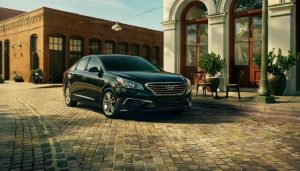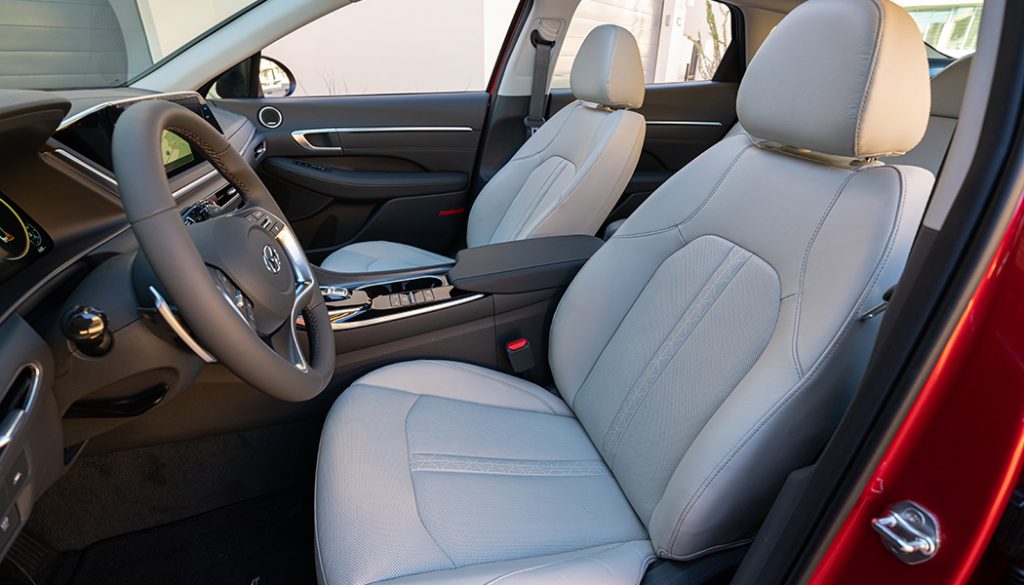 2020 Hyundai Sonata from $23,600
The interior of the newly designed Sonata is an example of the inside elevating the outside. The Sonata is a mid-size sedan that has a sleek design but no other redeeming values. However, the almost Nordic simplicity and comfort of its interior makes you almost forget how ho-hum the driving experience is. You're going to notice two things right off. First, the cabin is bigger than it looks like from outside. It can accommodate five full-size adults. Secondly, there aren't many controls or buttons visible. That's because everything except the dual climate control is controlled by the infotainment system displayed on a 10.5-inch touchscreen. A 12-inch digital instrument display provides the driver with all the info needed. Comfort wise, you can get leather, 4-way adjustable seats and enjoy your tunes on a 12 speaker Bose audio system. USB ports, wireless device charging station, a HUD system, are just a few of the long list of features available.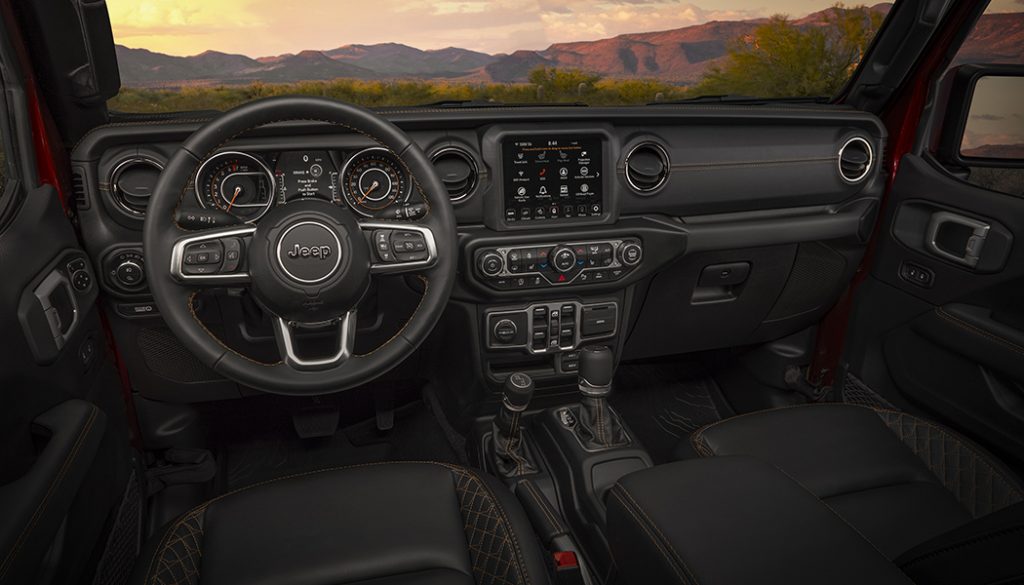 2020 Jeep Gladiator from $33,545
Interiors are not the big draw in the Wrangler line but the Gladiator is more than a trail buster. It's a pickup and it is a perfectly serviceable daily ride or workhorse and that changes expectations for its interior. Jeep designed an interior that allows the Gladiator to play in the mud with its smaller siblings or take the family on a road trip. The beauty of the Gladiator's design is it enhances the weekend  "mission" of the Gladiator (rock crawling and mud-slinging) while providing the comfort and features needed for the other five days. You can get well-bolstered leather seats. Gone is the metal dash, replaced by soft-touch materials. Controls are rubberized and the touchscreen comes encased in a water-resistant frame. You can hose this baby out without destroying the electronics. USB ports abound along with clever cabin cargo cubbies. This interior is fun to play in putting on the best vehicle interiors under $50,000.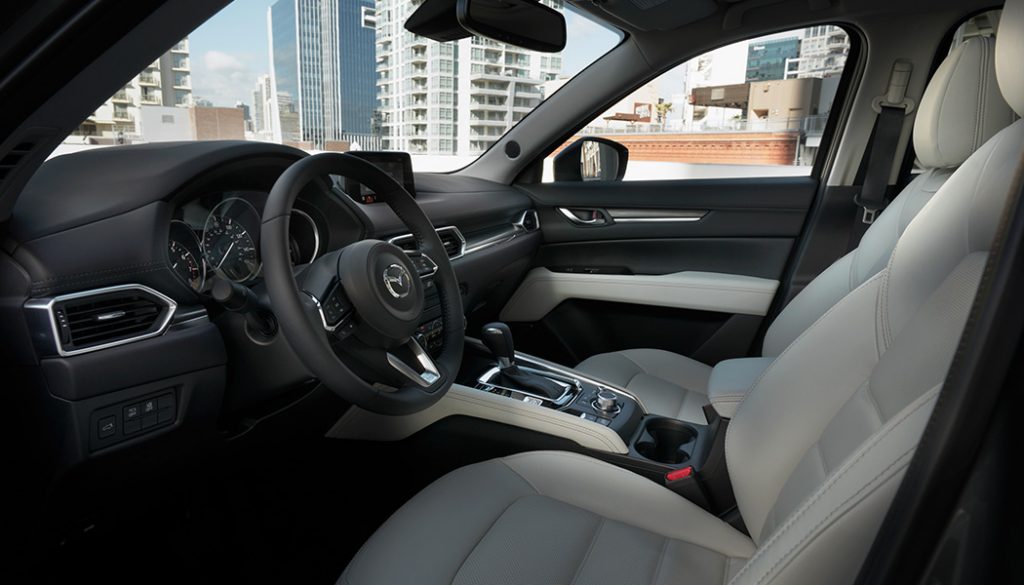 2020 Mazda CX-5 from $25,190
Just about any Mazda could make this list. Mazda fully understands the driver and strives to make the car and driver as one. The CX-5 Touring trim ($27,775) is our favorite of this compact SUV line. It comes with an interior packed with features like faux-leather upholstery, heated front seats, six-way power-adjustable driver's seat, dual-zone automatic climate control, rear USB ports, Apple CarPlay and Android Auto integration, and passive keyless entry. The fit and detail is incredible. This car is built right. You can tell by the satisfying thud you hear when you close the passenger door.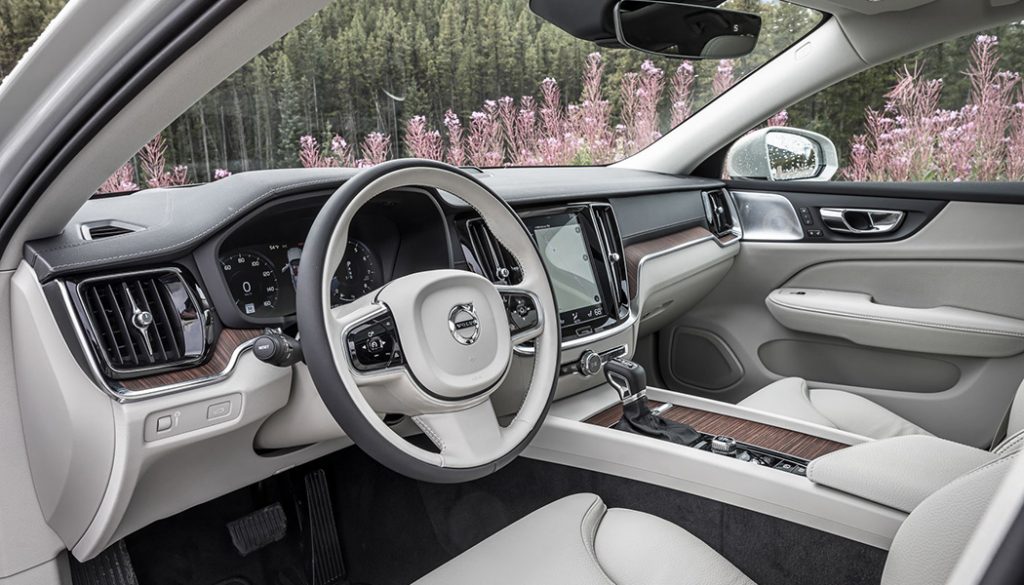 2020 Volvo V60 Cross Country from $46,095
They call it a crossover but it's really a lifted wagon. It is the taller version of the V60 which means it is also easier to get in and out of. Equipped with snow tires and this AWD ride will get you through the toughest of winters. And you'll do it in style. The interior is spacious, the leather seats are heated, the dash is well organized and full of soft-touch materials. The whole thing feels like you just walked into an upscale furniture store. The power lumbar supports and power lower seat extenders, 4-zone climate control, and Bowers and Wilkins premium audio system don't hurt either. Yes, it's a station wagon and it's a Volvo so there's nothing radical going on except excellence in Swedish design and engineering.
So, that's the list of the best vehicle interiors under $50,000. Notice that none of these rides approach $50,000. We could have tossed in some high end models but it's refreshing to see value design and materials applied to vehicles you wouldn't expect it in.