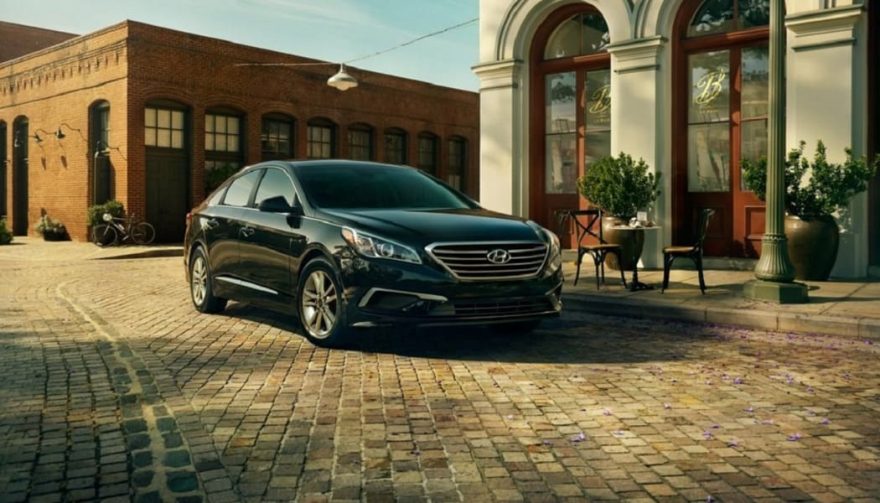 The Hyundai Sonata has been a bestselling car several years running
2017 Hyundai Sonata: Not Best-In-Class, but It Comes Close
The 2017 Hyundai Sonata is just one of the handful of models Hyundai now sells in the U.S. It's a great-looking car, a solid performer, and amazing on fuel.
It's not that long ago that Hyundai cars first appeared in the United States. The Hyundai Excel hit American soil in 1986 and was widely known as a throwaway car. If repairs were required, you simply trashed it and bought something new. No one wanted a second-hand Hyundai back then. It's a reputation that Hyundai Motor Company has worked hard to leave behind.
Their work paid off, the Hyundai Sonata has been a bestselling car a few years straight. Today, by all intents and purposes, the Hyundai Sonata is among the best you'll find in initial quality.
Classic Sedan Looks
Hyundai gave the Sonata a complete redesign for the 2015 model year. The outgoing model was tired and boring, having been around for six years. Later this year, a redesigned 2018 model will be available, but we're talking about the 2017 right now.
The seventh-generation Hyundai Sonata is attention-grabbing, but not in a train-wreck kind of way. It's classy and fresh, resembling the silhouette of a Mercedes-Benz C-Class.
Let's not get that confused with a direct comparison. The C-Class is a totally different type of car altogether and in a price bracket that would see more than two Sonatas for the same price.
In years gone by you'd expect the entry-level Sonata to have wheel covers, but no longer. The 2017 Hyundai Sonata has alloy wheels at all trim levels. It's just a matter of size and design. It's a minor detail, as wheels are 16-, 17- or 18-inch alloys with normal all-season radials.
You May Also Enjoy:
2020 Hyundai Sonata Ultimate: The Midsizer With Looks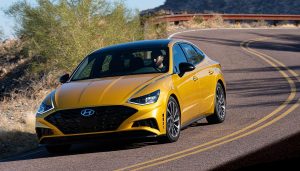 Related Search Topics (Ads)
On the exterior, the 2017 Hyundai Sonata Limited 2.0T has one notable feature that you can see at night: HID Xenon headlights with Dynamic Bending Light. These headlights are slick, turning along with your car as you navigate curves and turns. These lights provide better illumination on the road, adding a level of safety into the design.
Comfortable, Yes
Here comes another Mercedes comparison. Around 10 years ago, the interior you'll now find in the Sonata would have fit right in alongside German carmakers like Mercedes-Benz. It's clean and simple. It's a nice, classic interior, but it's not a premium or luxury sedan by any means.
The manufacturing materials are well-fitted but still plastic, vinyl and leatherette. Details like "chrome" trim are a little cheap-looking. The combination of wood grain and aluminum accents appear mismatched and disjointed at times. Even the digital displays on the heater controls and dash clock resemble a '90s alarm clock readout, pulling down the overall quality a touch.
The positives outweigh the negatives, however. Seating is firm but comfortable up front with lightly bolstered seats. The rear seat looks plain and flat but is actually relatively comfortable, even for adults.
That leads into volume. The 2017 Sonata has tons of room. Even with the front seats all the way rearward, there's knee room for an average-sized adult in the backseat. It's one of the best cars for tall people.
Four adults could take a road trip with ease. A massive trunk has the capacity to carry suitcases for all four adults also. It's cavernous and has its own echo.
Modest Toybox
The 2017 Hyundai Sonata isn't feature-heavy, but it holds its own. Standard features on the entry-level Sonata SE and Sonata Eco include a 7-inch color screen with Apple CarPlay and Android Auto, backup camera, Bluetooth and Blue Link connectivity, power heated side mirrors, and the usual power functions.
The 2017 Sonata Sport adds a few extra appearance items. Seventeen-inch alloys come standard, as do side mirror signal lights, chrome accents, LED daytime running lights and leatherette door panel inserts. The driver also gets a power adjustable seat. The Sport 2.0T goes further with heated sport seats, 18-inch alloys, sport-tuned suspension and a rear diffuser.
The upper trim, the 2017 Hyundai Sonata Limited, is where the fun really starts. Here you'll find LED taillights, door handle welcome lights, a hands-free smart trunk, dual-zone climate control, and a bunch of extra chrome and leather touches. A power sunroof is standard equipment, along with heated front seats and Blind Spot Detection with Rear Cross-traffic Alert and Lane Change Assist.
Okay, so the Sonata Limited goes a step further yet with the 2.0T package. Auto Emergency Braking, HID headlights with Dynamic Bending Light, adaptive cruise control, auto stop/start, Lane Departure Warning, ventilated front seats, and oodles of other features are available. Navigation and Infinity Premium Audio are also standard.
A Lackluster Performance
It's true, the 2017 Hyundai Sonata made great strides in standard equipment, looks and even handling. But you may find the car's performance to be a hard pill to swallow.
The base engine is the 2.4-liter GDI 4-cylinder with 185 horsepower, which you'll find in the Sonata SE, Sport and even the Limited trim. It's marginal at best with a somewhat sloppy 6-speed automatic transmission.
In the Sonata Eco, you'll find a turbocharged 1.6-liter GDI 4-cylinder with 178 horsepower and a 7-speed dual-clutch transmission. It's the fuel-efficient offering of the bunch.
The 2.0T trims deliver the most disappointment though. The engine is a turbocharged 2.0-liter 4-banger with 245 horsepower. That sounds decent, but it doesn't feel like it at all. You get the same 6-speed automatic transmission, and it sucks some of the fun out of that horsepower. With the upgraded engine, you'd sincerely expect more, and you'll be let down.
The 2017 Hyundai Sonata has its shortcomings, but that changes when you compare it with other vehicles in its class. It's ranked third-best midsize car by USNews, and it wins for best car for the money.
Anyone who appreciates great value and excellent fuel mileage is going to love the Sonata, while driving enthusiasts might steer toward slightly more performance-oriented competitors like the upper trims of the Toyota Camry or Honda Accord.