2020 Hyundai Sonata Ultimate: The Midsizer With Looks
Tick all the boxes on the new for 2020 Hyundai Sonata, and you open a portal into one of the most compelling affordable family sedans on the road today. Especially for tech lovers and gadget fiends, the fresh and flashy approach to much of the Sonata's execution should attract plenty of shoppers after something new and fresh.
On styling, prepare to be noticed. Mostly, that's because the little styling touches sprinkled conservatively across most competitor sedans are all deployed across Sonata's body in full force. The result is something new and head-turning: visual firepower that cuts through the traffic and finds curious eyeballs with ease. Notably, the clever use of LED accent lighting helps give the 2020 Hyundai Sonata a strong lighting signature when it rolls by after dark.
The visual kick from the cabin is similarly powerful. A first glance reveals soft natural colors and flowing lines, for a welcoming first impression. Closer inspection reveals plenty of detail, texturing, and stitching. Interfaces and control surfaces are mostly modern and up to date, and almost everywhere you look, there's some reward for your closer inspection.
Fit and finish are very good, and materials are mostly well-selected though there are a few bits that feel a bit low-budget compared to the rest of the cockpit.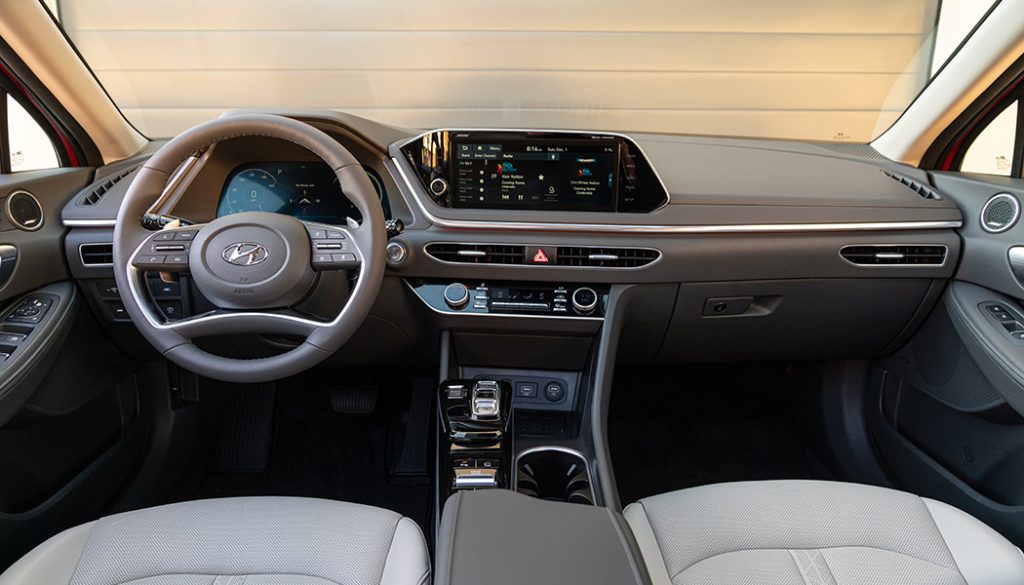 High Tech Inside
The showpiece of that cockpit was the digital instrument cluster equipped on my tester. The totally-digital instrumentation has graphics and response like you'd find in a big-dollar Mercedes. There are few digital clusters at this price point, and virtually none of them look this top of the line.
Interestingly, various functions are repeated on the digital instrument cluster for eye-free reference. For instance, when adjusting the wipers or lights, the selected setting pops up on screen for a moment. Adjust the drive mode with the toggle switch on the centre console, and smooth animations differentiate the cluster accents for each one.
Nearby, the central screen is big, wide, logical and responsive. Graphics are lovely, but the system was frequently glitchy with my Android phone, making the Android Auto connection frustratingly inconsistent at times.
You May Also Enjoy:
2017 Hyundai Sonata: Not Best-In-Class, but It Comes Close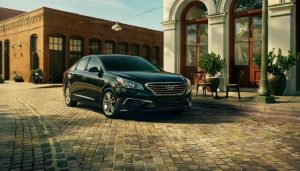 Big on Safety
The latest safety gear is all on board. Radar cruise keeps the 2020 Hyundai Sonata appropriately distanced in traffic, and safely within its lane via numerous lane-keeping warnings and aids.
An exciting touch is the digital camera mirrors: signal a lane change and you get a high-resolution camera feed of the corresponding side of the vehicle, displayed right in the instrument cluster. The camera feed appears immediately, and this clever system works in both directions. On my watch, this system provided added confidence by providing a means for an additional lane-change check.
Another interesting feature is the remote-controlled Smart Park system. Using one of two buttons on the remote, the driver can move the car forwards or backwards up to about a car length at a time while the safety system sensors keep it from hitting anything. Useful for maneuvering the Sonata into tight or narrow parking spaces and more, you don't even have to get into the car first.
I found the front seats easy to enter and exit via a wide door opening that makes for quick and easy access. At 5'10 and 200 lbs, I could sit behind myself with generous legroom. No complaints on headroom either. Four average-sized adults should have no issue with space at any seat.
Near the front of those are two proper cupholders, a deep centre console, plenty of charging and connectivity, and a handy bin with a wireless charging pad. It's a great storage provision, but its size and uncovered design means the cheap rubber padding within may take away from the high-end look throughout much of the rest of the cabin.
The 2020 Hyundai Sonata's smart trunk opens automatically if you stand still behind it for a moment, which can be very handy. Inside, it's deep, wide and wont cause you any stress. Someone forgot to add a trunk closer handle though, and that's a bit of a bummer.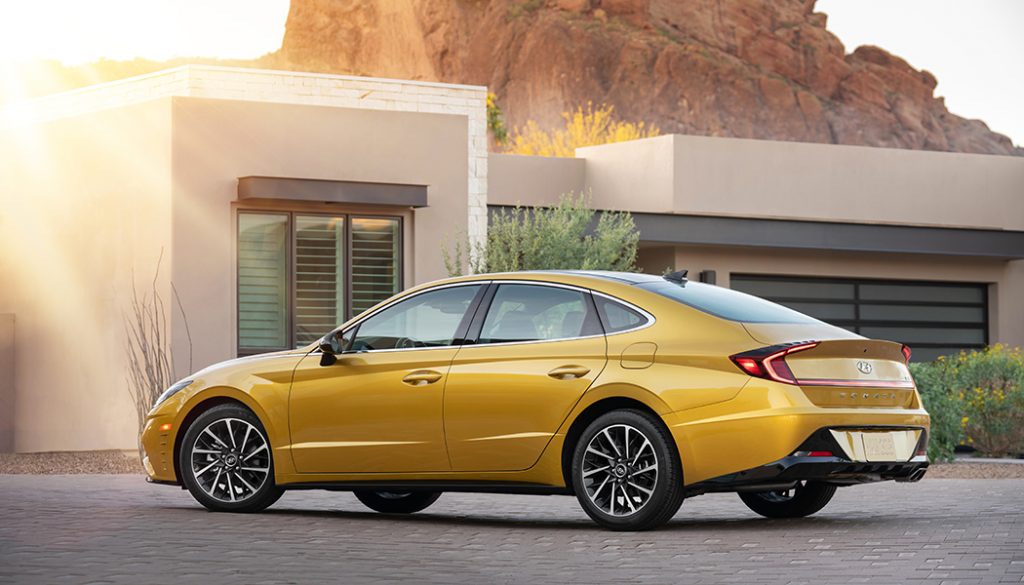 Wild Horses
A new 1.6 litre turbo-four wearing Hyundai's new Smartstream designation is under the hood. With the world's first use of a continually variable intake duration system, this new engine is designed to breathe as efficiently as possible, to the benefit of responsiveness, power, and efficiency. Output is rated at 180 horses and 195 lb.- ft, at just 1,500 revs.
My Canadian-spec model drove the front wheels via an 8-speed automatic.
The little turbo engine is big on low-end torque, saving drivers from having to use high revs to accelerate quickly and that means the engine spends more time closer to idle, which is good for noise levels, your fuel bill, and overall refinement.
Put simply, the 1.6L Smartstream makes the bulk of its torque at revs so low you hardly hear a thing from the engine room while using it. That means that in town, there's generous torque for moving you along quickly and quietly.
Worked hard for a pass or merge, the engine sounds relatively pleasing, tastefully restrained, and never feels overworked. Most drivers will find smooth and quiet performance in most driving, and it's cheerfully sporty and confident when opened up.
The ride is sporty but not overdone: you've got smoother riding options on really rough roads including the Subaru Legacy which is a personal favourite for that reason. Sonata has a bit of sport sedan swagger dialled into the controlled firmness of the suspension. Handling is tidy and pleasing, without sacrificing much ride comfort—though some drivers will wish for a tick less road noise at higher highway speeds.
Be sure to give the SPORT mode a try. It drastically changes the way the Sonata feels at the major controls, which means it's entertaining enough to warrant frequent use if you like.
End of the day, the latest 2020 Hyundai Sonata looks good, comes jammed with the best stuff anyone's putting into an affordable sedan today, and gives shoppers a convincing product that's as big as it gets on style and tech in an affordable family car today.