Driven: 2020 Hyundai Venue
More shoppers than ever considering an affordable vehicle are thinking crossovers, not cars. That's why small utility vehicles are in and with their popularity growing, the customer has more choices than ever to consider. That's a good thing. The 2020 Hyundai Venue is one of those choices. Launched as an all-new model, Venue is the smallest of the Hyundai crossovers, taking a place beneath the popular Kona.
The strongest draw will likely be felt by those customers concerned primarily with styling, features, and overall bang-for-the buck, though a smoother-than-average driveline is a nice bonus, too.
Conversely, Venue might not be for you if you're after the smoothest ride or biggest cargo hold for your dollar. If you want All-Wheel Drive (AWD), which is fairly likely, then you'll have to look elsewhere, too. Like its competitor the Nissan Kicks, Venue comes only front-wheel drive. Your AWD options in this pricing universe include the Honda HR-V and Subaru Crosstrek.
Small Footprint, Big Size
The Venue cheerfully greeted your 5' 10 / 200 lb. writer with a just-right height and fit. Getting on board involves a sideways shift with a slight plop down, nearly no effort required. Headroom is surprisingly good, and the roof and windscreen intersect with a clever angle that helps maximize the feeling of headroom, space, and good outward sightlines. Tall glass and a slightly elevated ride height generate the confidence-inspiring forward view that crossover drivers enjoy. You're in a more elevated position than a small car, but not a tall and towering one like a bigger SUV.
I had minimal issues with space up front. Nothing feels cramped or roomy, it's like sitting in a small car, but with a lot more headroom and a little higher off the road. There's just enough room for average-sized adults in the rear seats, though longer trips may feel crowded. A tight rear door opening may catch some occupant thighs as the board and exit, a little extra twisting is required for some.
Rear seatbacks split-fold as per the segment's norm, folding down and out of the way to clear room for larger items when a full passenger complement is not in attendance.
The cargo hold isn't as deep as I was expecting. The cargo floor is relatively high, though still easily within jump-in height for most canines. Cargo space seems adequate, though more spacious and flexible interiors are available. For maximum cargo volume and versatility, consider checking out the Nissan Kicks or Honda HR-V as well.
Around the driver, controls fall to place logically. Though parts of the cabin are looking a bit dated compared other all-new Hyundais lately, just about everything you need is big and clearly labeled and easy to locate.
Hyundai's central touch-interface is one of the most straightforward ones you'll find today. In fact, J.D. Power and Associates even identified Hyundai's infotainment system as one of the best in the business, in terms of the fewest numbers of owner-reported complaints.
You May Also Enjoy:
Driven: 2019 Hyundai Kona Review- Small but Stylish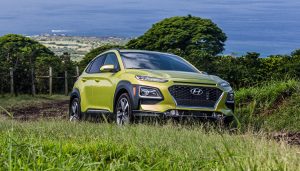 Related Search Topics (Ads)
Thanks to easy-reading graphics, logical menu structures and big, easy to read text and icons, even the least tech-savvy of us will be flicking away on the touch-screen like a pro in a few minutes. Simply plug in your compatible phone, and after a one-time prompt or two, the latest connectivity tech upscales your native maps, messages music apps and more onto the main screen– complete with hands-free voice command using the prompts you already know from your favorite voice-activated devices.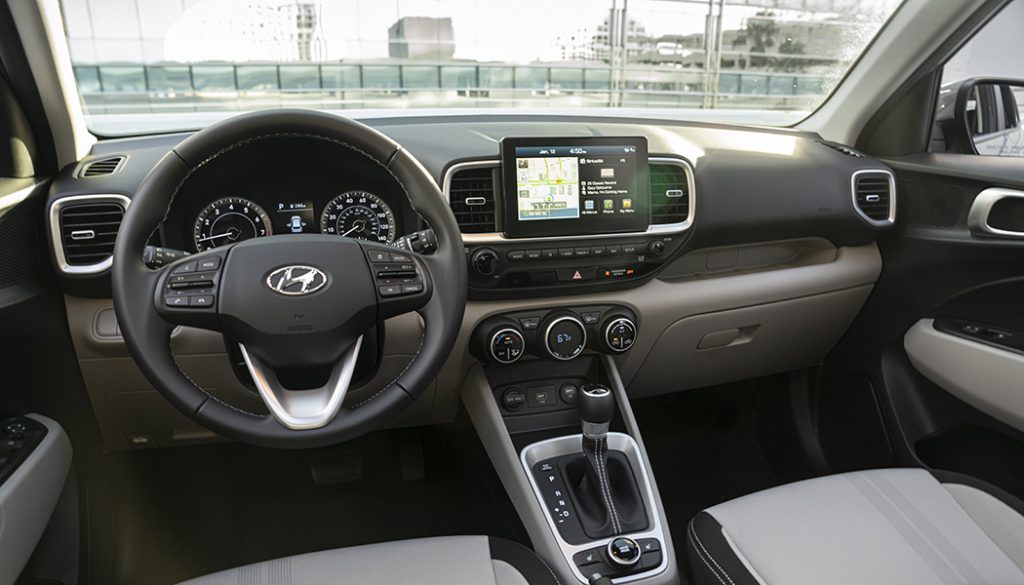 Simple Controls
One of my favorite features was the manual climate control system. No screens, no buttons, no brain-power required. Just three simple dials, logically arranged in a simple cluster that keeps things easy. It's simple and I love it. Oddly, alongside that manual climate control system, my mid-grade tester included a heated steering wheel, too. That's a nice bonus for the money.
Elsewhere, look for plenty of charging ports and power points, with no less than 3 within immediate reach of the driver and located just above a handy storage bin for your gadgets. In addition to the usual assortment of cupholders and cubbies, there's also a storage bin on the passenger-side dash. You'll have no trouble staying tidy and organized on the move.
Overall, the Venue's cabin works well at providing that easygoing sense of finding the controls and storage and organization all laid out to fall pretty much exactly where you'll go looking for it. Other than the heated steering wheel and seat controls being placed weirdly beneath the drive-mode selector dial, everything is where it should be.
Materials are par for the course for the money: mainly crisp plastic, as well as a few low-budget touches if you go looking for them. On the plus side, it looks nicely put together, and they've cooked up some flair with unique shapes and textures that add contrast and depth. My tester's green interior accenting added a great visual punch without overwhelming the more pleasing natural greys and browns used elsewhere. Extra points for the sporty seats with the playful green patterning.
Under the hood it's a new 1.6L Smartstream four-cylinder, running some new fuel injection and thermal management technology to improve performance and emissions. Engineers even rejiggered the cooling system to help it heat up faster in winter, and you're clear for 121 horsepower and 113 lb.-ft of torque.
The most basic 2020 Hyundai Venue model gets a manual transmission, the rest get an automatic of the Continuously Variable Transmission (CVT) variety. From the driver's seat, it works like a regular automatic, but it's easier on fuel, often more responsive, and built to be easier on fuel.
Small Power, Snappy Speed
The 2020 Hyundai Venue uses some of the latest CVT tech to help turn in a better drive. It lets the engine spend more time with its revs low and steady, even as you accelerate up to highway speeds. You can watch the speedometer climb, while the engine speed on the adjacent tachometer remains stationary. This allows the engine to run more smoothly, which means it's doing less work. The result is an above-average level of driveline smoothness in most driving, alongside fuel savings.
Press the throttle hard, and the transmission responds with an immediate kick-down effect, revving the engine up quickly. Press harder, and the process repeats. When pushed, the transmission gears down and revs up like a regular automatic. At full throttle, the engine is noisy and harsher than some will like, but the transmission's quick upshifts and smooth power delivery help even the score. Engine noise aside, Venue is fairly snappy in the hands of a heavier-footed driver, moreso in SPORT mode.
On the highway at speed, noise levels fall within limits for the price, though quieter options are available. By the highway speed limit, some will have to raise their voices a little for a conversation. On manners, the 2020 Hyundai Venue feels steadier and heavier at higher speed than it's stature leads on. Even keeping pace on major highways, it feels nice and planted, stable in its lane, and surefooted.
City Friendly Steering
At lower velocities, steering lightens up the slower you go—making Venue feel a bit more responsive in city traffic, and enabling zero-effort parking maneuvers you can pull off with a single finger. The backup camera has a nice wide angle, but the graphics are a bit muddy.
Blind spot monitoring also helps drivers watch their backs. Up front, the headlights here are very good too: with nice, white bright and powerful light cast up the way.
Ride quality is pretty good news, too. Even on the roughest roads I usually  throw at vehicles like this, my tester did a nice job of keeping its suspension relatively quiet and controlled. Steering stays planted and stable in your hands, even while the suspension takes a licking. The ride can lean a little sportier in the comfort department than some will like, but the majority of test-drivers will find it ticks most of the right boxes where the overall drive is concerned.
Visit the roughest road you can find on your test drive to confirm ride quality for yourself. I often steer shoppers who live in locales with very badly-beaten roadways towards the Subaru Crosstrek in this segment, it's one of the best-riding machines for the money when the roads get rough.
All said, the 2020 Hyundai Venue rides well, looks cool, and comes with a good taste of the latest must-have features and tech you'll find for the money. Expect to see many more small utility models like this on the scene soon. As they arrive, they'll have a pretty good one to compete with.