Car Towing Services – the Good, the Tricky, and the Dirty Little Secrets
Americans love their cars, pickup trucks, and SUVs. Life without a vehicle is hard to comprehend. We count on them to get us to work so we can make a living, to the grocery store so we can get food to eat, to the doctor when we are sick, and of course to the stadium so we can drink beer and act the fool for a few hours. We love our rides, we need them, and life becomes complicated if we don't have access to them. So what do you do if your ride unexpectedly craps out on you? What do you do when you run out of gas, your battery is dead as last night's roadkill, your tire goes flat, one of your multiple fluid lines springs a leak and you have no brakes, power steering, or your transmission is stuck in third, or one of the seemingly endless list of parts shoots craps and your car won't go? Your ride needs servicing. Maybe all it takes is a roadside visit by someone with a can of gas or jumper box, or maybe it needs a car towing to a mechanic.
Unless you have an unusual network of friends and family who will drop what they are doing and come to your aid, you're going to need a tow service.
Who You Gonna Call?
With 49 million members and over a hundred years of service (founded in 1907), AAA is the country's largest auto club, but it is by no means the only one in the roadside assistance and car towing service game. It seems that everybody, including insurance companies, car dealers, associations, service shops, credit cards, and cellular companies have all decided to help you out when your car breaks down.
But like so many other things, not all roadside assistance plans are the same. There are often dramatic differences in services offered, coverage limitations, quality of service, and of course cost. If you're in the market for a roadside assistance plan, there are some things you need to consider before you buy.
Are you covered already? It's possible you have coverage and don't know it. Major insurance companies like Allstate, Geico, and Nationwide promote their plans openly. Other, lesser-known names may add roadside assistance without you even knowing it. Check your policy or call the number on your insurance card to determine what you have. Check your credit card agreements. Some cards, like American Express Premiere Rewards offer towing service with the card. If you have a new or certified used ride, the dealer has a plan that will cover the car.
Are all your vehicles and drivers covered? Maybe, maybe not. AAA covers the named member and any car they are in (or present) when the tow truck arrives. That's right, Mom can bail you out if she's at your dead ride when assistance arrives. Other plans are family-oriented and cover all vehicles and drivers, while still others only cover a specific car or truck. Know what you are buying.
Know what services you're getting. Roadside assistance has morphed into much more than jump starts, flat tires, and towing. What you get and how much it costs depends on the plan. Services today include features like trip interruption coverage for lodging, food, and alternative transportation, legal representation, assisting police in tracking down and stopping your ride if it's stolen, and passport photos.
At the end of the day, there are only so many tow trucks available. So, what roadside assistance companies really are, are networks of towing service providers. As you might imagine, some smaller organizations sub out their work to larger companies. Big companies are careful about who they contract with as their providers because they want to protect their brands. Others are not so picky.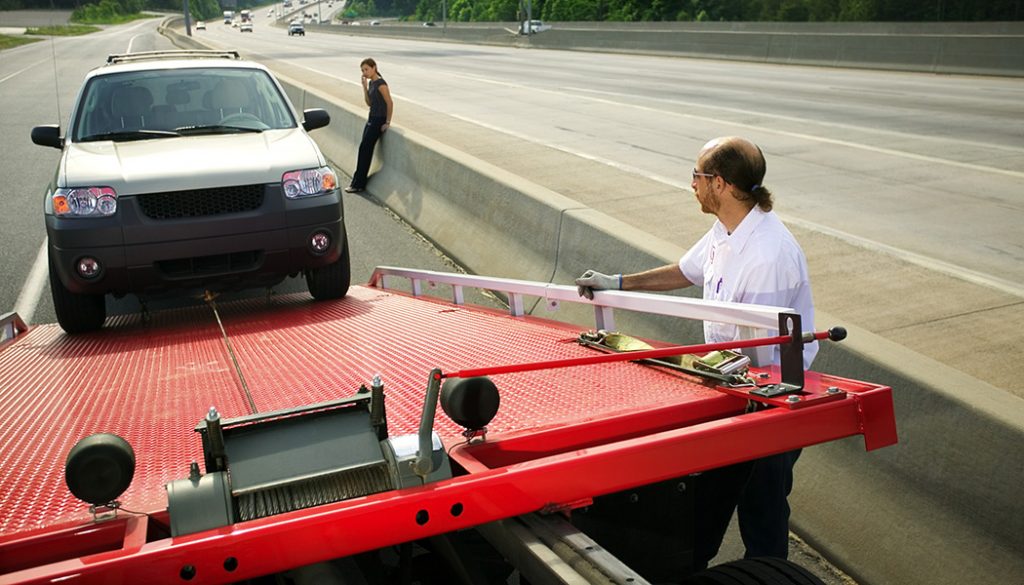 Towing Gets Tricky
When you think about roadside assistance, you expect it to include towing. What you may not expect is that most basic plans limit towing to five miles or less. That's fine if you break down within five miles of your mechanic, but if you have to go further it's going to cost you and it could cost a lot. Almost all plans have an upgrade you can purchase that increases the tow mileage to 100 miles.
Two big players in the roadside assistance game, Allstate and AARP (which are essentially the same as AARP subs to Allstate) have additional restrictions on towing. They will not tow a flooded vehicle or a vehicle that has caught on fire.
Lastly, RV owners will face challenges because not everybody is equipped to tow RVs, they're equipped for car towing. Not only that, repair shops that are qualified to work on RVs are few and far between meaning long, and potentially costly tows to an appropriate shop. Good Sam, the largest RV and camping association, offers a package that covers all drivers, all vehicles, and will tow your RV to the nearest factory approved repair shop regardless of the distance.
You May Also Enjoy:
Car Electrical Repairs Part 2: Faulty Circuits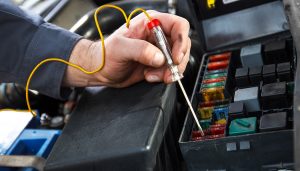 Related Search Topics (Ads)
Insurance Company Plans Get Trickier
Some, certainly not all, roadside assistance plans offered by insurance companies come with a feature that could cost you money even when you drop the plan. Some insurance companies count each time you use the plan for a battery jump, car towing, or other service, as an insurance claim.
They then enter that "claim" into the Comprehensive Loss Underwriting Exchange (C.L.U.E). C.L.U.E reports are shared by all insurance companies and are part of the underwriting process when quoting prices. If you have "claims" on your report, they may prevent you from receiving a "competitive" quote when shopping around. These claims stay on your report for 36 months
So, why would an insurance company do this? If you have dings on your C.L.U.E. report you are less likely to receive attractive quotes from competitors. This allows your insurance company to participate in "premium creep" without fear of being underbid.
The takeaway is know what you're buying and ensure that the car towing service you are buying is what you need, not simply what you want.