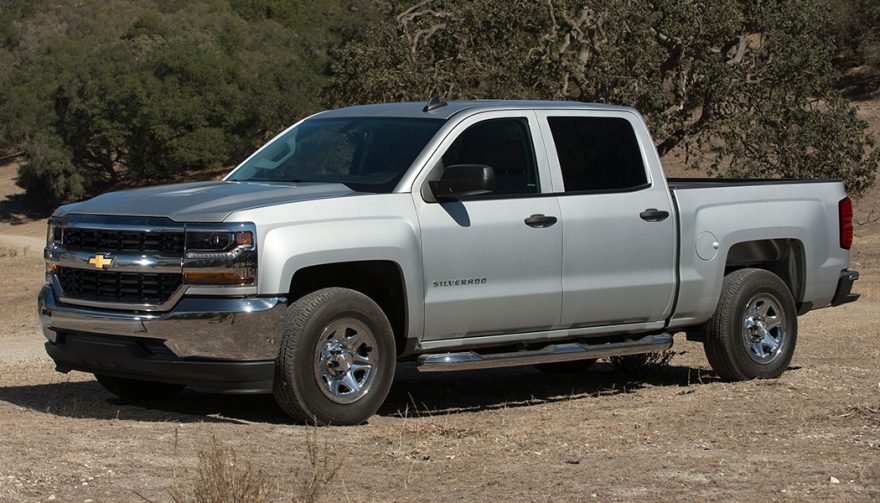 The base model for the full size Chevrolet Silverado 1500 comes in just under $28,000
Most Affordable Pickups: The 7 Cheapest New Trucks
As pickup trucks have gotten nicer and more sophisticated over the years, they've also become much more expensive. Really expensive. If you're looking for the cheapest new truck, you're going to have to do without a lot of the bells and whistles people expect from modern pickups.
The average vehicle sold in the U.S. runs a bit over $32,000. The prices shown here for these seven trucks are well below that average, but we all know they could be well above. Each of these vehicles can be equipped with almost any feature or technology offered by their manufacturer. In most cases, a fully loaded truck will come close to doubling the base price.
But really, it's a pickup truck. There's nothing wrong with roughing it when you're behind the wheel. Here are the seven cheapest new trucks out there right now.
Chevrolet Silverado 1500 WT: MSRP $27,775
The Silverado is Chevrolet's big (4,510 lb.) full-size pickup that comes with so many options it's probably impossible to find a standard base model on the road. If you could, it would have a 285-horsepower 4.3-liter V6 engine under the hood paired with a six-speed automatic transmission. Fuel economy is 18mpg in the city and 24 mpg on the highway. It can haul a 1,760-pound load and tow up to 6,000 pounds in its base mode configuration.
Inside, the front seat is a 40/20/40 split bench and a 60/40 bench in the back. Rear view camera and Chevy's new Teen Driver mode are also included standard.
Ford F-150 XL: MSRP $27,170
The Ford F-150 is a tried and true workhorse that has won the U.S. News' Best Full-size Pickup award three years in a row. It's big, has a 3.5-liter V6 engine that puts out 283 horsepower as standard equipment, and gets 19 mpg city and 26 mpg highway.
Of course, if you want to move out of that base price, there are four other engine options and two larger cab configurations.
Ram 1500 Tradesman: MSRP $26,493
The only full-size truck priced less than the F-150, the Ram 1500 has a lot going for it. For starters, even the base model has one of the most upscale interiors in the class. The cabin is roomy, with comfortable, supportive seats, and it uses quality materials throughout.
It comes with a 305-horsepower, 3.6-liter V6 engine, but even so it can't tow or haul as much as many in its class.
Toyota Tacoma SR: MSRP $24,575
If you are interested in off-roading, the Toyota Tacoma is one of your best bet base models. However, if you buy one of the off-road trims you get much better performance.
The base model is a 4×2 equipped with a 2.7-liter 4-cylinder engine that is rated at 159 horsepower. It's a pretty inefficient and under-powered base engine. Fuel rating is 19 mpg in the city and 23 mpg on the highway.
GMC Canyon SL 4×2 Extended Cab: $20,885
The GMC Canyon is a tough little compact pickup that has an interior way too nice for its price. But like most vehicles, the really good stuff comes as an option. The base trim comes equipped with a 200-horsepower, 2.5-liter four-cylinder engine and a six-speed manual transmission. The fuel rating comes in at 19 mpg in the city and 26 mpg on the highway.
As small as it is, it has the same towing capacity, 3,500 pounds, as the Toyota Tacoma. We said the interior is upscale and it is. It uses high quality fabrics and materials. The downside is there are only 2 seats.
Chevrolet Colorado WT: $20,000
Chevy's award winning compact pickup continues to delight buyers for another year. The Colorado is basically Chevrolet's version of the GMC Canyon and shares many of the same specs.
The same engine and standard transmission power both vehicles. The one noticeable difference is the interior. The Colorado is not as upscale as the Canyon and its infotainment system is not as reliable as the GMC version.
Nissan Frontier S: $18,390
This is a bare bones, no-frills, compact pickup for people who aren't terribly concerned about styling or convenience. It's the cheapest new truck you can buy. The Nissan Frontier has a low, low entry price and that's about it. It comes standard with a 152-horsepower four-cylinder engine.
It does get good grades for reliability and it's adequate for light duty work. However, it is a really bad ride on rough roads. If you wander out of residential areas or the interstate you're going to have a challenge on your hands.
You May Also Enjoy:
With Few Changes in 14 Years, the Old School Nissan Frontier Keeps It Simple