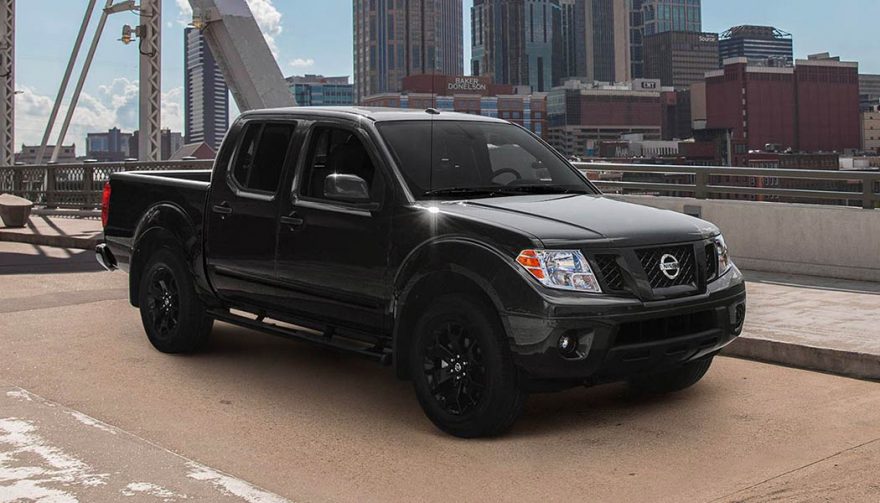 Without any major changes since model year 2005, the Nissan Frontier is an old-school pickup
With Few Changes in 14 Years, the Old School Nissan Frontier Keeps It Simple
Over the many years since the current generation Nissan Frontier launched, it's seen many models from Ford, Ram, GM and Toyota go by.
Some of these have come and gone, but the Nissan Frontier has stayed the course. In fact, it's endured where numerous competitors have failed. It's remarkable, in a way, given that the Frontier is basically a model-year 2005 vehicle.
The current Nissan Frontier initially launched in late 2004. Since then, almost nothing has changed other than a few small tweaks to feature content, color schemes and equipment combinations. The guts of this truck and its cabin are as they were when it first hit the road 14 years ago.
Don't Change a Good Thing
Why leave the Nissan Frontier so unchanged during a period where most other trucks have been totally re-done several times? Simple, truck sales for the Frontier are steady, even picking up steam lately.
Seems like shoppers aren't after the Frontier because it packs the latest and greatest and most modern tech from the pickup world. Quite the opposite, it appears that keeping things simple is keeping the Frontier alive and well.
New pickups are getting more and more complicated. Aluminum bodies. Carbon fiber boxes. Hybrid drivelines. Twin-turbo engines. Liquid-cooled rear differentials. Cylinder deactivation. 10-speed transmissions. Features like these are here now, or en route in the immediate future.
However, there remains a shopper apprehensive about all of this fancy stuff. And for those shoppers the Frontier is desirable. It's modest, proven and effective. In fact, the owner's community reports few issues with the Frontier on the reliability front, and many owners are repeat buyers.
So, what's it like? In a nutshell, it's like driving a four-wheel-drive time machine in several key areas.
Vintage Cabin
The cabin styling language is from a totally different period of Nissan design. In 2005, Nissan interiors were made with unique, distinctive styling cues and color combinations, parts of which were inspired by the automaker's sports cars.
The uniquely faced steering wheel and four accent "dots" on the instrument cluster grab attention first, followed by the classic-looking instrumentation, complete with an LED display infographic that references the currently engaged 4×4 drive mode.
It's a cockpit lined almost fully with crispy hard plastic. This feels and looks cheap, though the surfaces are easily cleaned and build quality looks and feels nicely done. The cabin is roomy enough, but not as roomy as any number of crossovers you can find for similar money, if you're not dead-set on a pickup.
You get all the features you need, too. Remote entry, cruise, air, power accessories, steering wheel audio controls and more are on board.
There is a modernized central command area. Drivers get Bluetooth, text messaging assist and more via a simple and effective touch interface. Elsewhere, there's a charming old-school dial selector for the 4×4, plenty of at-hand storage, and a rear seat that'll fit two adults snugly. They will also flip and fold as needed to accommodate various combinations of gear and passengers.
My tester was the high-grade SV Midnight Edition, which provides all must-have feature content on board. On the outside, there's blacked-out badges, blacked-out wheels, and a creamy, gorgeous-looking dark grey paint job. The look stands up well today. It's sort of a semi-classic appearance that's rugged and sporty at once.
Under the Hood
Power came from a 4.0-liter V6, good for 261 horses and even more torque. It's a punchy performer. In fact, your right foot may need to re-learn the throttle to avoid a jarring slam into your seat every time you set off.
Lots of low-rev grunt and plenty of mid-range pull are at the driver's disposal. The engine is mostly smooth, operates with refinement, and sounds fairly pleasing at almost anything below max revs.
The tester included a five-speed automatic. That's as few as half the gears available in some pickup transmissions these days, though the unit is proven, and Nissan has built a trillion of them. Gloriously, you can get the Frontier with a six-speed manual transmission too, which you should, because that would be awesome.
On the Road
Ride quality may be the most valuable asset of the Nissan Frontier. It's unquestionably "pickup truck" with a rigid jiggle on impact with bumps and craters. This is nicely sorted overall and rarely becomes jarring.  It's also smooth, comfortable, durable and dense. Simply, Frontier's ride feels very tough, but never uncomfortable.
My main gripe? The turning circle. It's massive, and if you're after a Nissan Frontier as a pickup that's highly maneuverable in tight quarters, forget about it. This can feel, at times, like you're trying to park a small house.
Also, the fuel mileage. It's decent given the available power and snap, but without more modern fuel-saving provisions under the hood, you've got to drive gently to help keep Frontier's drinking to a minimum.
All said, here's a pickup that's good at what it does, boasts excellent ride quality, and packs a pleasingly proven and powerful V6 engine. A four-cylinder is available, too.
Depending on trim grade and equipment, pricing isn't far behind many of its (much) more modern competitors, so Frontier will offer the highest return on investment to the shopper after maximum simplicity deployed towards long-term peace of mind.