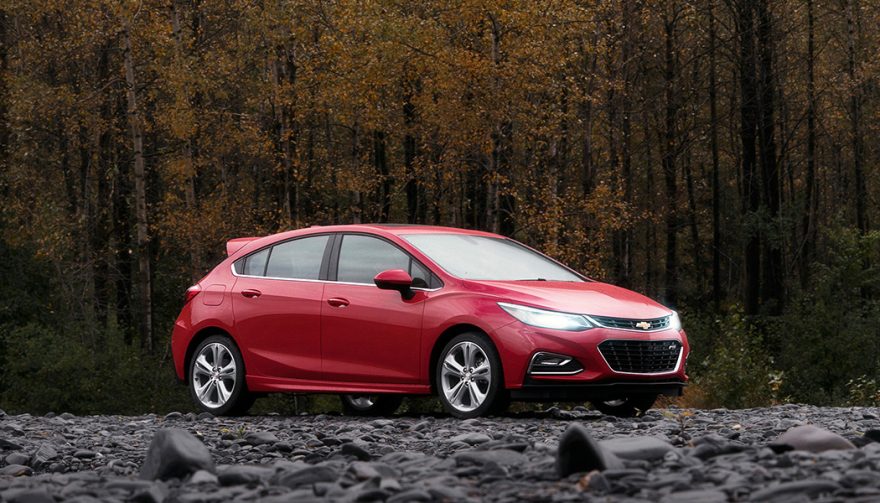 If you're not interested in owning a hybrid, a plug-in hybrid, or an electric car, the Cruze Diesel is about as good as it gets from a fuel mileage standpoint.
Review: Chevrolet Cruze Diesel Hatchback
Presumably with hopes of filling a gap in the small-car market left by VW's discontinuation of diesel-powered models, the Chevrolet Cruze has entered with a newly-available diesel engine for shoppers to consider.
Now on the options list is a 1.6 litre turbodiesel unit that turns in some of the thriftiest fuel economy figures of a non-hybrid small car. If you're not interested in owning a hybrid, a plug-in hybrid, or an electric car, the Chevrolet Cruze Diesel is about as good as it gets from a fuel mileage standpoint.
On offer is that silly-good fuel economy, tremendous cruising range for all-day driving without stopping to refuel, and 137 horsepower backed by a punchy 240 lb.-ft of torque.
Those who still think diesel engines are noisy, soot-barfing rattle-factories need to get behind the wheel of this machine. The Cruze Diesel is many things—including a great example of how smooth, quiet and virtually compromise-free modern diesel engines have become.
Diesel Grumble No More
Fire it up by pressing the IGNITION button on the dash. The glow-plugs pre-heat the fuel, and the engine comes to life about a second later. This tiny delay is one of the only strong indications that there's diesel power under the hood.
Beyond that, it's only a quiet grumble and slight vibration apparent as the subtly-muted signs that this powerplant isn't burning gas. Both sensations are relatively difficult to detect unless you're hunting for them, and most of the time, virtually nothing gives this powerplant's fuel source away. Mostly, it's smooth and quiet and unintrusive—moreso than many a similar gasoline-powered engine, in fact.
Drivers get Auto-Stop to kill idling, and a 9-speed automatic to further improve mileage and performance with lower cruising revs, and more gear ratios to choose from when acceleration is required for passing or merging.
Driven thusly, the little engine is no rocket– but it glides the Cruze Diesel along with sufficient thrust and a pleasing shove into the seatback. The 9-speed automatic shifts quickly, smoothly and often—keeping the revs to a narrow range just below redline, for maximum jam.
All said, the diesel engine is nearly undetectable, and it's a decent if not thrilling performer that's not so thirsty.
But gas engines have been coming along in recent years, too. In fact, the Cruze's gasoline engine turns in mileage similar to that of the diesel, and at no extra cost. The main advantage of ordering the diesel engine is a moderate reduction in highway fuel use– in city driving, Cruze's gas and diesel engines consume fuel at a nearly-identical rate.
So, the diesel engine may make the most sense for shoppers spending most of their time on the highway, or those who enjoy the added responsiveness of generous torque available from low revs, which is a diesel engine characteristic. Just do the math to see if the diesel engine is right for you: it costs more and uses less fuel than the gas engine, but perhaps not by as much as you think.
It's always nice to have choices, after all.
And here are some more: Cruze is available in both sedan and hatchback body styles, both with gas or diesel power. If you like, you can even get a six-speed manual to row your own gears. Those who happen to want diesel power and a manual transmission will find the Chevrolet Cruze Diesel to be their only option on the market today.
On the highway, Cruze Hatch feels durable, weighty and hearty. Though it's a small car, it's not easily pushed around by cross-winds, it feels dense and solid on rougher surfaces, and it preserves an appreciably quiet ride at the speed limit and beyond.
If you're cross-shopping the Cruze, note that it's quieter than an equivalent Honda Civic hatchback at higher speeds. It feels slightly more solid beneath you, too. Further, the suspension is dialled in nicely to handle rougher roads without feeling delicate or fragile. Even hitting the sort of pothole that causes you to apologize loudly to your car does little to break its composure.
Impressive Connectivity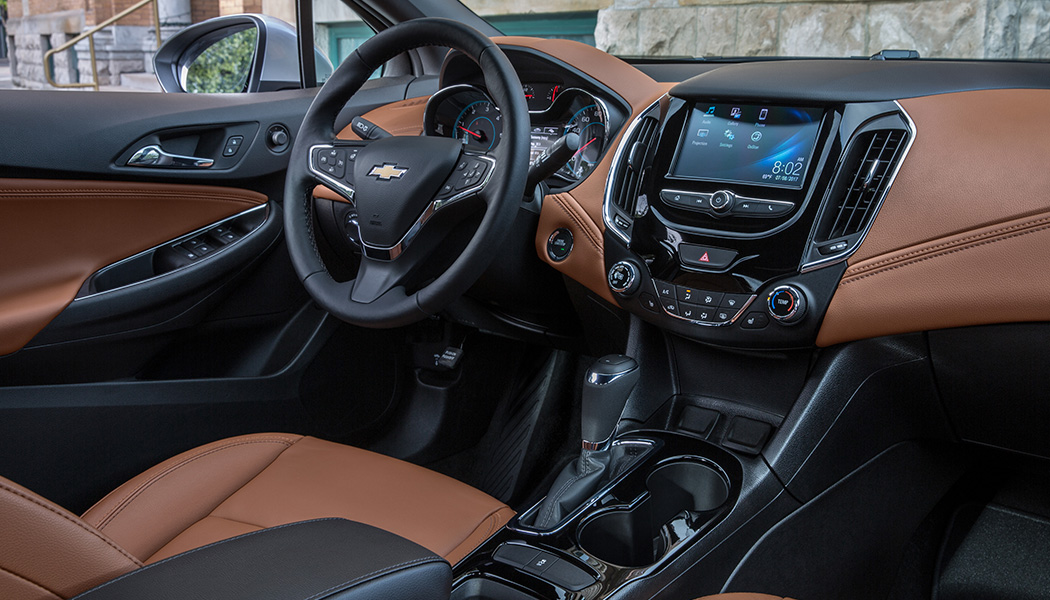 Feature content favorites included the OnStar wireless communications system for push-button access to real-life emergency help and assistance. This is like an electronic guardian angel for anyone driving the car. Perhaps a younger driver taking it out of town on a weekend road trip. OnStar is a favorite feature for families, and among many other things, it can call for an ambulance and transmit your coordinates after a crash. That's even if you can't, or if you don't know where you are, or if you don't have your phone.
Built-in Wi-Fi was also appreciated. This turns Cruze Hatch into a mobile hot-spot on the go, using a built-in cellular connection. If you've got passengers who want to stay connected but don't have a cellular data plan, it's easy to appreciate.
Elsewhere, Android Auto and Apple CarPlay provide easy, voice-commanded access to Smartphone functions like navigation, communication and media playback with minimal distraction. No need to learn a new interface, and no need to take your eyes off the road.
Just talk, using the voice command prompts from your native Smartphone, and you can check traffic conditions, plot a navigation destination, play a certain tune, or check the weather forecast, and plenty more.
Your handset's native mapping app is also upscaled right into the central screen, as are other selected interfaces. Displayed and manipulatable just as they are on your handset.
Cruze is easily boarded and exited by front-seat occupants of all sizes, who will find themselves surrounded by adequate levels of at-hand storage, proper cupholders, and several recharging points for electronics. Rear seat occupants will have generous space in most directions, especially legroom. Just watch your head getting in. The rear roofline results in downward-sloping rear door opening that can result in a whack to the melon of unattentive passengers.
Further back, the cargo hold is deep, wide and flexible although a thick lip at the edge of the load floor area will complicate jumping in and out for many family canines. It also means that gear has to be lifted slightly up and over, rather than slid straight in.
Dulled by Detail Disappointments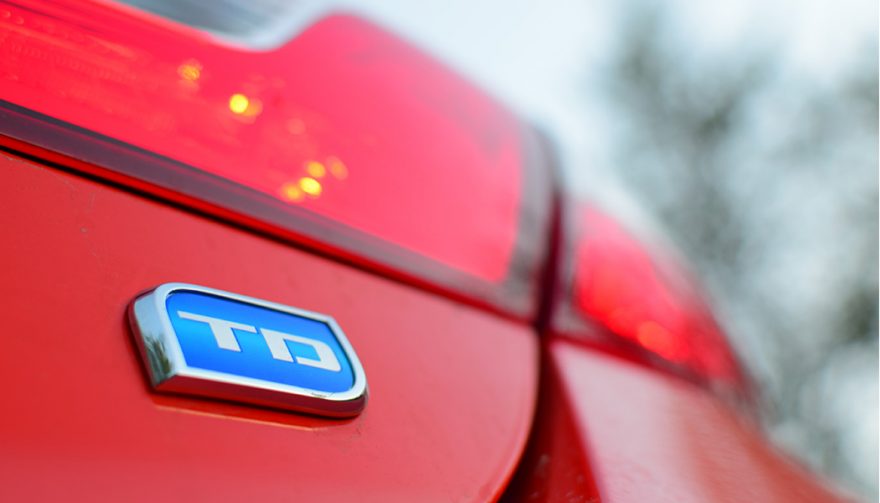 A few gripes dull the Chevrolet Cruze Diesel's appeal, and they're mostly visible from the driver's seat.
The cabin looks pleasing from a glance but disappoints in some areas on closer inspection. Specifically, a few too many low-budget elements are present, including turn signal and wiper stalks that look like something straight out of 2007. The instrument cluster is mostly grey, the stereo control knobs use an age-old design and feel loose, and the covers for the charge ports in the centre console bin look like something from a work truck. Minimal investigation is required to find uneven interior panel gaps or unevenly-finished edges on some of the plastic trim. The stitched 'leather' pads on the doors and dash look decent, though.
Simply, you may wish for a little more from this cabin, since it fails to generate that modern and upscale feel via smaller details that is becoming the norm in this segment. Have a look around inside a comparable Mazda 3, Honda Civic, or (especially) Volkswagen Jetta, and you'll see what I mean.
Where it shines most brightly is on the open road, and for long distances. Cruze Diesel goes a while before the fuel gauge moves, and a whole lot longer before it nears empty. And it's quiet, and fairly relaxing, and feels secure and planted most of the time. In all, it's a pretty nice place to be, provided you don't examine the interior too closely.
When priorities centre around class-leading connectivity, fuel mileage, and highway driving manners more than interior trimmings, Chevrolet Cruze Diesel is a machine that should probably be on your radar, if you're shopping in this segment. Other advised test-drives at this price-point include the new VW Jetta, Honda Civic, and Hyundai Elantra.