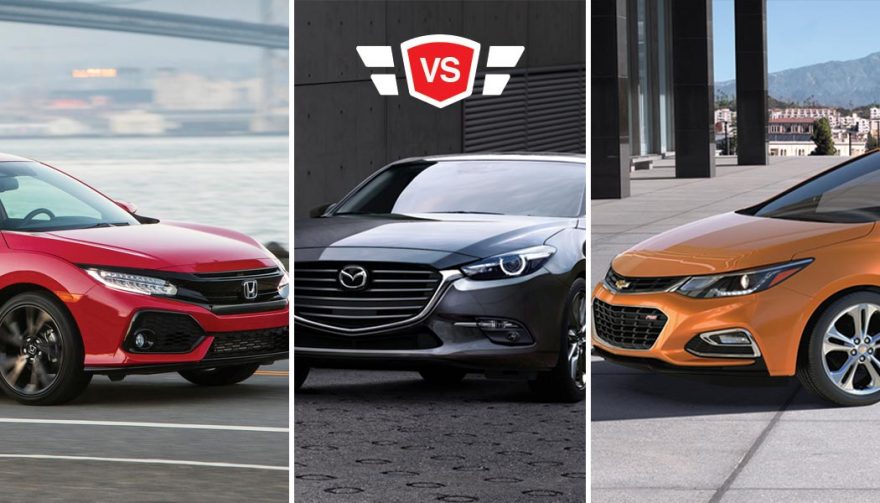 What's the better hatch? The Civic hatchback, Cruze hatchback or Mazda3 hatch
Battle of the Hatchbacks: Chevy Cruze vs Honda Civic vs Mazda3
Let's take a look at the Honda Civic hatchback, Chevy Cruze hatchback and Mazda3 hatchback. Why? Because hatchbacks are hot again here in the United States.
For far too long, people have associated these cars with poor quality, anemic performance and low-rent interiors. While hot hatches like the Ford Focus RS are great, they're hardly practical enough for the average commuter.
The Civic hatchback, Cruze hatchback and Mazda3 hatchback are vehicles your average office worker might consider. They're more affordable, sip gas and keep running with little maintenance or repairs. The only trouble is choosing just one.
Chevy Cruze Hatchback Highlights
Yes, this is the controversial hatchback that's made in Mexico, the one that landed GM in Trump's crosshairs a while ago. Hopefully everyone can look past politics and judge this little car for its merits, because they are many.
If you've seen pictures of the Cruze hatchback, know this: it looks better in person. Trust me, from every angle it looks better. I was blown away the first time I saw one, and I'm not even a big fan of the sedan's design.
Efficient and Fun
As any budget-oriented hatch should, the Cruze is fun to drive, but conserves gas. The only engine is a 1.4-liter turbocharged four-cylinder. You get 153 horsepower and 177 lb-ft of torque on tap. Sure, that won't get you an 11-second quarter mile, but you can merge into freeway traffic no problem.
Handing is okay. The MacPherson strut setup in the front does a decent job, but the rear compound crank can make things get a little rough and jumpy when pushed. You can get a lowering kit, which helps but doesn't fix the problem.
Also in the fun category is Chevrolet MyLink standard. You get a 7-inch color touchscreen, plus Android Auto and Apple CarPlay. You can add mobile WiFi with a 4G connection.
More to Come
If you're the patient type, the Cruze hatchback is going to gain an option you might love. It's a turbo diesel four-cylinder engine, paired with a nine-speed automatic transmission. Peak output is amazing at 240 lb-ft of torque, plus 137 horsepower.
One of the few diesel cars, we know the sedan gets 52 mpg on the highway, per EPA estimates. That blows away anything a non-electrified vehicle gets these days. Range on a single tank is impressive at 702 miles.
The diesel sedan version of the Cruze is priced competitively at $24,670. We should get exact details for the hatchback diesel just ahead of the car's launch in the fall or early winter.
Honda Civic Hatchback Highlights
The Honda Civic by far is the senior member of this competition. It's a model that's been around continuously for decades, having undergone quite a few remakes. This latest reworking of the car is dramatic, returning the Civic more to its former days of glory, instead of the mediocrity it's been wallowing in for years.
You May Also Enjoy:
Civic Type R Prototype An Aggressive Preview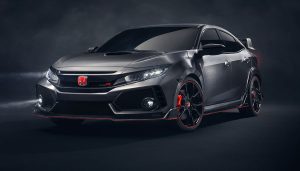 About as exciting as the new 1.5-liter turbo engine is the reintroduction of a Civic hatchback. While it's great to have a version of the car that can swallow up small pieces of furniture, it still must succeed against increasingly fierce competition.
Crisp and Comfortable
One of the best things about the Civic hatchback is that the car handles so incredibly well. It's almost too good in turns, thanks to steering that's precise enough for a much more expensive vehicle.
Not surprisingly, Honda uses struts up front and a multi-link setup for the rear. It's a little more exotic than Civics from the past, in part because of the rigid mounted subframe in the rear, plus hydraulic bushings for the struts up front. EX-T models gain hydraulic bushings for the back, too.
The result of this setup is incredible precision in turns. You feel a oneness that you probably didn't think was possible with a Civic. Instead of punishing you for the taunt handling, the hydraulic bushings help smooth things out. The car doesn't skip over bumps in the road, but instead it bends each one to its will, or so it seems.
Clever Features
Going with the Civic hatchback won't really save any curb weight versus the sedan or coupe versions of the car. One of the things keeping it heavy is the rear wiper assembly and glass. One section of the back window is designed to boost visibility, so you're not just guessing the coast is clear when backing out of driveways or parking spots.
A car you use to drive back and forth between work and home, plus run some errands on weekdays or the weekend needs to have some good stashing spots. Honda designers fortunately agree. The most impressive is the center console, which you can configure in a few different ways. It's large enough to throw your iPad or Surface inside, keeping it away from prying eyes.
I don't know if it's clever per se, but the backseat area is spacious. Finally, we have a hatchback where you don't have to break your friends' legs because there's not much room in the back.
Mazda3 Highlights
Plenty of enthusiasts love Mazda. Admittedly, one of the biggest problems facing the brand lately is that it seems to struggle keeping up with the quickening speed of the industry. One of the vehicles where this issue is most visible is the Mazda3.
Try one out and get on the infotainment system. The interface looks almost ancient, and it's slow to respond.
Another issue is the cheap, hard plastics scattered around in the interior. This is problematic when you look at the alternatives. Still, there are some big pluses for this hatchback.
Extreme Balance
One thing's for sure, Mazda engineers know how to make a chassis that's incredibly well-balanced. You can feel that when you start to throw the Mazda3 around turns. While not a perfect car, you feel a greater sense of confidence in its overall composure than with most competitors.
The two engine options don't feel explosive, but again balance is the key. There's a refinement to them, because they never feel truly strained or unhinged. Instead, they're always composed and have something more to give.
Even how the brakes perform is just plain balanced. They bring the car to a halt quickly, don't feel grabby, and encourage comfort.
Bells and Whistles
Just because the Mazda3 is aged doesn't mean the features list sucks. In fact, the base Sport model comes with quite a few standard equipment. Some of the highlights is a push button ignition, one-touch driver's window controls, HD radio, Aha/Pandora/Stitcher integration, and a text message manager. That's not to say competitors don't match any of those, but this old hatchback still delivers enough of a compelling package.
Which Hatchback Wins?
Choosing among these three hatchbacks isn't exactly easy. All three deliver great value and have some solid benefits. When it comes to just sheer performance, the Mazda3 and Honda Civic hatchback both outshine the Chevy Cruze hatchback big time. Thanks to some innovative designs and clever engineering, the Honda edges out the Mazda, but just barely. Most drivers will barely notice any differences between the two.
As for the interior and onboard technologies, the Mazda3 falls far in to third place. That leaves the Chevy and Honda, which the Civic hatchback wins handily thanks to its sleek design, tons of space, and clever comforts.
Only one car is the full package deal, and it walks off with the victory. In other words, the old kid on the block, the Honda Civic hatchback, takes this one.