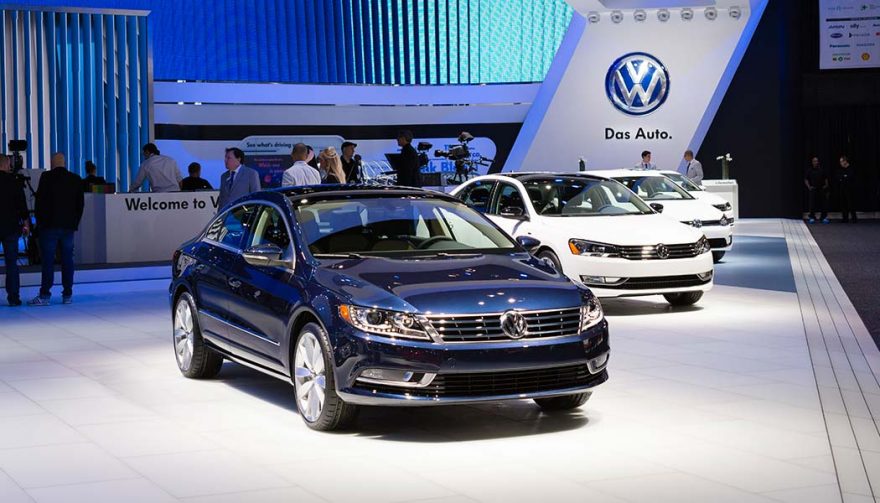 Dieselgate could provide some beneficial options for current car buyers
6 Reasons Why Dieselgate Could Benefit a Car Buyer
By now, the whole world over has heard about Volkswagen's woes. The iconic German car maker has been integrating software into its diesel engine-equipped cars and SUV's that detects when it is undergoing an emissions test so it can modify its operation to fool the testing equipment. The end result is up to 40 times the legal limit of air pollution leaving the tailpipes of millions of diesel Volkswagens.
This isn't going to be just a slap on the wrist for Volkswagen. It's estimated that there will be billions of dollars in fines from the US Environmental Protection Agency (EPA) that will put a tangible damper on VW's ability to operate. The top executives and other participants who knowingly implemented the illegal software defeat will probably be prosecuted criminally. And they've already suffered a stinging blow to their reputation which will affect the purchasing decisions of countless car buyers.
The most recent development has now landed Volkswagen's sister companies, Audi and Porsche, in the same hot soup. Previously only the 2010 Car of the Year, the Audi A3 TDI with a 2.0-liter clean diesel engine, was part of the debacle. Now, 3.0-liter diesel engines that produce up to nine times the legal limit of nitrous oxide emissions are added to the list. That includes:
2015 Porsche Cayenne
2016 Audi A7 AND A8 Quattro
2016 Audi Q5
2014 Volkswagen Touareg
That's really bad news for an automaker that was hoping their ill-advised acts would slowly disappear from the headlines. Just when the Dieselgate issue was settling down and cooling off on the back burner, a new batch of vehicles pulls them right back into the fire.
How Does This Benefit the Buyer?
What is a terrible (though self-inflicted) situation for Volkswagen could ultimately be of significant benefit to someone in the market for a new or used car.
Dependable Cars
Volkswagen has always had a brilliant history of building dependable, long-lasting cars and though the future is grim with Dieselgate hanging over them, their vehicles are just as reliable as they were before. Their engines are still efficient and solid, and last forever. Their transmissions are still as dependable as they always have been. The interior gadgetry is still innovative and their cars are well-appointed. Their vehicle designs are still aerodynamic and attractive. Volkswagen cars are still among the best-built cars on the road.
Blowout Prices
Volkswagen prices have plummeted. Dealerships are reeling from the announcement that they have to hold all diesel stock until further notice, or at least until a repair is released for the software defeat. Not only are they saddled with cars they can't sell, but they don't have customers coming through the doors. The population of Volkswagen buyers as a whole have turned their backs on the dealers that sell the brand and have exchanged their pride in the German cars for disdain. The only recourse VW dealers have right now is to drop their prices to blow out the cars they are able to sell.
Buyer's Market
The used car market is flooded with Volkswagens. When the Dieselgate news broke, current Volkswagen owners moved to discard the V-Dub they owned in droves. They want nothing to do with their car which used to be their pride and joy and are willing to sell it off to the first buyer with a little cash in hand. Some owners are so furious about the software cheat and the environmental impact that resulted that they will take well under the market value for their car. It's a buyer's market for Volkswagens.
Gas-Powered Vehicles are Still Reliable
While only diesel-powered cars are affected, the brand as a whole is suffering. Currently, gas-powered cars haven't been affected by the EPA scrutiny and are performing exactly as they are touted. Gas-powered models from Volkswagen are still incredibly fuel-efficient, reliable, and powerful. They've been lumped in alongside the diesels and – whether fairly or unfairly – have suffered a great deal in sales numbers and in customer satisfaction ratings.
Upscale Vehicles are Included
Certain Audi vehicles equipped with diesel engines are included as is the 2015 Porsche Cayenne. Audi has certainly been affected significantly as a brand because of it, and Porsche is mostly just guilty by association.The addition of these luxury brands to the Dieselgate list means that their prices will undoubtedly be affected. Sales numbers for both Porsche and Audi will certainly see a decline and the prices will follow suit. You'll be able to purchase a luxury car at a discount price, which almost never happens.
Limited Time for Low Prices
The brand will rebound in due course, and the values will stabilize. The Dieselgate issue is on the forefront of automotive news currently and fresh on everyone's minds. Once that fades, you'll begin to see the passionate and vehement disdain for the affected brands slowly give way to apathy. It won't be long until the brand's image improves and stabilizes and their sales are back on the upswing. That means that the VW that you buy now at a fantastic, rock-bottom price will spring back in value and won't depreciate nearly as much while in your possession. That's a solid benefit for any car-buying situation.
The major battle for Volkswagen is once the software fix is released. It goes without question that performance will be affected, but how much is yet to be seen. If the effects on performance or fuel economy are noticeable to consumers, they will be riding this train all over again.
Volkswagen has a few massive hurdles yet to overcome. They need to get recalls in place for all the affected vehicles and implement them in a timely fashion to satisfy their EPA overseers. They need to smooth relations with all their dealers that have been so negatively affected by Dieselgate. They need to woo their customers back into the fold somehow so they can rebuild their image. And most of all, they need to financially keep their head above water so that, once Dieselgate becomes only a distant memory, they are able to continue building their great cars.
Until that happens, you'll be able to find reliable, efficient Volkswagen, Audi, and Porsche cars and SUVs for sale at smoking-hot prices both from the VW dealers and through private sales.
You May Also Enjoy:
Car Brands that Have Lost Their Mojo