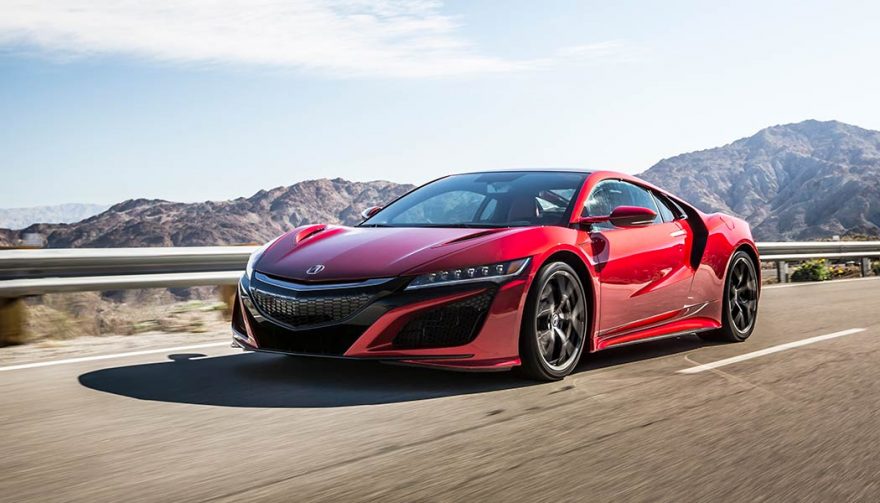 The rear-engine, rear-wheel-drive Acura NSX makes a total of 576 horsepower.
Get Amped About These 9 Current and Coming Electric and Hybrid Sports Cars
Elon Musk's announcement about the Tesla Roadster got the electrons flowing about high-performance electric and hybrid sports cars. Who wouldn't get all weak in the knees about an EV that can do more than 250 miles per hour and accelerate to 60 mph in under two seconds? But what everyone seems to forget is that there are already several other high-powered electric and hybrid sports cars, and they are ones that don't seem to have issues getting to production.
Here's a list of the best electric and hybrid sports cars available right now or coming soon.
Acura NSX
Perhaps the easiest-to-own supercar in terms of dollars and cents, the second-gen Acura NSX is all that and a bag of potato chips. The rear-engine, rear-wheel-drive hybrid sports car makes a total of 576 horsepower when the electric front twin-motor units are taken into account. That's good enough for 191 mph and the Road & Track Performance Car of the Year award.
However, you're not getting anywhere on electric energy alone. Although it uses electric motors to become an all-wheel-drive, stick-to-the-track racecar, the Acura NSX will probably fall short compared with other fully electric models. It starts at $157,800.
BMW i8
The 2017 BMW i8 is one of the most unique hybrid sports cars. It's one of the only cars to use pretentious gull wing-style door openings, but because it's a Bimmer, it works. The i8 focuses more on sustainability than performance alone. It depends more on electric power, has regenerative breaking, and offers recycled materials in the cabin.
Don't be mistaken, performance is still there. A TwinPower Turbo 3-cylinder is the basis of the gas-powered side, making 228 horsepower. The eDrive component is 129 horsepower on its own, for a combined 357 in an all-wheel-drive capacity. The BMW i8 stops the 0-to-60 clock in 4.2 seconds and demands just $143,400 to get started.
Lexus LC 500h
I can't think of another premium luxury car that is as sexy and dynamic as the Lexus LC, and it's available as one of the best hybrid sports cars. The breathtaking hourglass grille and widebody rear tubs would have most grown men drooling, even before discovering it is a hybrid-electric sports car.
Where performance is concerned, the 2018 Lexus LC 500h ain't no slouch. Its 3.5-liter Atkinson-cycle V6 and Multistage Hybrid Drive combine for 354 horsepower and a ride to 60 mph in 4.7 seconds.
It's a rear-wheel-drive car only, unlike many of the others, and the top speed in the Lexus LC 500h is conservative at 155 mph. And despite being a hybrid, its combined fuel efficiency rating is just 30 mpg.
Still, this model is more attainable than most others. It starts at under $100,000 for an entry-level price – $96,510 to be exact.
Jaguar I-Pace
The Jaguar I-Pace isn't a sports car in the traditional body design, but it's completely worth mentioning. It's a sporty four-door crossover, let's say, and one that's totally cool. A dot-matrix glass roof and stunning sculpted hood are two of the many attractive features.
But outshining the design is its capabilities. The Jaguar I-Pace has more than 220 miles of electric range and accelerates to 60 mph in around 4 seconds. The dual electric motors combine for 400 horsepower and 516 lb-ft of torque, putting it solidly in the high-performance segment.
Expected to hit showrooms in the latter half of 2018, the Jaguar I-Pace is expected to start under $100,000.
Tesla Roadster
Tesla has now committed to building the Roadster, but the company's long-term survival is questionable as they continue to bleed greenbacks by the fistfuls. It's expected to arrive in the 2020 model year, and it's going to be outstanding. The stats are staggering – over 250 mph top speed, 1.9 seconds for zero to 60, the quarter mile in 8.8 seconds. Those are numbers no one ever thought possible in a production car.
What's most impressive is the 620-mile range. That bursts through the ceiling, making electric car ownership feasible for the average driver. But it's not feasible for everyone to drive the Tesla Roadster with its $200,000 price tag.
Porsche 918 Spyder
We'll round out our list of hybrid sports cars with some exotics, and the Porsche 918 Spyder must be in the lineup. Not only is it gorgeous from all angles, the Porsche 918 is one of the top performers ever. Circling the Nürburgring in 6:55 isn't for the faint of heart.
The powertrain is other-worldly. The 4.6-liter V8 makes 608 horsepower on its own. Add to that the front electric motor's 127 ponies, and you're doing all right. But there's a third unit, the mid-mounted hybrid drive with another 154 horsepwoer. Its top speed is 211 mph and it goes 0-to-60mph in 2.6 seconds.
Where it gets a little unusual is in the fuel economy ratings. The European combined cycle rating is 71mpg…can you think of another V8 that can do that? By the way, it starts at $845,000.
Ferrari LaFerrari
Further into exotic territory, we find the Ferrari LaFerrari. Like the Porsche 918 Spyder, its electric-assist motors aren't intended for efficiency, but rather for added performance. And it succeeds. The Ferrari LaFerrari accelerates to 60 mph in 2.4 seconds and has a top speed of 217 mph.
The LaFerrari makes its power from a 6.3-liter V12 with 789 horsepower. As if that's not enough, a Kinetic Energy Recovery System called HY-KERS adds another 161 horsepower in short bursts. Combined, it adds up to an intimidating 950 horsepower. It's easily one of the best hybrid sports cars.
Unlike nearly all the others, it's purely a rear-wheel-drive supercar. Imagine trying to keep in control with so much energy to just the rear end.
If you're thinking it's something you want to try, start saving up. One just sold at auction for over $7 million, making it "the most valuable 21st century automobile ever sold at auction," according to Wikipedia.
McLaren P1
The hybrid supercar trifecta gets rounded out with the McLaren P1. It could easily be the best-looking of the bunch, but it's a touch slower. The McLaren P1 accelerates from 0 to 60mph in 2.8 seconds. McLaren claims the P1 can reach 249 mph with the electronic speed limiter removed, and that's territory all unto itself…until the Tesla Roadster comes along.
Like the LaFerrari, the McLaren P1 is strictly rear-wheel-drive. It's powered by a 3.8-liter twin-turbo V8 that makes 727 horsepower, then paired with an electric motor adding another 176hp. Tallying up to 903 combined ponies, the McLaren P1 is guaranteed to be a handful for the driver.
You May Also Enjoy:
As If the i8 Wasn't Impressive Enough, Now There's a Roadster