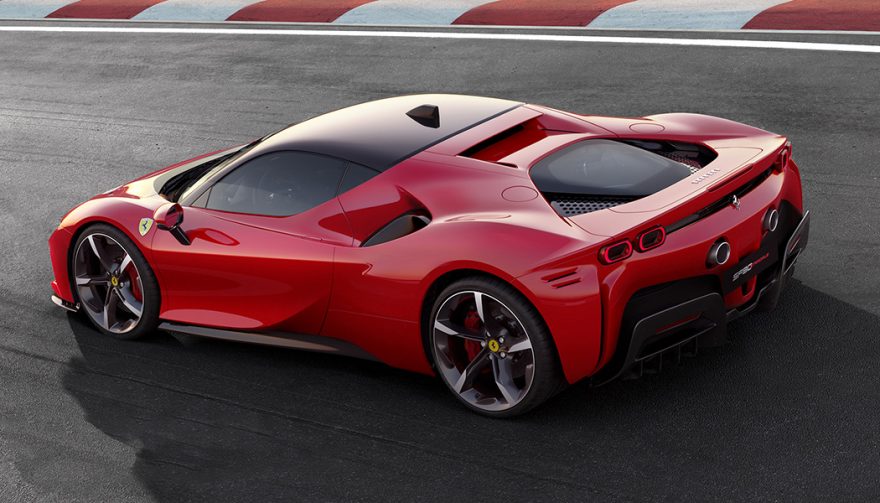 Ferrari is all about performance. It'll be a shock to some long-time fans, but it just happens that the Ferrari SF90 Stradale uses electricity to deliver it
1,000 hp, All-Wheel Drive, Plug-in Hybrid? This is the Ferrari SF90 Stradale
Ferrari is known for making amazingly fast and shockingly capable sports cars. And the latest will definitely not disappoint. What might strike long-time Ferrari fans a little strangely, though is the driveline. That's because the Ferrari SF90 Stradale is all-wheel drive. And a hybrid. Not just any hybrid, though, it's a plug-in. That makes 986 hp.
The Ferrari SF90 Stradale might not look as extreme as the Ferrari range-toppers of the past, like the LaFerrari and the Enzo, but make no mistake. This should be a rocketship. It's not exactly the new LaFerrari replacement, but it might as well be.
But under the rear-engine cover of this one isn't a V12. Instead, there's a 4.0L twin-turbo V8. Running just the gas engine in this monster produces 769 hp and 590 lb-ft of torque. In typical Ferrari V8 fashion, the engine can spin to 8,000 rpm. And while that power level already makes it the most powerful V8 Ferrari, there's more to the story here.
Electrifying Performance
The Ferrari SF90 Stradale adds even more power thanks to three electric motors. One sits in the rear and fits between the engine and the new eight-speed dual-clutch automatic. Ferrari refers to this rear motor as an MGUK (Motor Generator Unit, Kinetic). That's the name the Formula 1 systems use because Ferrari says they're very related.
Putting the other two electric motors in the front gives the car all-wheel drive. Together, the motors put out 217 hp. That gives the Ferrari SF90 Stradale a combined 986 hp.
How much power is that? How about 0-60 mph in 2.4 seconds. And 120 mph in under seven.
You May Also Enjoy:
Ferrari 812 Superfast Is Its Most Powerful Production Car Ever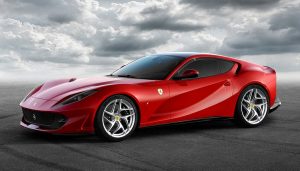 Because this is a plug-in hybrid, there's an eDrive mode to give you an electric range of around 16 miles. Put it in the Hybrid mode for normal driving to balance power and efficiency. Performance mode is ready for long-term go-fast, or you can pick the Qualify setting that puts power output ahead of battery charging for when you need a couple of really quick laps.
The standard car offers impressive handling and aerodynamics. Around 860 lbs of downforce at speed without any massive wings or aero protuberances, and a stability control system that uses the front drive to balance power and offer optimal cornering.
And if that's not enough, the Ferrari SF90 Stradale offers factory upgrades. Like an Assetto Fiorano kit that adds even more carbon fibre panels, titanium springs and exhaust, and Multimatic's spool-valve shocks that are massively impressive racing-derived dampers that can also give a car an amazingly smooth ride.
The Ferrari SF90 Stradale isn't the screaming naturally aspirated V12 you're used to from top-spec prancing horses. But with near-enough 1,000 hp, all-wheel drive, and the ability to drive silently around should you feel the need, we almost don't miss those extra cylinders. And Ferrari's new turbo V8s might not have the screaming 12 sound, but they certainly still sound fitting for a car with the yellow and black badge on the fender.